Vegetables are my favorite snack foods. I am always coming up with different ways to present them creatively.
Last week, I made buttered radishes in Asian style and it was absolutely delicious. No one realized that they were eating a healthy snack. I considered that to be a huge compliment.
This shop has been compensated by Collective Bias, Inc. and its advertiser. All opinions are mine alone. #BigGameSnacks #CollectiveBias
Don't you just love basketball season?
I love all that screaming, shouting, high-fiving and chest bumping that happens during any sports event. More often than not, I am the one doing all that shouting and arm-chair refereeing!
I find myself getting pumped up each basketball season and always inviting my friends to come over. Surprisingly, I never have to twist their arm or bribe them into accepting the invitation.
I really love desserts but I always feel guilty eating my favorite desserts because of their high calories. Yogurt is the only dessert that I can eat and be guilt-free.
When I found out that Yoplait is coming out with a Greek Whips, I was immediately intrigued. I couldn't wait to try it.
Do you love radishes as much as I do?
Of course you do!
Recently, I have become obsessed with these vibrant roots. They have a taste that really gets my attention!
Red Cabbage is my favorite cabbage.
It is definitely hard to work with, but, it always pays off in the end. I have made red cabbage pizza before and it was very delicious.
Also I had a red cabbage salad a while back. It had a simple yogurt dressing and I loved eating it more than making it.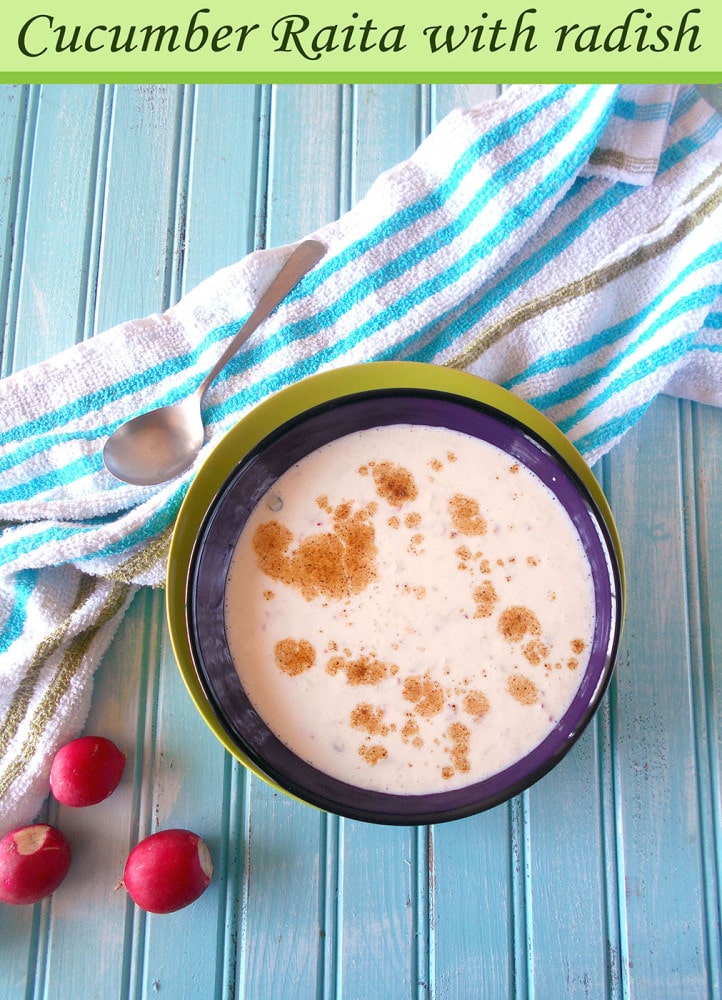 The first recipe of the new blog turned out to be Indian!
That is surprising, but, I am glad it turned out to be the cucumber raita.
Cucumber raita that is very common at Indian restaurants and it is one of the easiest Indian appetizers.
Not to mention, it is one of the few appetizers that isn't fried, boiled or super spicy.
Welcome!
Thank you so much for following me on my new page.
This was a long time coming and I am so glad to have finally had the opportunity to get my blog under my main domain.
The site has a brand new look that is friendly to all my wonderful visitors. The recipes will be easier to view and print. The recipes will also load faster and will be in-tune with your device.
You can expect the same great recipes that emphasize a healthy lifestyle. The recipes will always stress fresh ingredients, yet, they take very little time to make.
As always, your input is highly valued. If you have design suggestions or recipe suggestions, I am only a few steps away. Leave a comment here or contact me through my social media accounts.
The next few days will see minor tweaks on this site. It will be fully complete before you know it.
If you need to refer to any of my previous recipes, they will be available forever (or until zombies attack) at the previous site.
If you are a subscriber to my newsletter, you will continue receiving the emails without any interruptions.
If you are not a subscriber, well what are you waiting for? Sign up for my newsletter here.
I cannot wait to show you all the new recipes that are going to be appearing on the new site. It will be so much fun and I know you will enjoy the experience just as much as I do.
There will be cuisines from all over the world. Expect Italian, American, Japanese, German, Chinese and Mexican recipes coming over the next year. Don't be surprised if you see the occasional Indian recipe on this blog.
A brand new recipe is coming tomorrow, so, come back here to read all about it. Every new recipe will be focused on your likes with a little bit of my taste thrown into it.
Keep coming back for more. You won't be disappointed!
Healing Tomato