There is nothing like mushrooms and pistachios. It is an aphrodisiac match made in heaven!
Pistachios are known to be aphrodisiacs for men. Pistachios belong to the Anacardiaceae family which is a cousin to the cashews. Pistachio trees can give fruit for 200 years. It was a symbol of virility in many ancient cultures. I am discovering that Americanpistachios.org is a wonderful source of information for pistachios.
Mushrooms, on the other hand, work miracles on women! They have a potency that makes us all happy. Ancient cultures used to make women go out and get wild mushrooms. Eventually, women would eat them on their way back and find that they were very "ecstatic" after consuming these fungus.
So, I decided to bring these two aphrodisiacs into a creamy mushroom sauce recipe just to see what kind of taste would be produced.
The results? A taste explosion of EPIC proportions!!
I used 3 different types of mushrooms in this creamy mushroom sauce recipe just to see what kind of flavor I can add to a classic recipe. The mushrooms I used were Portobello, Button and shiitake mushrooms. This turned out to be a great combination of mushrooms. The Portobello mushrooms provided a "meatiness" to the dish, The Button mushrooms provided a natural saltiness to the dish and the shiitake gave the mushrooms a smokey flavor.
The pistachios topped the creamy mushroom sauce recipe by supplying a nutty and slightly spicy flavor to the dish. They also provided a wonderful crunchy surprise to the sauce.
This creamy mushroom sauce is best served with pasta, but, I decided to serve it with a unique ravioli recipe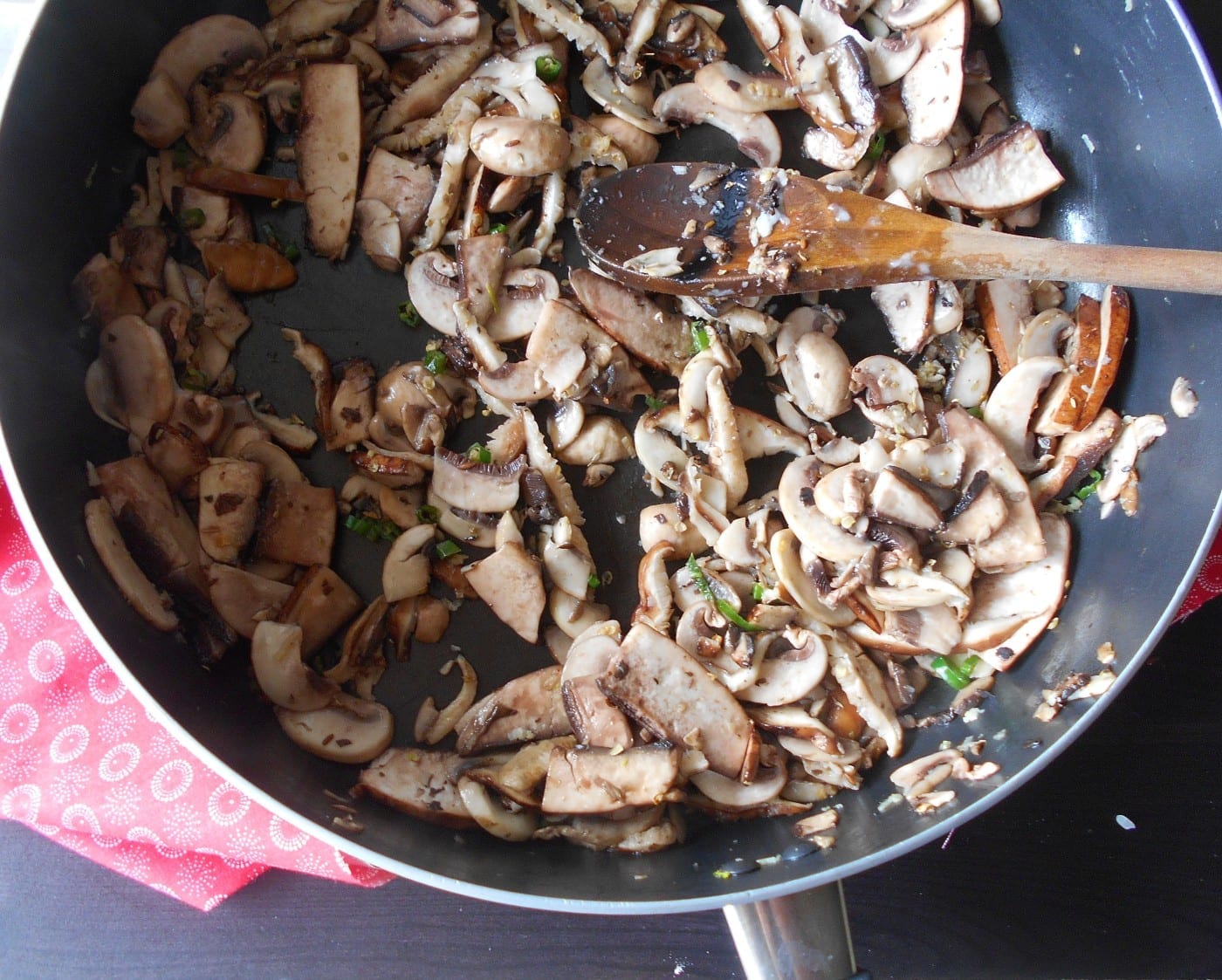 Recipe Details (Makes 2 cups of Creamy Mushroom Sauce)
Creamy Mushroom Sauce with Pistachios
Ingredients
2

portobello mushrooms

2

cups

of button mushrooms

, stalks removed

4-5

shiitake mushrooms

1

cup

of heavy cream

1/4

cup

of pistachios

, shelled

1

tsp

dried oregano

(if you have fresh oregano, use that instead)

1

tsp

dried parsely

1

tsp

of fresh or dried basil

2

tsp

of olive oil

2

Thai chilies

(optional)

2

cloves

of garlic.

3

tsp

of sea salt

1

tsp

fresh ground pepper

Coriander for garnish

1

cup

of water
Instructions
Pre-preparation
Gently wash and remove the black stuff from the portobello mushroom's bottoms. This stuff ruins any recipe, especially a creamy mushroom sauce

Wash the portobello mushrooms thoroughly and then dry them very well. Otherwise, the creamy mushroom sauce will be a watery sauce

Wash the Shiitake mushrooms and allow to dry

Crush the garlic cloves finely

Crush the Thai chilies finely. Remove as many of the seeds as you can.
Preparation
Chop the portobello mushrooms lengthwise and then half them.

Chop the button mushrooms into thin strips and the set aside

Chop the shiitake mushrooms into pieces and set aside

In a medium saucepan, add the olive oil and allow it to heat

Add the crushed garlic

If you are using the chopped Thai chilies, add them with the garlic

Allow the garlic to brown a little. This will add flavor to the creamy mushroom sauce

When the garlic is brown, add all the chopped mushrooms to the oil and turn down the heat to medium

Do not touch the mushrooms for about 5 minutes. Allow them to cook on a slow-medium heat

After 5 minutes, sprinkle half of the salt and leave the mushrooms for an0ther five minutes

Add the oregano, basil and parsley herbs to the mushrooms

Stir the mushrooms now slowly. If you are a pro at air-tossing the mushrooms using the pan and hand motion, go for it. This method is going to be very effective in coating the mushrooms with all the spices and salt.

When the mushrooms have shrunk to half their size, turn up the heat a little. Allow the mushrooms to crisp a little

Add the pistachios and stir well. Allow the pistachios to brown a little because it will release their wonderful flavor

Add the heavy cream to the mushrooms no, while keeping the heat to medium

Add the water to the creamy mushroom sauce now and let it boil a little

Remove the mushrooms from the heat and add the freshly crushed black pepper