My love for hot chocolate knows no bounds. There is no perfect better comfort drink for the winter than this chocolately goodness.
Doesn't matter if it is white hot chocolate, dark hot chocolate, Mexican hot chocolate or regular hot chocolate, I love them all.
My favorite place to get this drink is at Serendipity 3 In NYC. Once you have had their hot chocolate, you will like no other!
This days, I settle for the home made version. I like using dark chocolate when making it at home because it packs a real chocolate flavor.
Everyone has their own way of making it. Most people use milk and add marshmallows. If you make yours with water, you and I need to have a conversation.
I use milk to make my version. This gives it a thick base and I can taste every molecule of the hot chocolate as I drink it. Top it with whipped cream and I have the perfect drink in hand while I watch the rain outside. Is there a more perfect way to spend a rainy Sunday afternoon?
I don't put alcohol in my rainy day version. However, I made an exception in this case and gave it a little kick! Alcoholic drinks are nothing new on this blog. My pink martini and cantaloupe martini are really delicious. I also made a Hot toddy which has a whiskey kick.
I went with spiced honey tequila because it added just a little sweetness. Topped with peppermint bits, it gives this drink a sweet and minty flavor. The peppermint is definitely the star of this recipe.
So, how to make hot chocolate for adults?
Recipe for Boozy Hot Chocolate
1) Take 4 cups of milk.
2) Take 2-4 squares of chocolate. I like more chocolate, so, I went with 4 squares
3) In a small pan, add the milk and heat at medium heat
4) After 30 seconds, add the chocolate squares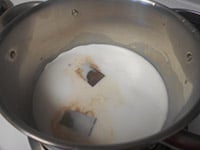 5) When the chocolate has melted, add 1/4 tsp of sugar. This is optional
6) Add 2 oz of spiced honey tequila and mix well
7) Pour in a glass and top with whipped cream. Add the 1/4 tsp peppermint bits to the top
Serve immediately
Hot Chocolate (Boozy Version)
Ingredients
4 cups of milk
4 squares of chocolate
1/4 tsp of sugar
2 oz of spiced honey tequila
2 Tbsp whipped cream
1/4 tsp peppermint bits
Instructions
Take 4 cups of milk.
Take 2-4 squares of chocolate. I like more chocolate, so, I went with 4 squares
In a small pan, add the milk and heat at medium heat
After 30 seconds, add the chocolate squares
When the chocolate has melted, add 1/4 tsp of sugar. This is optional
Add 2 oz of spiced honey tequila and mix well
Pour in a glass and top with whipped cream. Add the 1/4 tsp peppermint bits to the top
Serve it immediately
http://www.healingtomato.com/hot-chocolate-with-alcohol/
Copyright - Healing Tomato. All Right Reserved