Navy Beans Salad Recipe – This navy Beans Salad is very healthy, quick salad idea. Made with Parsley & all healthy ingredients.  Perfect vegan salad for the whole family to enjoy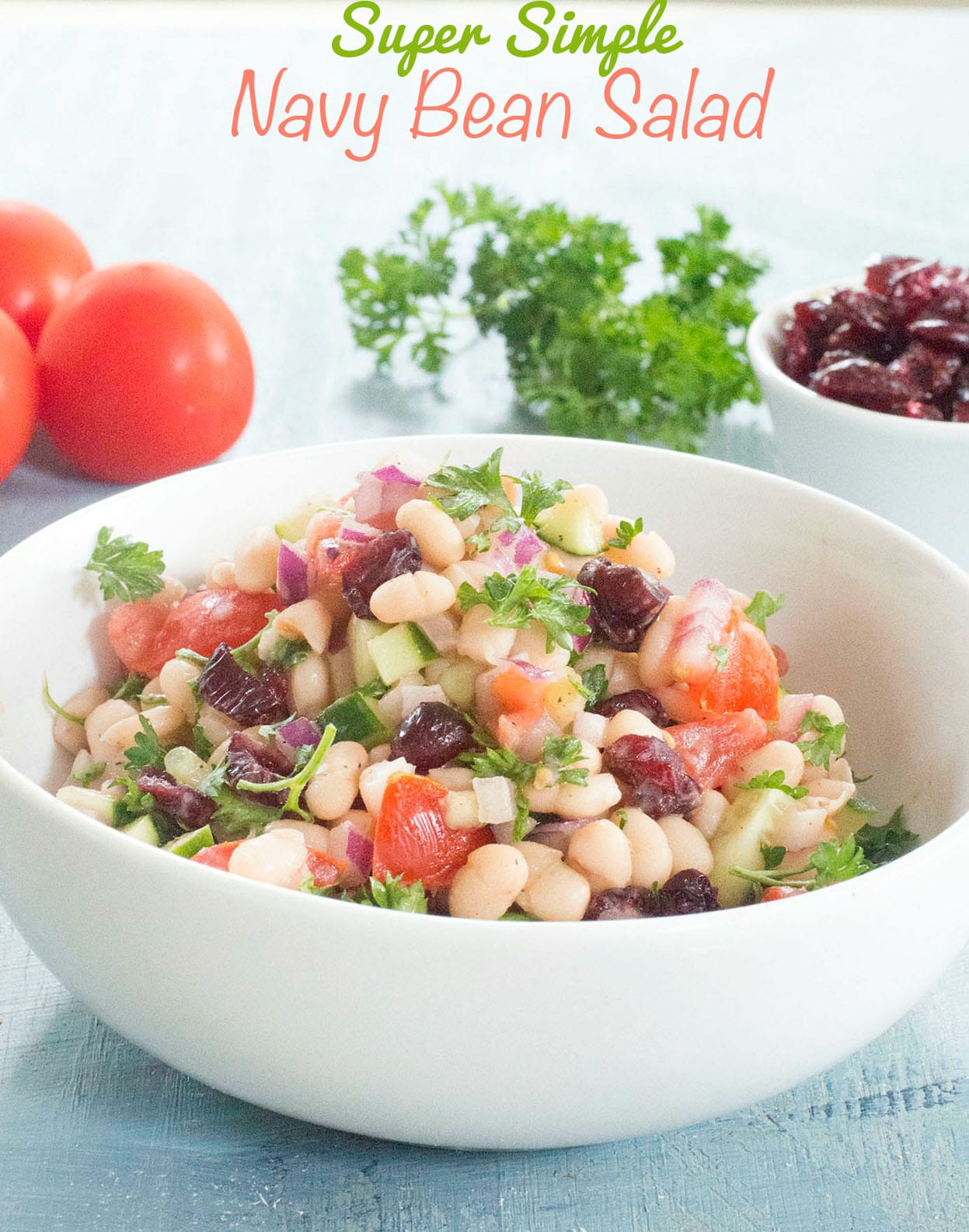 Growing up, we had a lot of British influence when it came to food.  We used to call French fries "Chips" and potato chips were "Crisps".  One of my least favorite meals was Navy beans in a tomato sauce and spread over toast!!
Not appetizing at all.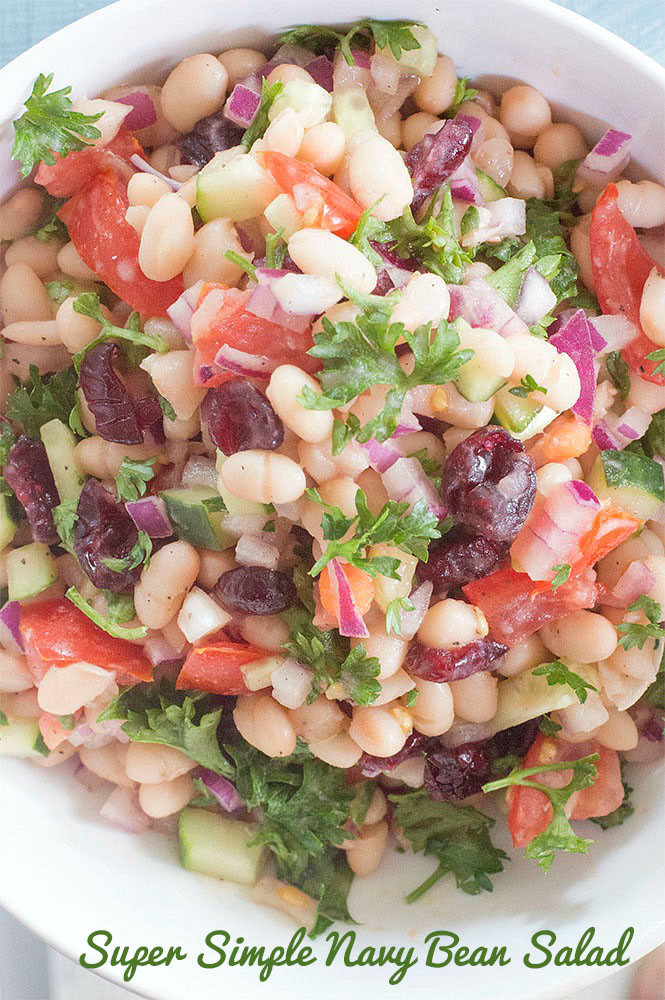 As a result, I came to dislike navy beans altogether.  It is safe to say that I haven't eaten them in 20 years. That was how huge an impact they had on my palette.
The 20 year ban has been broken!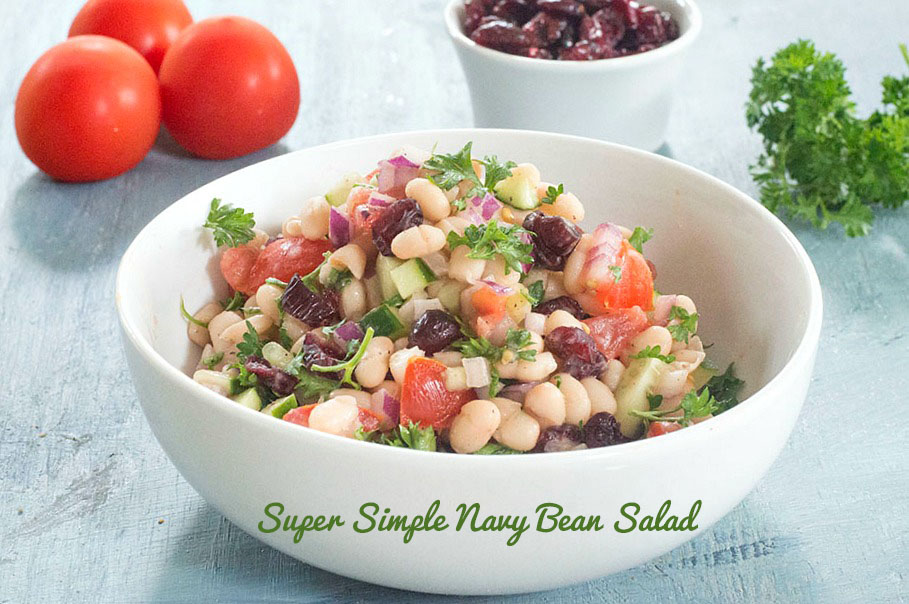 When I started this blog, I aimed to tackle my food preconceptions and tackle ingredients that I disliked.  I tackled my blueberry aversion when created my blueberry vinaigrette. Now, I don't have anything against blueberry.
It only took me 2.5 years to confront navy beans, but, I have finally conquered it.  With this recipe, I have made them look cool and sexy!  And nothing makes a meal sexy like adding some Campari tomatoes!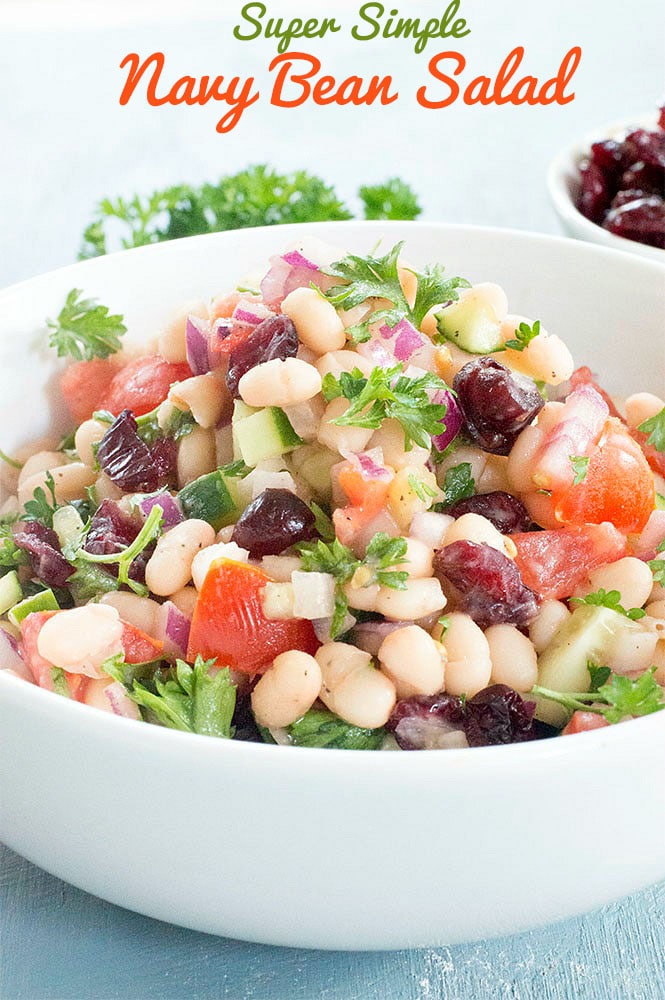 Who says vegan food cannot be sexy?!
This navy beans salad is so easy to make, it will take you longer to eat it than make it.  All the ingredients are easily found and have a healthy component.  You won't even know you are eating a healthy salad.
It is also a good Vegan Protein source.  Navy beans contain about 12% of protein and 30% when cooked.  It also has tons of dietary fiber and useful minerals.
You can use the canned variety or follow this method by the Kitchn on how to cook dry navy beans.
What is your favorite vegan food?
Super Simple Navy Beans Salad
1) Take 1 can of navy beans and place it in a strainer. Thoroughly wash them in cold water.  Make sure you strain out all the water.  Place them on a few paper towels and dry them.  Set aside.  If you are using dry navy beans, follow these steps to cook them.  You should have about 2 cups of cooked navy beans
2) Chop 1/2 of a cucumber really fine
3) Chop 1/4 of a red onion really fine
4) Take 2 Campari tomatoes and cut them in small pieces
4) Take 3 cloves of garlic and chop them really fine
5) Take 3 large sprigs of curly parsley and tear them off into small pieces
6) Add the navy beans, cucumber, red onion, garlic and parsley into a large bowl
7) Add 1/4 tsp of salt or adjust to your taste
8) Add 1 Tbsp of extra virgin olive oil
9) Add 1 tsp of black pepper
10) Add 2 tsp of freshly squeezed lime juice
11) Add 1/2 cup of pomegranate-infused dried cranberries
Mix the navy beans salad well and serve immediately.  You can also chill it for half hour, if you have time
Navy Beans Salad Recipe
Looking for salad recipes that also counts as vegan recipes? Navy Beans Salad is very healthy, quick salad idea. Made with Parsley & all healthy ingredients
Ingredients
2

Cups

of cooked navy beans

1/2

of a cucumber

1/4

of a red onion

2

Campari tomatoes

3

cloves

of garlic

3

large sprigs of curly parsley

1/4

tsp

of salt or adjust to your taste

1

Tbsp

of extra virgin olive oil

1

tsp

of black pepper

2

tsp

of freshly squeezed lime juice

1/2

cup

of pomegranate-infused dried cranberries
Instructions
Take 1 can of navy beans and place it in a strainer. Thoroughly wash them in cold water. Make sure you strain out all the water. Place them on a few paper towels and dry them. Set aside. If you are using dry navy beans, follow these steps to cook them. You should have about 2 cups of cooked navy beans

Chop 1/2 of a cucumber really fine

Chop 1/4 of a red onion really fine

Take 2 Campari tomatoes and cut them in small pieces

Take 3 cloves of garlic and chop them really fine

Take 3 large sprigs of curly parsley and tear them off into small pieces

Add the navy beans, cucumber, red onion, garlic and parsley into a large bowl

Add 1/4 tsp of salt or adjust to your taste

Add 1 Tbsp of extra virgin olive oil

Add 1 tsp of black pepper

Add 2 tsp of freshly squeezed lime juice

Add 1/2 cup of pomegranate-infused dried cranberries

Mix the navy beans salad well and serve immediately. You can also chill it for half hour, if you have time