Parsley Hummus Recipe
Recently, I have discovered curly parsley and it is goooooood!  For the life of me, I don't know why I haven't used it more frequently in my cooking until now.  My curly parsley love affair started with my super simple navy beans salad and mushroom escargot recipes. If you can believe it, these cuties even found their way into many of the vegan tapas recipes.
Scout's honor, I haven't been able to put them down since then!  Lucky for you, there will be many more parsley recipes in the coming months.  I already have a soup recipe and a Broccoli recipe for it.
The idea behind this post was to make a very easy hummus recipe using just a few ingredients.  I wanted this parsley hummus recipe to be just as easy as my beet hummus was to make.  The recipes are very similar when you start, but, take a different path half way through.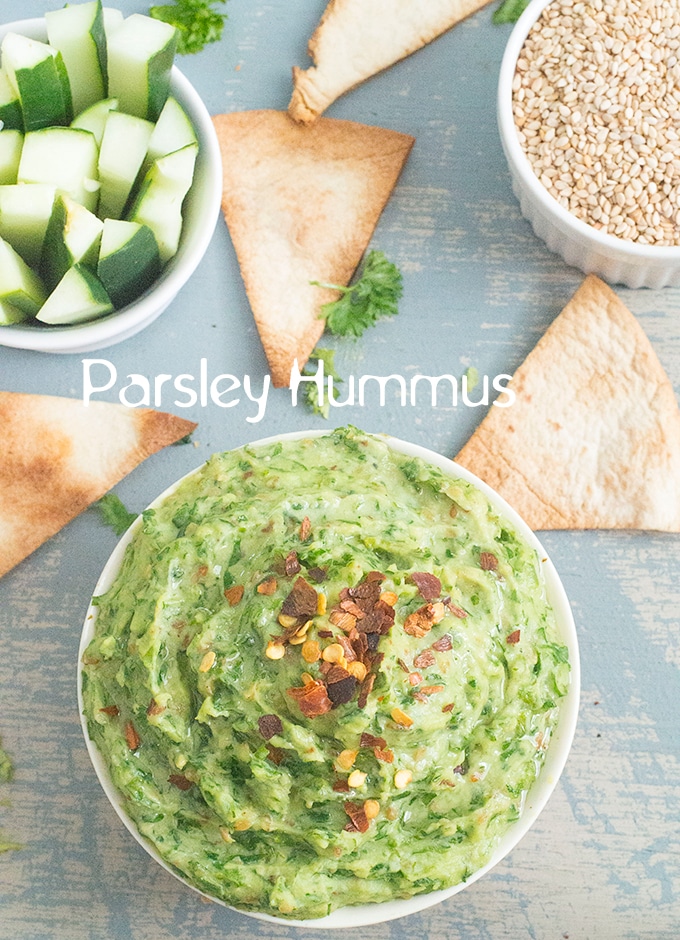 The parsley has a slight spice and tang to it and it is also rich in Vitamin K, C, and A.  It is a great way to dip your veggie snacks like carrots and cucumber.  Personally, I just devoured it by itself using nothing but a spoon!
There is nothing quite like the flavor of homemade hummus.  It tastes so fresh and unprocessed.  There is nothing wrong with store bought hummus, but, make your own if you have the time.  You will not regret making this parsley hummus!
What is your favorite way to use the curly parsley?
How to make Parsley Hummus
1) Open a can of chickpeas and drain the liquid
2) In a strainer, add the chickpeas and run them under cold water for a few minutes. The idea is to remove all the salt and other preservatives that were added to keep the chickpeas fresh in the can
3) Drain all the water from the chickpeas and place them on a paper towel
4) (I want to apologize in advance for this step!) Remove the skin from each and every chickpea and discard these skins.  It can be a very tedious task to remove the skin, but, it will all be worth it when you have a very smooth textured parsley hummus
5) Take 1 bunch of curly parsley.  Remove the stems and discard them or freeze them for future use in soups.
6) Place the parsley in a food processor bowl.  Add 1/2 tsp of salt and process them.  Grind the parsley as fine as possible.  It should be almost a powdery consistency or as close as you can get to a powdery consistency
7) Remove from the processor bowl and set aside
8) Toast 2 Tbsp of sesame seeds and 2 tsp pine nuts on a small pan and heat at low heat
9) Stir them slowly with a wooden spoon or do the flip motion with your pan. The idea is to roast them evenly on both sides. They should have a slight brownish tint after being toasted for about 4 minutes
10) In the processor bowl, add the toasted seeds and pulse them slowly. After 2-3 pulses, add 3 tsp of extra virgin olive oil (1 tsp at a time)
11) Process until you have a smooth consistency.
12) Add the chickpeas to the bowl and gradually introduce 1/2 cup of almond milk while grinding the ingredients at low speed
13) Add the ground parsley to the processor bowl and add 1/2 tsp of red pepper flakes (optional).
14) Continue mixing them on low speed until all the ingredients are blended well together.  It should have a very smooth consistency.  If the mixture looks too thick or dry, add 1 Tbsp of almond milk
15) Add 1 Tbsp of lime juice, 1/2 tsp of salt (or to taste) and 1/2 tsp of ground pepper (optional)
16) Transfer to a serving bowl and serve.  This parsley hummus will stay refrigerated for about 1 week
Serve with your favorite veggies or use it on a hummus club sandwich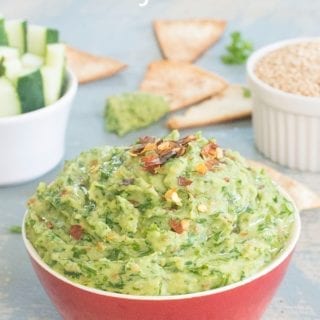 Parsley Hummus Recipe
This is the best hummus recipe ever! Homemade Parsley hummus made with Parsley and chick peas, its a great way to enjoy a healthy lunch or healthy snack
Ingredients
1

can of chick peas

1

bunch of curly parsley

1

tsp

of salt

(divided into two 1/2 tsp)

2

Tbsp

of sesame seeds

2

tsp

pine nuts

3

tsp

of extra virgin olive oil

(1 tsp at a time)

1/2

cup

of almond milk

(plus 1 Tbsp more for optional use)

1/2

tsp

of red pepper flakes

(optional)

1

Tbsp

of lime juice

1/2

tsp

of ground pepper

(optional)
Instructions
Open a can of chick peas and drain the liquid

In a strainer, add the chick peas and run them under cold water for a few minutes. The idea is to remove all the salt and other preservatives that were added to keep the chick peas fresh in the can

Drain all the water from the chick peas and place them on a paper towel

Remove the skins from all of the chick peas and discard these skins. It can be a boring task to separate them, but, it will all be worth it when you have a very smooth textured hummus

Take 1 bunch of curly parsley. Remove the stems and discard them or use them in a future soup recipe.

Place the parsley in a food processor bowl. Add 1/2 tsp of salt and process them. Grind the parsley as fine as possible. It should be almost a powdery consistency or as close as you can get to a powdery consistency

Remove from the processor bowl and set aside

Toast 2 Tbsp of sesame seeds and 2 tsp pine nuts on a small pan at low heat settings

Stir them slowly with a wooden spoon or do the flip motion with your pan. The idea is to roast them evenly on both sides. They should have a slight brownish color after being toasted for about 4 minutes

In a processor, add the toasted seeds and pulse them slowly. After 2-3 pulses, add 3 tsp of extra virgin olive oil (1 tsp at a time)

Process until you have a smooth consistency.

Add the chick peas to the processor bowl and gradually introduce 1/2 cup of almond milk while grinding the ingredients at low speed

Add the ground parsley to the processor bowl and add 1/2 tsp of red pepper flakes (optional).

Continue mixing them on low speed until all the ingredients are blended well together. It should have a very smooth consistency. If the mixture looks too thick or dry, add 1 Tbsp of almond milk

Add 1 Tbsp of lime juice, 1/2 tsp of salt (or to taste) and 1/2 tsp of ground pepper (optional)

Transfer to a serving bowl and serve. This parsley hummus will stay refrigerated for about 1 week

Serve with your favorite veggies or use it on a hummus club sandwich
Recipe Notes
This parsley hummus will stay refrigerated for about 1 week