Gnocchi brown buttered in vegan butter and fresh rosemary. Add roasted asparagus + sweet red peppers. Mix with a dirty vinaigrette. It is the best 30 minute vegan meal ever! (This post contains affiliate links)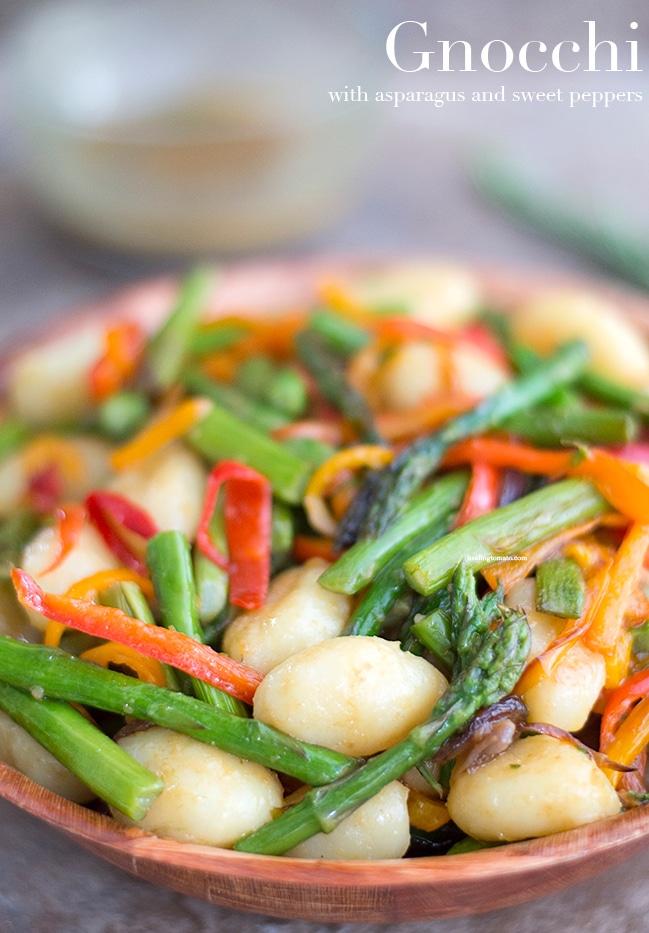 I am a huge fan of Gnocchi and it has a special place for me.  It was my first meal I ate at the first Italian Restaurant I could afford after moving to NYC.
Until that day, I had never heard of it and I didn't even know how to pronounce it.  I remember telling the manager that I would like to order, "ga-no-chee with pesto" .  He smiled and told me that it was pronounced, "nyo-ki".
I told him that I am new to NYC and I have never been to a fancy Italian restaurant.  He laughed and said that he wished me luck in the "big city".
I gave him a good tip not only because he was nice to me, but, because the Gnocchi was absolutely delicious.  I had no idea that it was made with potatoes.
Over the years, I have made my own gnocchi whenever time permitted.  There is nothing quite like fresh gnocchi, but, if you don't have the time, store bought works just as great.
Most store-bought gnocchi is vegan, so, you can easily use it in vegan recipes.  But, I always check the ingredients to be sure.  Also, I don't go for the frozen gnocchi.  The dry gnocchi that is vacuum packed is always fresh tasting.
This vegan recipe can be a great dinner recipe or you can eat it as a side meal.  I put asparagus and mini sweet peppers with the gnocchi, instead of making it a traditional sauce recipe.  To add flavor to the gnocchi, I brown-buttered them in vegan butter, then added them to the roasted veggies.  Finally, I topped it with my dirty vinaigrette which takes only 5minutes to make.
So, next time you are looking for a quick dinner or side meal, this vegan gnocchi will take only 30 minutes to make and it is so delicious.  I dare anyone to hate asparagus after they have tried this delicious recipe.
The key to this recipe is rosemary because it adds flavor and aroma to every ingredient! The gnocchi is flavorful because I put rosemary when it was in the butter and it is also in the vinaigrette.  I even put a few leaves of it when I was roasting the asparagus in the oven.
Can you imagine the aromatic heaven that was my kitchen when I was making this dish?  Make it for yourself and see what I am talking about.
So, what is your favorite way to make gnocchi?
Vegan gnocchi with asparagus and sweet peppers
1) Preheat oven to 400 degrees and bring 5 cups of water to a boil on the stove.  Also pre-make the dirty vinaigrette.
2) Cut each of the 25 sticks of asparagus into about 4 pieces and julienne a 1/4 of a red onion
3) Add both to a bowl and pour 1 tsp of extra virgin olive oil, 1/8 tsp of salt and 1/2 a sprig of fresh rosemary (roughly torn). Mix well
4) Spread out the asparagus and onions on a baking tray and place tray in oven
5) Cut the tops of 12 mini sweet peppers and cut them into halves.  Discard all seeds
6) Add them to a mixing bowl and add 1/2 tsp of oil + 1/4 tsp of salt.  Mix well and spread them on a baking tray
7) Roast both the the asparagus and sweet peppers for no more than 7 minutes.  The asparagus should remain crunchy
8) While the veggies are roasting, add 1 tsp of oil to the boiling water.  Add 16oz packet of uncooked gnocchi to the boiling water and cook for until they rise to the top. Use a strainer spoon to scoop out the cooked gnocchi.  Place them in a bowl.
9) Remove veggies from the oven and let them cool.
10) Heat stainless steel pan on the stove top for about 30 seconds on medium heat.  Add 1/4 stick of vegan butter and 1/2 sprig of fresh rosemary.  Add cooked gnocchi and keep stirring to prevent them from sticking
11) When they begin to brown, remove them from the stove and transfer to a mixing bowl.
12) Chop the roasted sweet peppers into julienne pieces and mix with the gnocchi.  Add the asparagus too
13) Top with about half of the dirty vinaigrette and mix well
Serve immediately.
Gnocchi Pasta With Asparagus And Sweet Peppers
Gnocchi brown buttered in vegan butter + fresh rosemary. Add roasted asparagus + sweet red peppers. Mix with a dirty vinaigrette. Best 30 minute meal ever!
Ingredients
For the store-bought gnocchi
5

cups

of water

1

tsp

of extra virgin olive oil

1/4

stick of vegan butter

16

oz

packet of uncooked gnocchi
For the Asparagus
25

sticks of asparagus

1/4

of a red onion

1

tsp

of extra virgin olive oil

1/8

tsp

of salt

1/2

a sprig of fresh rosemary
For the sweet peppers
12

mini sweet peppers

1/2

tsp

of oil

1/4

tsp

of salt
For the dirty vinaigrette
1

rosemary sprig

3

Tbsp

of Dijon mustard

1/4

cup

of extra virgin olive oil

1/4

cup

of balsamic vinegar

3

Tbsp

of pure maple syrup

1

Tbsp

of capers

or adjust to your taste
Instructions
To make the Dirty Vinaigrette
Break the leaves of fresh rosemary into a bowl

Add 3 Tbsp of dijon mustard

Add 1/4 cup of extra virgin olive oil

Add 1/4 cup of balsamic vinegar. If you can find a sweet balsamic vinegar, use it.

Add 3 Tbsp of pure maple syrup. This is an important ingredient. Don't use regular maple syrup because it is too thick. Pure maple syrup is lighter and easier to whisk

Add 1 Tbsp of capers. If you prefer a less tangy, than adjust the capers to your taste.

Whisk everything together until it is well blended.
To Make the recipe
Preheat oven to 400 degrees and bring 5 cups of water to a boil on the stove. Also pre-make this quick dirty vinaigrette.

Cut the asparagus. I used about 25 sticks of asparagus and I cut each stick into about 4 pieces

Cut a 1/4 of a red onion into julienne slices and add them to a bowl along with the cut asparagus. Add 1 tsp of extra virgin olive oil, 1/8 tsp of salt and 1/2 a sprig of fresh rosemary (roughly torn). Mix well

Spread out the asparagus and onions on a baking tray and place in oven

Take 12 mini sweet peppers, cut the tops off and cut into halves. Make sure there are no seeds

Place the cut peppers into the same bowl as the asparagus. Add a 1/2 tsp of oil and 1/4 tsp of salt. Mix well and spread them on a baking tray

Roast both the the asparagus and sweet peppers for no more than 7 minutes. We want to keep the asparagus as crunchy as possible

While the veggies are roasting, add 1 tsp of extra virgin olive oil into the hot water. Add one 16oz packet of uncooked gnocchi to the boiling water and let it cook for about 3 minutes. When they rise to the top, use a strainer spoon to scoop out the cooked gnocchi. Place them in a bowl.

The asparagus and peppers should be done. Remove from the oven and let them cool.

Heat a stainless steel pan on the stove top for about 30 seconds on medium heat. Add 1/4 stick of vegan butter and 1/2 sprig of fresh rosemary. Add the cooked gnocchi and mix well. Keep mixing to prevent them from sticking.

When they begin to brown, remove them from the stove and transfer to the asparagus mixing bowl.

Take the roasted sweet peppers and cut them into julienne pieces. Add them to the gnocchi, along with the asparagus

Top with about half of the dirty vinaigrette and mix well