This 2 back-to-school recipes post is written by me on behalf of Tyson Foods, Inc. All opinions are entirely my own. This shop has been compensated by Acorn Influence, Inc. and its advertiser. All opinions are mine alone.
These 2 back-to-school recipes are a fun way to inspire kids to eat veggies. The rollups are made with colorful veggies and a delicious peanut butter spread. The wrap is made up of Thai Quinoa Salad and it's also very colorful.
How hard is it to get kids to eat their veggies?
How hard is it to get them to eat in the first place?
I was a finicky eater as a kid, so, I completely understand why kids eat one thing and completely ignore the existence of another.
So, when I found out about TortillaLandⓇ uncooked tortillas, I knew I just had to try back to school recipes.
When school is in, meal prep is always a priority! This is how I have my weekdays setup –
Monday – Asian Meal
Tuesday – Italian Recipes
Wednesday – Indian Recipes
Thursday – Greek Recipes
Friday – Takeout Night!!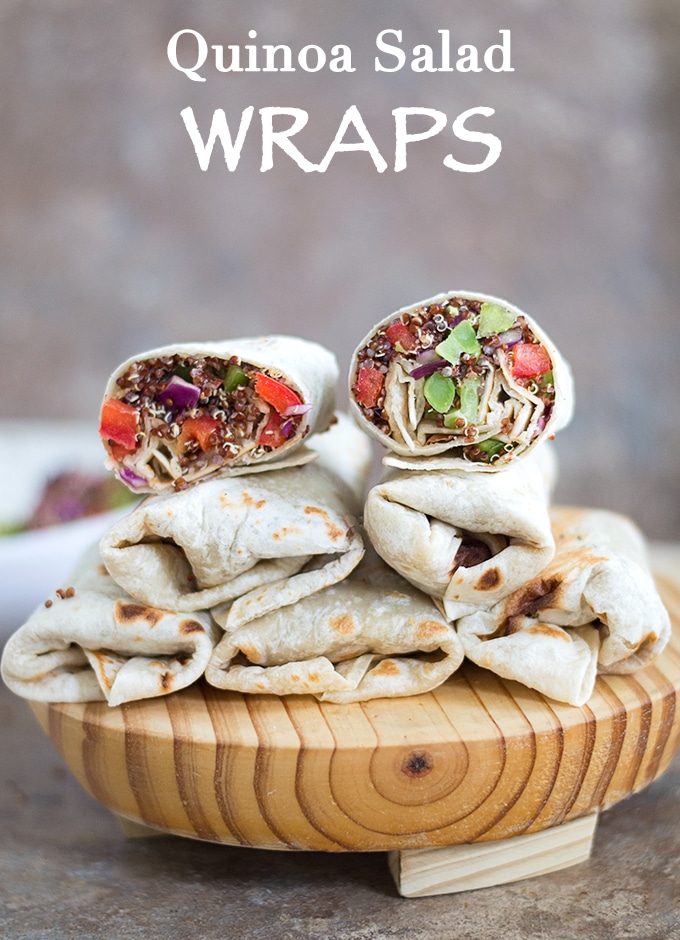 As you can see, I like to keep it interesting! I know I am not going to be bored and eat junk food because the meals are blah!!
The best part is that I can use TortillaLand tortillas on any of the cuisines. It takes only 60 seconds to warm them in the skillet and fill it with ingredients from all over the world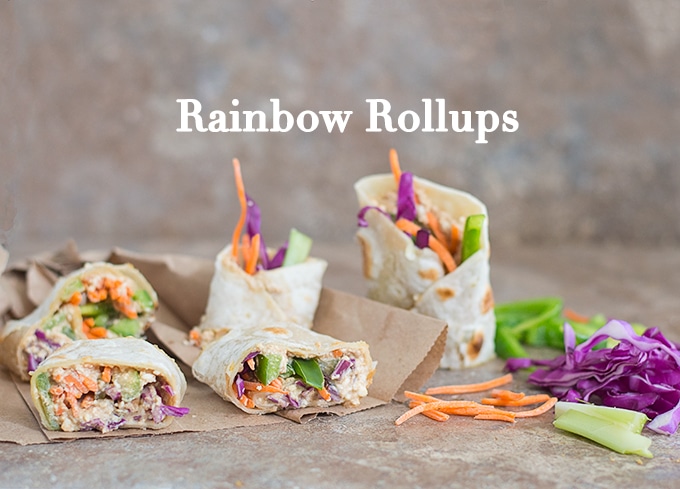 The tortillas come in the refrigerated section at Costco in packs of 36 or 50. I just have to peel as many as I need and then freeze the rest. To warm them up, I just place them on a hot skillet, warm it up on each side for 30 seconds and….
…Voila
I have freshly made tortillas!
They looked SOOOO good right off the skillet that I didn't even wait to put ingredients on it! I just ate it right away. Sure, I burnt the roof of my mouth, but, the taste was totally worth it!!
It reminds me of my friend's grandmother who used to make tortillas from scratch for all recipes. They tasted just like homemade! Her grandmother was from Mexico and she would make tortillas every afternoon for that night's dinner.
Just like grandmother's tortillas, these TortillaLand tortillas are made with only 5 ingredients: Wheat Flour, Water, Canola Oil, salt and sugar.
For me, it's much easier to buy them in bulk at Costco. I know I am going to go through them quickly! I found them in the refrigerated section at Costco which is convenient because I can get all the other ingredients for the meal plan for the week.
The Quinoa Wrap with the fresh tortilla was the perfect lunch recipe. However, you can freeze it and use it for the rest of the week. When you are ready to eat, just heat it in the mini-oven and serve.
So, what is your favorite 2 back-to-school recipes?
2 Back-To-School Recipes
Quinoa Wraps
Recipe 1 - Thai Quinoa Salad Wrap
Thai Quinoa Salad Wrap made with Quinoa, Peppers and red cabbage.

Ingredients
For the dressing
2

Tbsp

Peanut Butter

2

Tbsp

Extra Virgin Olive Oil

or Sesame oil

1

Tbsp

Ginger

shredded

2

Tbsp

soy sauce

2

tsp

Lime Juice

1

Tbsp

agave

½

tsp

salt

optional
For the quinoa salad
2

Cup

Brown Quinoa

cooked

1

Cup

red cabbage

chopped

½

Green Bell Pepper

chopped

¼

Red Bell Pepper

chopped

¼

Cup

Edamame

chopped and steamed

1

Cup

broccoli florets

steamed
For the Wrap
2

TortillaLand Tortillas

frozen
Instructions
In a mason jar, add the ingredients for the dressing

Cover the mason jar and shake well

Set aside for 30 minutes to overnight, if possible

In a bowl, add the ingredients for the salad

Add the peanut butter dressing. I used only about ¾ of the dressing and refrigerated the rest

Mix the salad well and set aside

Heat a cast iron skillet on medium heat. You can use a heavy bottom non-stick pan too

Place one tortilla on the skillet and heat for 30 seconds. Do the same for the other side.

Put the tortilla on a plate and add the quinoa salad in the middle

I put about a half cup per tortilla

Start by folding the sides of the tortilla

While holding the sides in, fold the bottom of the tortilla over the sides and the quinoa

Roll over the top tortilla fold and set aside

Do the same for the remaining tortillas.

Serve Immediately (Or See notes for freezing instructions)

Notes
Serve immediately or wrap them in a parchment paper and put them in a ziploc bag. Write the date on it and freeze. I try to use them up within a week.
Rainbow Rollups
Recipe 2 - Rainbow Veggie Rollups
Rainbow Veggie Rollups made with Fresh Veggies, Peanut Butter and Soft tofu

Ingredients
2

TortillaLand tortillas

frozen

¼

cup

silken tofu

3

Tbsp

Peanut Butter

smooth

2

Tbsp

Soy Sauce

1

tsp

rice wine vinegar

¼

tsp

salt

optional

½

Green Bell Pepper

¼

Red cabbage

1

celery stick

½

cup

shredded carrots
Instructions
In a bowl, add the tofu, peanut butter, soy sauce, rice wine vinegar and salt

Mix well until the mixture spreadable. Set aside

Cut the bell pepper, cabbage and celery sticks into julienne shapes. Set aside

Heat a cast iron skillet on medium heat. You can use a heavy bottom non-stick pan too

Place one tortilla on the skillet and heat for 30 seconds. Do the same for the other side.

Place the heated tortilla on a plate and spread an even layer of the peanut butter mixture

Start with the red cabbage and place it in a column

Next, add the green bell peppers in a column

Follow by the carrots and lastly, add the green bell peppers

Start by rolling from the red cabbage side. Roll as tightly as possible

Cut into smaller pieces and set aside

Repeat for the second tortilla