3 Pressure Cooker Vegan Mashed Potatoes Recipes made in a pressure cooker. The Classic Mashed Potatoes and Mediterranean Mashed Potatoes take only 10 minutes to make. The Mashed Sweet Potatoes are Made in 15 Minutes
Every vegan I know (myself included) loves mashed potatoes….
… and by love, I mean LOOOOOOVEEEE mashed potatoes
But, often, they are made with dairy products so we can't enjoy these soft, fluffy, smooth and pillow-y soft Thanksgiving staple.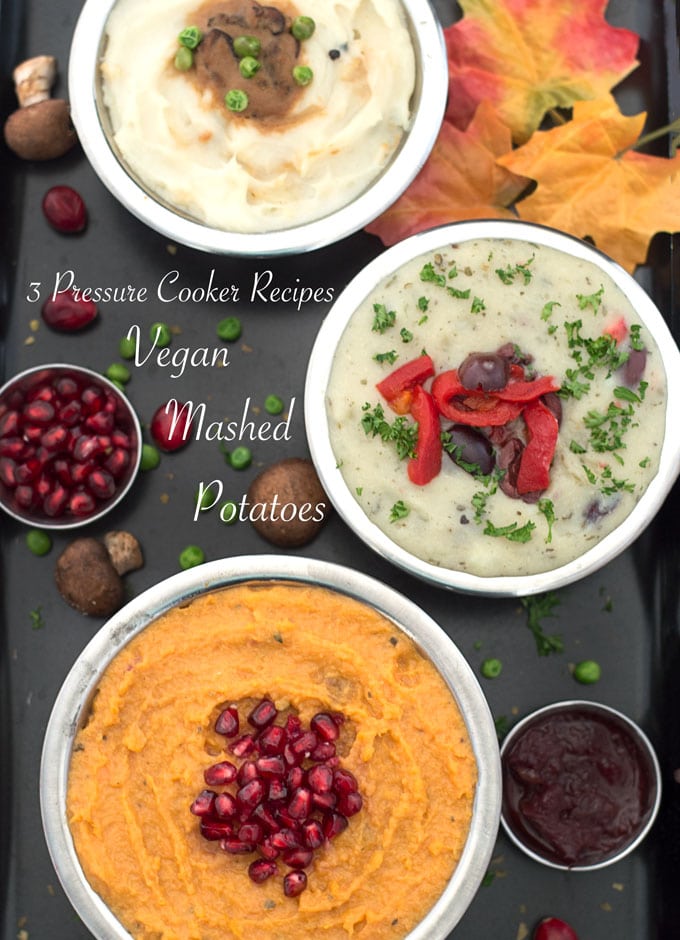 I don't want to take hours boiling water and potatoes stove top or bake them in the oven for hours. Its such a hassle, right?
So, I made them in one of my favorite kitchen gadgets. Ever since I made my Cuban picadillo, I am obsessed with this pressure cooker. It cooks everything to perfection with minimum effort, like this red lentil soup
Pressure cooker mashed potatoes take only a few minutes to cook the potatoes. Idaho and red potatoes take only 5 minutes to cook if you remove the skin and roughly dice them.
The sweet potato cooks better if you cook it whole and then mash it. Cutting sweet potatoes before cooking them made them too mushy. I think its a personal preference, but, I like my sweet potatoes to have a less mushy consistency
These 3 pressure cooker vegan mashed potatoes are going to make everyone drool!
Thanksgiving can be a stressful time for those cooking the dishes. I want to make it easier for you, so, here is a list of my favorite vegan thanksgiving recipes and a complete guide to what vegans don't eat (plus useful alternates)
3 Pressure Cooker Vegan Mashed Potatoes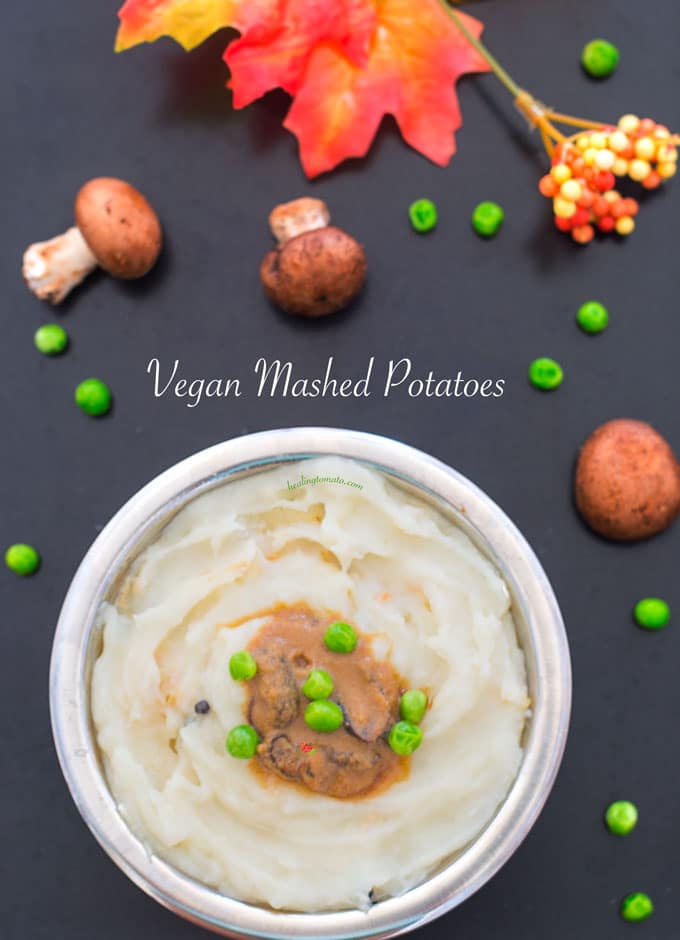 When it comes to mashed potatoes, nothing beats the classic mashed potatoes. They are always a fan favorite because they are the perfect comfort food with little work. All it needs is potatoes, milk, butter and salt.
Personally, I like my mashed potatoes to have a few lumps. If you like your mashed potatoes smooth, I might judge be silently judging you!
🙂
This classic vegan mashed potatoes took only 10 minutes to make. It took 5 minutes to gather the ingredients and 5 minutes to cook them.
Click here to get the Vegan Mediterranean Mashed Potatoes recipe or see video below
Have you had olives in mashed potatoes? I tried it a few years and completely fell in love with it. I have tried green olives, pearl olives and now, (affiliate link) Kalamata olives. For me, its a tie between Kalamata and green olives. They both taste so good!
I also added deli style roasted red peppers to the mashed potatoes because they added amazing flavors to it. Together with spices, it makes these mashed potatoes so delicious.
I like the simplicity of these mashed potatoes. Garlic will work great in this recipe, but, I didn't add any. I think I like the taste of olives without the garlic. If you love garlic and olives, go ahead and add it to the recipe.
Click here to get the Vegan Mediterranean Mashed Potatoes recipe or see video below
Sweet potatoes are a staple on my blog and my life. I love the healthy component of the sweet potatoes, but, more than that, I love how delicious it tastes in any recipe. I have made curry, spring rolls, sweet potato wedges and Cheesy hash browns, just to name a few.
This time, I am glad to be making mashed sweet potatoes with them. Cooking them in the pressure cooker takes all the hard work out of it.
I tried making mashed potatoes with chopped sweet potatoes, but, they turned out a little to mushy for my taste. When I left them whole, the texture in the end was much better.
Click here to get the Vegan Mashed Sweet Potatoes recipe or see video below
Incidentally, if you want to bake sweet potatoes in the oven, I have 5 useful tips on how to bake the perfect sweet potato
Tips for working with pressure cookers
1) Always put the pressure gauge to "sealed" before starting the cooking process.
2) Make sure that the lid is closed tightly before starting the cooking process
3) When using an electric masher to mash the potatoes, UNPLUG the pressure cooker before using the hand blender
4) When the cooking process is done, move the pressure gauge to release position. Stand away from the gauge when you release the steam
5) Never leave the pressure cooker unattended and always keep children away from it.
From these 3 pressure cooker vegan mashed potatoes, which one is your favorite?
Make this Brown Rice Pudding in the pressure cooker too and serve it as a Thanksgiving dessert