4 Dressings that take 1 minute to make and are healthy. Made with fresh ingredients and simple items that can be found in your kitchen anytime
I am a huge fan of homemade dressings.
How about you?
Homemade dressings are so much fun to make because there is no limit to the ingredients or amount you can add to your dressing
Tips For Making Homemade Salad Dressings
Keep the dressing simple because it flavors the salad. I have made and learned from when I made dressings that overpowered the salad itself.
If you have fruits laying around and turning ripe, they are a good ingredient to add to any dressing. That's how my Orange Dressing came into existence
Most dressings use 3 parts oil to 1 part citrus/vinegar. Personally, I try to aim for that, but, its not always the case. Adjust the oil and vinegar according to your taste
Store the dressing in a glass bottle like this one I bought (affiliate link) from Amazon. The dressing doesn't react with glass, so, the flavor isn't affected. I love storing all 4 dressings listed below in these bottles
If you have time, let it marinate for about an hour to overnight. It makes the dressing taste even better
If using fresh herbs, chopping them would be helpful because it will release their flavors
Shake well before adding to the salad
I like to use up the dressing within 2 weeks of making it. In the past, I have noticed some salads don't stay as fresh as the day they were made, especially the fruit based dressings
Some dressings can work as dips too. I took my Greek dipping oil and turned it into a salad dressing. It was soooo good.
4 Dressings Which are Quick and Easy
Being my favorite dressing image, I had to put this on the top of this 4 dressings list
This dressing came to be after I ran out of pom dressing. I had strawberries left over and they were about to go bad.
So, I put them into a blender with 3 other ingredients and voila!
I had a very quick salad dressing!
Strawberry Balsamic Vinaigrette Dressing
A simple, 10 minute strawberry balsamic vinaigrette made using only 4 ingredients

Check out this recipe
This creamy vegan avocado dressing has to be my all time favorite dressing. It had to be on this 4 dressings roundup, without question.
I made this wayyyy back in 2016. Almost three years later and it still makes it into my fridge once a month. None of my other recipes gets that much of my attention
This dressing takes only 5 ingredients and it can be used in salads or as dip too. There are so many uses to it
And if you have avocado left over, make a delicious avocado soup out of it.
Avocado Dressing (Creamy And Vegan)
This vegan creamy avocado dressing takes 10 minutes to make and uses only 5 ingredients. Use it on salads or fries
Check out this recipe
This dressing has found its way in so many recipes. I put it into my Pressure cooker Couscous Salad recipe and my Green Bean Salad with Quinoa recipe
This recipe is made with very few ingredients and it takes very little effort to make. I put basil in it and the aroma is heavenly.
Have you tried this lemon vinaigrette before?
Lemon Vinaigrette Recipe
A very light, simple lemon vinaigrette that is ready in 5 minutes

Check out this recipe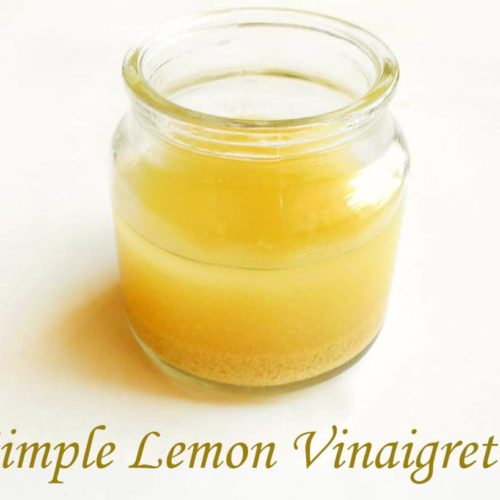 I gave this name to my vinaigrette because it looks like a "puddle of mud", but, the name is a complete opposite of the taste. The name alone qualified it to be on this 4 dressings list.
The vinaigrette is so delicious that its not restricted to leafy green salads. I put it in my favorite Gnocchi recipe with asparagus and brought all the flavors together
Its perfect for a spinach, kale or collard green salad because it evens out some of the harsh taste of those greens
Dirty Vinaigrette With Balsamic Vinegar
Quick and easy vegan dirty vinaigrette made with balsamic, dijon mustard, fresh Rosemary and capers. Made in 5 minutes. Use it on salads or pasta recipes
Check out this recipe
If you like more homemade dressings, check out my Mint Vinaigrette recipe.