Kadai is the Hindi name for a wok. It is a versatile pan that is used to cook almost every Indian meal. It has evolved through time!
Kadai is considered one of the most essential Indian cookware. Every family has one that has been passed down a few generations.
There is a sentimental connection every Indian cook has with their kadai. Most will care for it like their own child!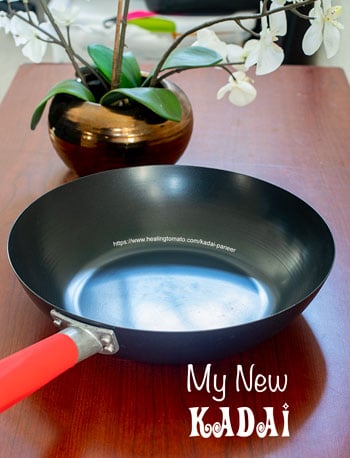 Is it "Kadai", "Karai", "Kadhai" or "Karahi"?
The general accepted spelling and pronunciation is "Kadai" (kuh-dye). However, different parts of India and different dialects write or pronounce it differently
"Kadai" is Hindi word for it which is the national language of India. In my home, we pronounce it closer to "Karai"
The pronunciations and spellings of it are as different as there are paneer recipes. Pick the name you are most comfortable. Bottom line is that there is no wrong way to say it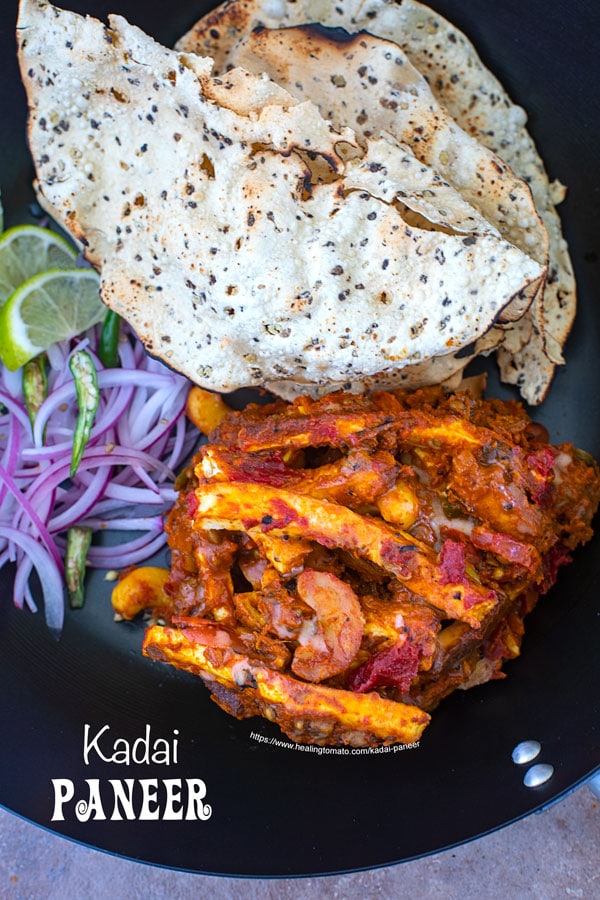 Vintage Aluminum Kadai
In my childhood, we had the very earthen kadai or the aluminum kadai which looked something like this one. If you are feeling nostalgic like me, you can buy it from (affiliate link) Amazon.
It is one of the best ways to cook vegetables because it cooks them evenly. We used to make samosa stuffing in this kadai and it was delicious.
Modern Aluminium Kadai
This kadai looks good, doesn't it? It does a great job too and it cooks evenly. What I like about it is that it is really to toss the ingredients. I love tossing veggies in this kadai. Available for purchase at (affiliate link) Amazon.
Vintage Clay Kadai / Tawa
So, I scoured the internet, but, I can't find the clay kadai that I grew up using. This kadai is as close to it as I can get. Clay pots are hard to clean and they break easily. But, when it comes to cooking rotis or other flatbreads, there is no better kitchen gadget. The flatbreads fluff up evenly!
Modern Clay kadai / tawa
Check out how great this (affiliate link) modern clay kadai!! Its perfect in every way and it was very carefully engineered!
This is my favorite kadai
I have used this for a few years only, but, its my favorite way to cook anything. You may have seen me use it in many recipes like my vegan pot pie recipe.
It has clearly seen better days, but, I love cooking in it! Lucky for us, its available for sale on (affiliate link) amazon!
My Modern Kadai
So, I finally broke down and bought a wok of my own. Its really nice and I love cooking in it. But, I think I prefer cooking in a clay or aluminum kadai. This kadai is perfect for making kadai paneer or sticky sweet potato fries