What to do with arugula? Make this easy arugula salad recipe that is ready in just 10 minutes! It's a sugar-free, vegan salad that is packed with vegan protein and vitamin C.
"What to do with arugula?"
Do you wonder how to use this super healthy green plant that is part of the family Brassicaceae?
Well you are in luck because here is one of my favorite vegan arugula salad.
The best part is the spiced tofu that really brings out the best of arugula!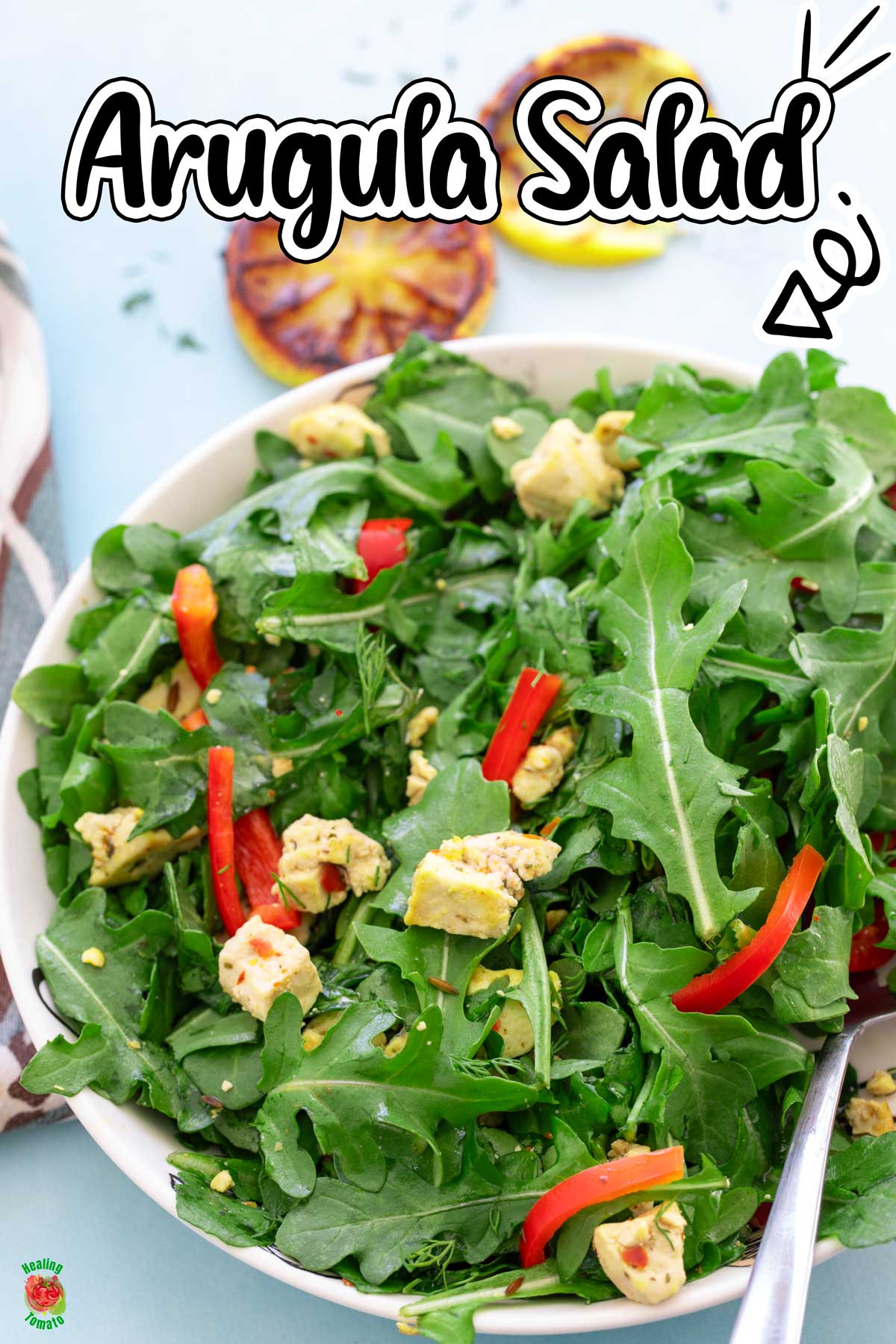 Jump to:
How to make it
1. For the tofu, mix water and (Affiliate Link) harissa paste. Put the pressed and cubed tofu in it, to marinate overnight. Alternatively, you can buy store bought version by Hoda.
2. In a wok, add one part of the avocado oil, marinated tofu and sliced garlic. Saute on low for about 5 minutes, stirring occasionally.
3. In a salad bowl, add all the ingredients, including the remaining avocado oil and sauteed tofu.
4. Mix well and serve this salad immediately. It's best when fresh.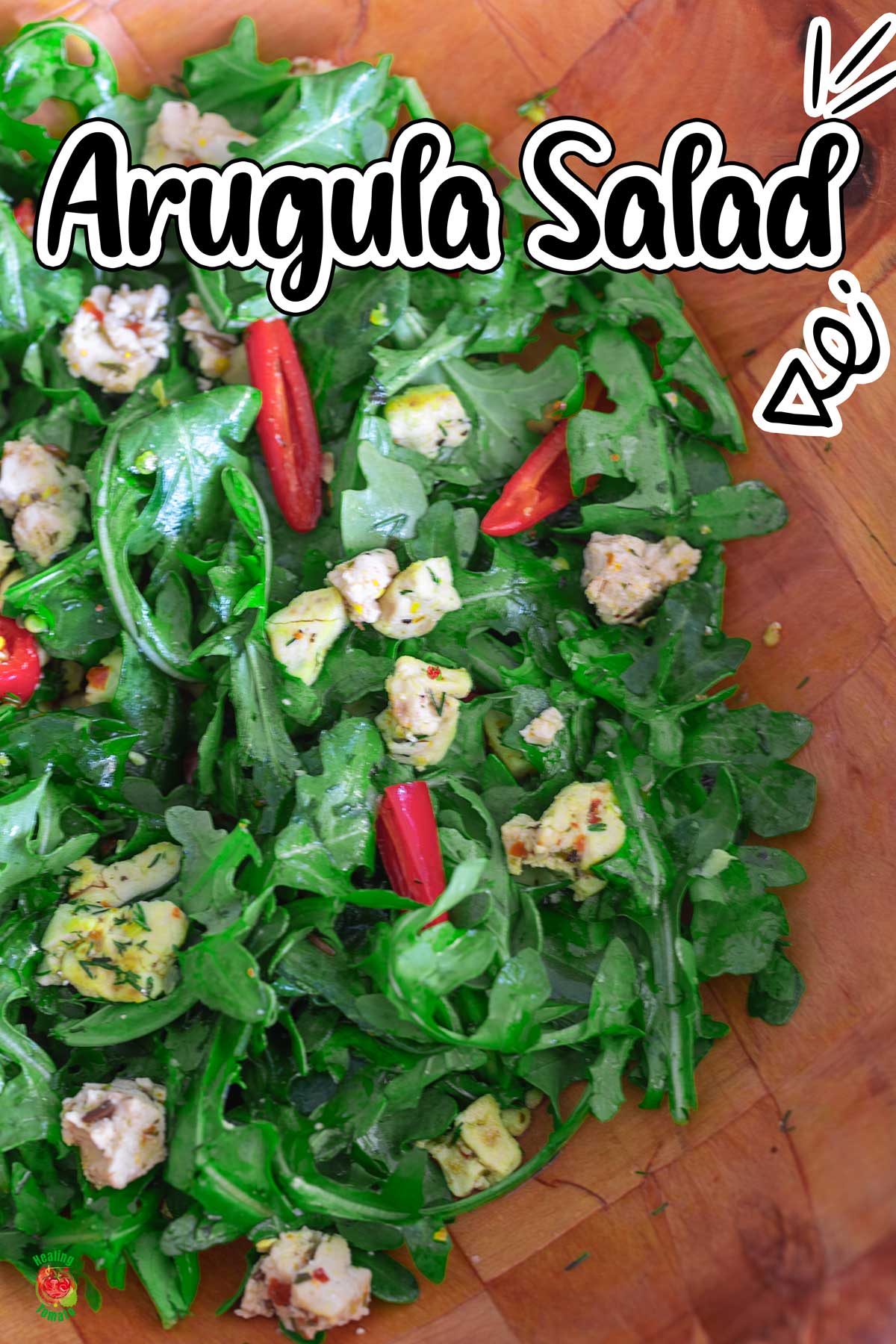 👩‍🍳 Substitution tip: If you don't have time to marinate your tofu in Harissa overnight, you can always get the store bought version. Hodo makes an awesome version which available in many grocery or big box stores.
What is arugula salad made of?
Fresh arugula (AKA baby arugula)
Lemon juice
Avocado oil
Dill
Mini sweet peppers
Harissa marinated tofu
Salt & garlic
This is a quick synopsis of the ingredients. Find the full list of ingredients and instructions in the printable card below.
🍅 Handy Tip: Keep a jar of this homemade harissa marinated tofu and use it for recipes. This marinated tofu lasts about a month when refrigerated.
Why the ingredients work well together
All the ingredients put into this recipe for arugula salad contribute to the betterment of our health. I deliberately choose the ingredients not just for their taste, but also for how they assist to the healthy functioning of the human body.
Arugula: Arugula is a bitter, peppery, and tarty in flavor. All these flavors of the arugula make it the perfect vegetable to support our liver.
Lemon Juice: Fresh lemon juice is packed with Vitamin C. This is a huge antioxidant vitamin that helps with healthy skin and fight the free radicals.
Dill: Packed with flavinoids, it is good for the heart. It helps reduce the risks of heart diseases and strokes.
Mini sweet peppers: This is my favorite source for Vitamin C. I eat them right out of the bag. Additionally, they are really good source of fiber which is food for our gut bacteria.
Tofu: One of the 2 most common source of protein for vegans is tofu, the other being tempeh. It is such a versatile ingredient because it comes as a blank slate. It can be flavored to be spicy, salty, tangy, and so much more. This time, I marinated it in Harissa sauce, overnight. Tastes sooo good. Tofu is a complete source of protein.
Avocado oil: Avocado oil is part of the healthy fats family. Healthy fats help absorb proteins better. Additionally, avocado oil has a high smoke point, so it's great for cooking.
Source: Sun Warrior and Farmer's Almanac
Recipe inspiration
Max Lugavere makes a simple arugula salad recipe using just 3 ingredients and serve it with a meat protein. Since I don't do meat, I always make his recipe, by adding vegan protein and Vitamin C to my salad.
Arugula is packed with so much nutrients that support the liver. So, it's one of those leafy greens that you and I should frequently have in our diet. I eat it about 3 times a week. How about you?
🍅 Handy Tip: Refrigerate this salad in a glass bowl because the lemon juice will not react with the container. Also, use the salad up within a couple days.
Answering common questions
Is rocket the same thing as arugula?
Yes, they are the same thing. In the United States, it is referred to as arugula leaves. Across the pond, in the UK and many other countries they are referred to as rocket leaves.
How does arugula taste?
Arugula is not like any other greens. Bite into arugula and your tastebuds will experience bitter, peppery and tangy flavors. It has a very strong taste that is unmistakable.
What is the best arugula salad dressing?
It's best to keep arugula salad recipe a very simple affair. I used a very easy lemon dressing in this salad. You can also try this arugula salad with lemon vinaigrette.
Can arugula be cooked?
It can be cooked, but heat destroys some of it's good properties like the bitterness and peppery flavors. It's best consume arugula in it's raw form.
More arugula recipes you will LOVE!
Further research
Sharing is caring
Don't be shy, chime in below in the comments. Let me hear your opinion on this recipe. If you enjoyed this keto arugula salad recipe, please give it 5 stars and share it on Facebook, Pinterest, Twitter and Instagram.
⭐️ Want even more Healing Tomato recipes? Sign up for my weekly newsletter ⭐️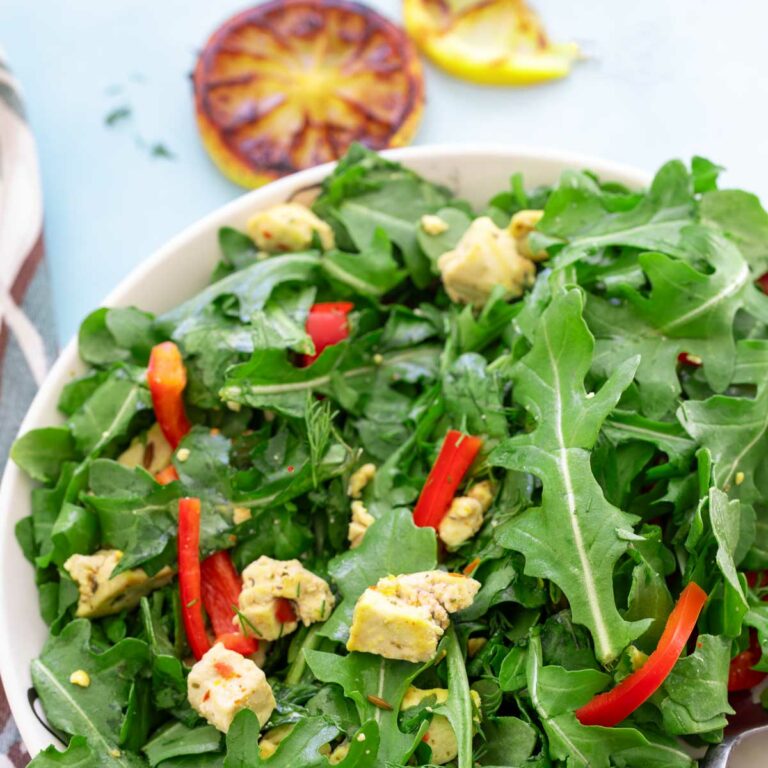 The BEST Arugula Salad Recipe
What to do with arugula? Make this easy arugula salad recipe that is ready in just 10 minutes! It's a sugar-free, vegan salad that is packed with vegan protein and vitamin C.
Equipment
1 Wok or a sautee pan

1 Salad bowl

1 Salad tongs
Ingredients
For marinating the tofu
1

tsp

Harissa paste

mild or medium flavor, see note #1

1

tsp

water

¼

block

tofu

pressed and cubed

1½

Tbsp

avocado oil

1

clove

garlic

thinly sliced, lengthwise
For the salad
2½

oz

arugula

about 3-4 cups

2

mini sweet peppers

de-seeded, cut lengthwise.

1½

Tbsp

lemon juice

freshly squeezed

1

Tbsp

dill

chopped

⅛

tsp

pink salt

optional

1½

Tbsp

avocado oil

adjust to taste
Instructions
To marinate the tofu
In a glass jar, add the harissa, water and tofu. Mix well and marinate overnight.

1 tsp Harissa paste,

1 tsp water,

¼ block tofu
Cooking the tofu
Next day, heat a wok for 30 seconds and add the oil and garlic.

Add the marinated tofu and all the juices in the water to the wok.

Saute on low heat for about 5 minutes, stirring occasionally. Do not let it burn/char.

Turn off heat and set tofu aside.
Assembling the salad
In a salad bowl, add all salad ingredients and the sauteed tofu.

Mix well and serve immediately.
Notes
NUTRITIONAL INFORMATION IS APPROXIMATE. PLEASE CONSULT YOUR NUTRITIONIST FOR MORE ACCURATE INFORMATION.
Notes:
#1 You can use store bought marinated harissa tofu. It's made by a company called Hodo and they are available in most areas. Use the store locator on their page to find one near you.
Tips:
– You can make your own marinated harissa tofu and store it in the fridge for about a month. Put it in salads, sandwiches and even pasta recipes
– Always press the tofu to remove the liquid. This will make it easier for the harissa flavors to penetrate into the tofu.
– If you don't have fresh dill you can use dill weed. But, fresh dill is so much better.