A simple, vegetarian Creamy Avocado Soup made with delightful ingredients and perfect for those cold winter nights. Takes only 20 minutes to make!
This is a sponsored post written by me on behalf of Arla® Cream Cheese. All opinions are entirely my own.
The weather is cold outside and I can feel the chill in the air.
What's the best way to stay warm and cozy?
Have this soup in hand and the low temperatures won't make your teeth chatter!
I have never made avocado soup until now. You have no idea how much I am kicking myself for not trying avocado soup before this. It makes cold, gloomy days feel like bright, sunshine-y days!
This creamy soup is crazy simple to make because I use easy ingredients and I made it in 20 minutes! My philosophy is that winter soups should always be easy to make. My pumpkin soup and my butternut squash soup are ready in 30 minutes or less.
The not-so-secret ingredient in this soup is an amazing cream cheese!!
I know, right?!?!? Best idea ever!
Cream cheese in soup is a delicious idea. It gives the soup a creamy texture and taste. More importantly, the type of cream cheese makes all the difference in the world.
Lucky for me, I was able to use my favorite cream cheese that I discovered in the dairy section at Publix!
Arla Cream Cheese comes in a 7 oz. tub container and that makes a huge difference for me. The cheese is always fresh and soft.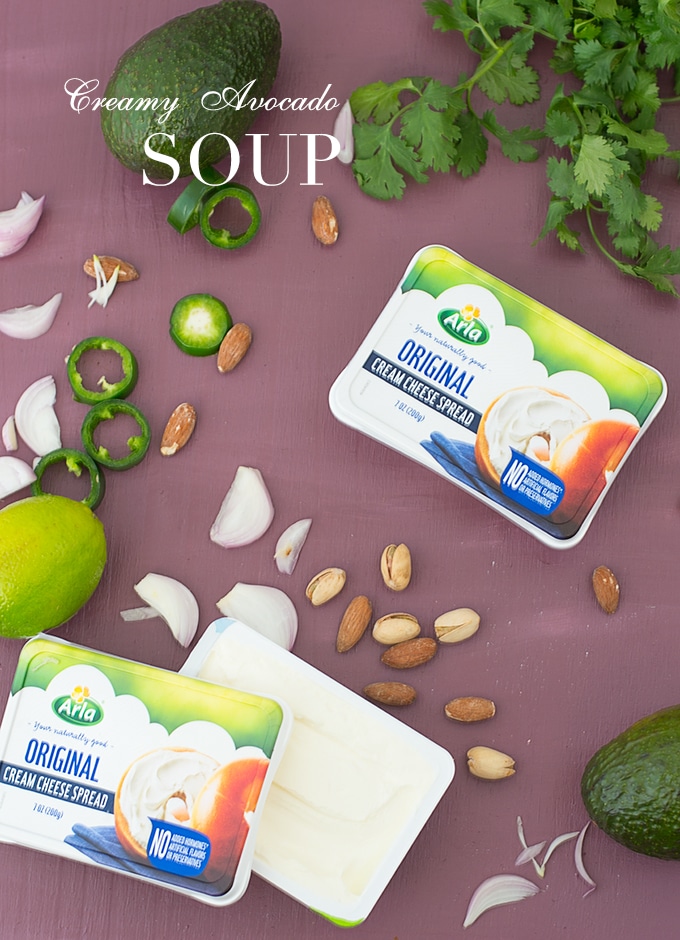 The tub container also makes it easy to scoop out the cream cheese and spread on toast or a bagel. The ingredients are so simple and recognizable which makes the cream cheese taste heavenly!
The best part is that I can print a coupon at home and get Arla for FREE at Publix. I just love saving money on products that I use regularly!
I have 4 flavors to choose from and I can't wait to try them all. My next one to try is the Arla Herbs & Spices Cream Cheese! Their strawberry flavored cream cheese is going to go great on a bagel!
I garnished the soup with cilantro, pistachios and almonds. It added an amazing crunch to the soup! Choose any combination of nuts as a garnish. I think hazelnut would be perfect for the soup.
Instead of broth of any kind, I went with coconut water. Choose a lightly flavored coconut water because it will not add flavor to the soup. Coconut water goes so well with cream cheese!
So, run to your local Publix, pick up an Arla Original Cream Cheese spread for FREE using this coupon, and run back home to make this delicious Creamy Avocado Soup.
Tell me your favorite flavor of Arla's cream cheese and I will work on making a soup recipe out of it! Arla Cream Cheese is available in four flavors at Publix:
– Arla Original Cream Cheese, 7oz. tub
– Arla Herbs & Spices Cream Cheese, 7oz. tub
– Arla Strawberry Cream Cheese, 7oz. tub
– Arla Mediterranean Garden Cream Cheese, 7oz. tub
What's your favorite fall soup?
Related: Try my other Quick Soups – Pumpkin Soup and Butternut Squash Soup
Creamy Avocado Soup
Creamy Avocado Soup
A Quick and Easy Creamy Avocado Soup made with quick and easy ingredients

Ingredients
2

Avocados

deseeded (a little firm to the touch)

1

Jalapeno

sliced and de-seeded

1

Tbsp

Extra Virgin Olive Oil

1

Shallot

julienned

2

Tbsp

Ginger

shredded

¼

Cup

Arla Original Cream Cheese Spread

1

Tsp

salt

2

Cups

coconut water

1

Tbsp

Almonds

whole (To put in soup)

1

Tbsp

Pistachios

shelled (To put in soup)

1.5

Cup

water

1

Tsp

taco seasoning

Cilantro for garnish

1

Tbsp

almonds and pistachios

For Garnish

½

Lime

Freshly squeezed
Instructions
In a blender, add the avocado

Add the nuts and a few sprigs of cilantro


Add the Arla Cream Cheese

Blend until it's very smooooooooth. Set aside

In a small pan, add the oil and heat it on medium for 20 seconds

Add the shallots and let them brown

Add the ginger and stir

After 30 seconds, reduce heat to as low as it will go

Slowly add the avocado mixture to it

Add the water and taco seasoning. Mix well

Heat on low for about 3-5 minutes. When you start seeing the bubbles "burping", turn off the heat

Transfer to a soup bowl and serve immediately
Recipe Notes
* I like the texture of the shallots in the soup. If you don't want to "feel" the shallots when eating the soup, add them to blender after browning them (Steps 8-11). Add the roasted shallots + ginger to the other ingredients mentioned in step 1-6 to the blender. Blend until smooth. Continue with step 12.
* This soup is best served hot. If it turns cold, reheat before serving.