This is the best Avocado Toast Recipe with vegan cream cheese spread. Topped with fresh strawberries and blackberries, flavored with agave and lime juice
Disclaimer – This post was originally sponsored by Pepperidge Farms! All opinions are my own
How chaotic are your morning when school is in session?
Back in my "waking up in the morning to go to school" days, it was the most hectic time of the day
Oh, and let's not forget the screaming to actually get out of bed immediately!
I have no idea how we managed to get to school every morning on time and in one piece!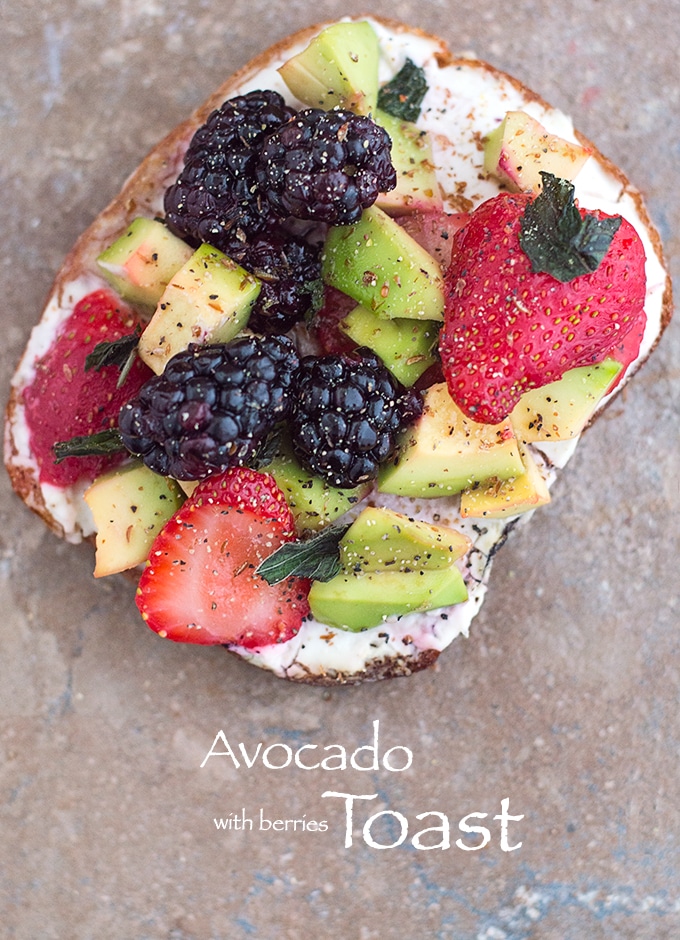 One of my favorite breakfast was always toast and chai. This was a normal breakfast growing up, but, the combo feels strange now.
Since then, I have always associated toast with chaos! Whenever I am eating toast as an adult, I always have images of a chaotic household and the uncontrollable urge to wolf down my toast in less than 5 minutes or else I will miss my ride!
This avocado toast is made with vegan cream cheese from Kite Hill. It's really easy to find in any grocery or big box stores. This cheese is made with good ingredients, so you can put it into various recipes.
This toast has good fats, protein and vitamins that are a great way to start the day or for a leisurely brunch party. Takes minutes to make and it is so easy. It's one of those recipes that I always have at my brunch table.
For keto, instead of toast, you can make an awesome keto fruit pizza by Explore Momma. You can also use vegan cream cheese in her recipe and an almond flour crust.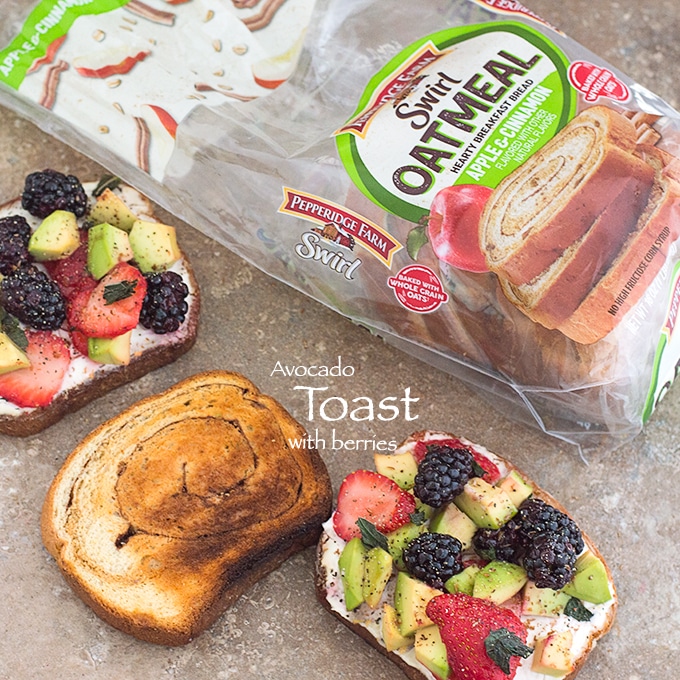 The star of this recipe is definitely the bread!
This is the new Pepperidge Farm Swirl Oatmeal Bread that is impressive right out of the bag! It's baked with whole grain and has no high fructose corn syrup.
The moment I took the bread out of the package, my entire kitchen was filled with the aroma of apples and cinnamon!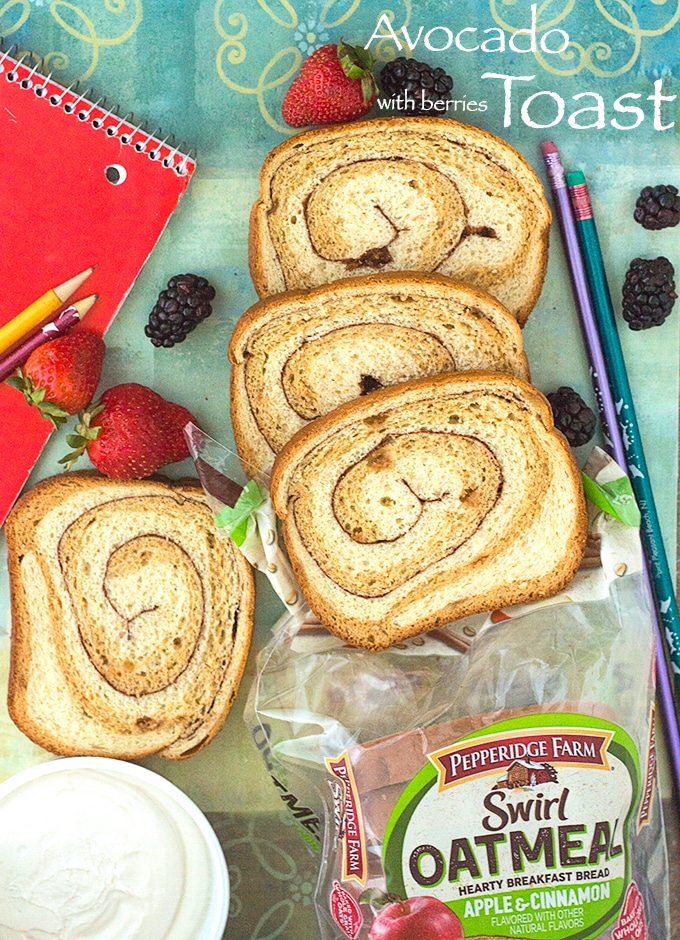 The nutrition value of avocados makes them perfect warriors against hunger pangs. The berries in this avocado toast are packed with vitamins and antioxidants. Together with the vegan cream cheese and the breakfast bread, this recipe is a powerhouse for a strong start!
If you want more avocado recipes, try this creamy avocado dressing or my avocado tomato salad. There are so many ways to eat avocado and I can't wait to try other recipes.
My favorite way to use avocado is in soup. I made an avocado soup with a little kick
I didn't use ripe avocados because they fall apart easily. The avocado I used was still a little hard and yet, juicy. Press on the bottom of the avocado and if it doesn't dent easily, that's your avocado
If you love toast with waffles, check out my chocolate chip waffles recipe made using self-rising flour.
The BEST Avocado Toast Recipe with Berries
A quick 10 minute recipe for Avocado Toast with simple ingredients

Ingredients
4

slices

Pepperidge Farm Swirl Oatmeal Bread

6

Strawberries

1

cup

Blackberries

1

Avocado

Firm and not ripe

1/2

cup

vegan cream cheese

2

Tbsp

Agave

2

tsp

Lime Juice

1

Tbsp

Flax Seed Meal

divided into 2 parts

1/4

tsp

Salt

optional

1

tsp

Black Pepper

Optional

1/2

tsp

Vanilla Essence

Optional

2

leaves

Mint

Optional
Instructions
Toast the bread slices


While the bread is being toasted, cut the strawberries into thin slices


Cut the avocado into small pieces


Place the berries, avocado, agave, lime juice, half of the Flax Seed Meal, salt, pepper, vanilla essence and lime juice in a bowl


Mix well and set aside


When the toast is done, spread cream cheese on it


Top with the fruit mixture


Sprinkle the remaining flax seed meal on the toast


Roughly tear up the mint and garnish the toast


Serve immediately

Notes
– I didn't use ripe avocados because they fall apart easily. The avocado I used was still a little hard and yet, juicy. Press on the bottom of the avocado and if it doesn't dent easily, that's your avocado – To make it more interesting, you can add nuts like pecans or walnuts