Baked brie with tomato salsa is a great way to spice up chips and dip. It is very easy to make. This is a quick dip recipe and goes great on Cinco De Mayo
Wooo Hooo! It is Cinco De Mayo today!
This is my favorite made up holiday because I get to eat all kinds of yummy Mexican foo.
Today, I decided to go for baked brie because it is great for dipping. Also, it only takes ten minutes or less to put this recipe together.
I am sure this happens to you to, because, it happens to me all the time. I will get a call on a Saturday morning from a friend who wants to come over for a "chat".
Why did I put the word chat in quotes?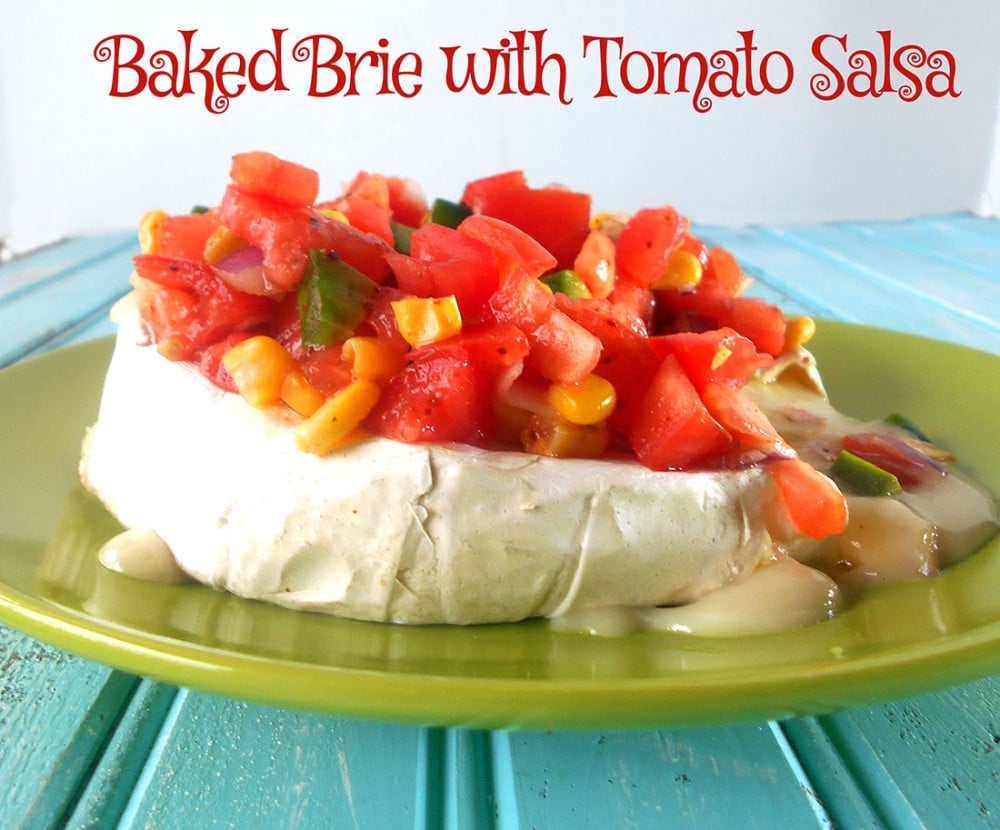 That is because they are not really coming over for a chat. Instead, they want to see what snacks or meals I will serve them.
My friends are free-loaders extremely supportive and always willing to be taste-testers for my recipes.
So, back to my point. This recipe can be made in ten minutes or less. By the time your friend has hung up on you, you will have the salsa already made.
This baked brie recipe was so much fun to make. I love seeing all that brie oozing out and I just took my nacho chip and swooped into it.
The cheese, tomato, onion, corn, avocado and cayenne pepper just burst into delicious flavor. It was like a mini fiesta for my taste buds.
Use any salsa recipe with this baked brie. I think it is better to use your favorite salsa with brie because you want to really want to savor the flavors.
If you have time, you can make my 5 tomato salsa recipe. It is so delicious and you get so many flavors of tomatoes
P/S: Have you tried my grape and cherry tomato salsa?
What is your favorite Salsa recipe?
How to make Baked Brie with Tomato Salsa
Baked Brie with Tomato Salsa
Baked brie with tomato salsa is a great way to spice up chips and dip. It is very easy to make. This is a quick dip recipe and goes great on Cinco De Mayo
Ingredients
2

plum tomatoes

½

cup

sweet corn

¼

cup

red onions

finely chopped

2

slices

avocado

finely chopped

1

jalapeno

finely chopped

1

tsp

salt

or to taste

1

tsp

lime juice

freshly squeezed

½

tsp

cayenne pepper

(optional)

1

block

Brie
Instructions
Preheat oven to 300 degrees

In a mixing bowl, add all the ingredients for the tomato salsa

Mix well

You can even make it the night before

Place the brie in a baking sheet

Place the brie in the oven

Bake for no more than 5 minutes

Remove the brie and top it with the salsa

Place the brie back into the oven and bake for no more than 2 minutes

* Remove and serve immediately *