Quick and Easy One-pot Vegan Barley Pilaf Recipe made with Pearl Barley, Green Beans, Chick peas and Carrots. It's a quick, healthy side dish with a little spice. This recipe has me looking at barley in a whole new light. Its so easy to work with and can be flavored so easily.
I have never used Barley in a savory recipe before and I don't know why!
This pilaf recipe turned out so delicious that its now permanently on my Saturday lunch menu! I put all the ingredients into one pot and let it cook by itself!
What I ended up with was MAGIC!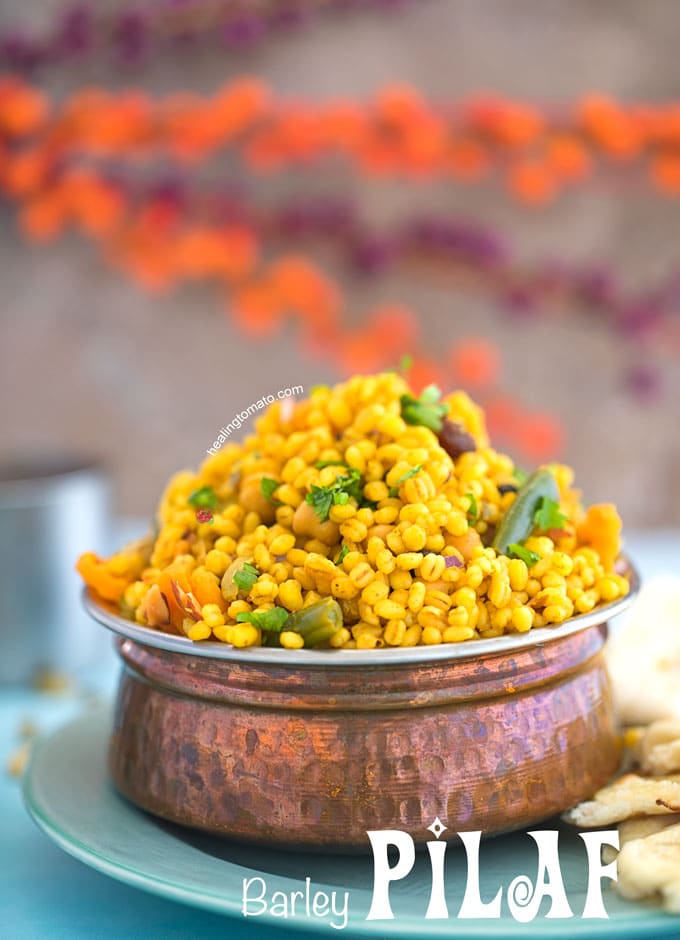 This recipe is a fusion of Indian spices and American ingredients. They blended so well together and I just fell in love with barley all over again.
I have to admit that I have used barley in soup only and never tried to venture into experimenting with other types of meals. It never occurred to me that I could put it into something where the barley was full frontal and the main ingredient!
Now that I see its potential, I have a feeling that I am going to be making a lot more barley recipes!
To make this pilaf recipe, I put toasted the barley with other ingredients which is what I usually do in a rice pilaf like my Brussels sprouts rice pilaf. It makes the barley very soft and practically melt in your mouth when you eat it.
One of the derivation of the word pilaf is from Sanskrit. Pulaka, translated, means "a ball of rice" because it was normally a giant ball of rice put on a plate. Then, everyone would eat from that ball and it was a great bonding experience.
I grew up using rice pilaf because its a very common meal in most of Eastern culture. Every country has their own version of pilaf. Most of the Middle Eastern and African cultures will add all kinds of beef to it.
For the Indian version, "pulau" is always made with fresh vegetables. I like experimenting with all kinds of vegetables like corn, potatoes and even artichokes. I also put a heavy dose of turmeric in it because I love that vibrant yellow color. If you aren't afraid of turmeric, then you have to try my Turmeric Smoothie Bowl.
Saffron also plays a huge part in this recipe. It adds a nice yellow color, but, adds a nice exotic aroma to it. If you haven't heard me proclaim fierce proclamation for Saffron, you have to read all about it in my Saffron Yogurt Mayo recipe.
Saffron also makes for a very aromatic rice recipe.
This time, however, I went with green beans and carrots. They were the perfect texture and taste compliment to the barley. If you like peas, throw them in there because they work great with barley. I suggest using sweet peas because it adds a nice flavor to the barley
Every pilaf recipe I have ever tasted always had nuts and raisins. The golden brown raisins are the most common ones, but, I used regular California raisins. Which raisins are your favorite?
This recipe also uses Cardamom which is my favorite Indian spice because its so aromatic. Put it in Basmati rice and watch it go from blah to KA-POW! Mix it with pistachio and coat goat cheese with it to make an amazing salad recipe
The secret to cooking this barley recipe quickly is to use a really pan with a large surface area. I made sure that there was only 1 layer instead all the ingredients being stacked on top of each other. This way, the recipe was ready in about 45 minutes. I used a heavy duty 12″ non-stick pan which is my favorite kitchen tool ever!
This is a vegan recipe, but, everyone is going to love it. The moment you pull it out of the oven, the aroma is going to waft through the house. The cardamom and spices are so irresistible, but, don't take my word for it! Make it and send me pictures of it.
I had quite a few Green Beans left over from this recipe, so, I used Debra from Bowl Me Over's method of steaming green beans and saving them for future use. It proved to be so useful!
Now that you have tried this barley pilaf recipe, are you ready to try other savory barley recipes?


Vegan Barley Pilaf Recipe
Vegan Barley Pilaf
A simple Barley Pilaf made with fresh veggies and Indian Spices

Ingredients
1

cup

Green Beans

cut into about 1 inch pieces

3

Tbsp

Coconut Oil

Or Corn Oil

1

tsp

Cumin Seeds

1/4

Red Onion

Julienned

1

Tbsp

Ginger

Finely Crushed

2

cup

Pearl Barley

1/2

cup

Carrots

I used Crinkle Cut

1

cup

Chick Peas

Save the liquid from the can

2

tsp

Cardamom Pods

See Notes

1

Tbsp

Turmeric Powder

2

tsp

Red Chili Powder

More if you can handle the spice

1

Tbsp

Cumin-Coriander Powder

8-10

Strands

Saffron

3

tsp

Warm Water

For soaking the saffron

1

tsp

Salt

Adjust to your taste

3.5

Cups

Water

3/4

Cup

Aquafaba

Liquid from the Chick Peas

1

tsp

Whole Peppercorn

1/2

Cup

Unsalted Cashews

1/2

Cup

Raisins

1

Tbsp

Almonds

Roughly Chopped

1.5

tsp

Lime Juice

Cilantro

For Garnish, optional
Instructions
In a hot pan, add the oil and the cumin seeds


In a bowl, add the water and saffron. Set it aside


Add the onions after 30 seconds, add the onions and cook until transluscent


Add the green beans and carrots to the pan


Add the shredded ginger and mix well


Cook for about 5 minutes before added the pearl barley


Add the Chick Peas


Add the Turmeric, Cumin-coriander powder and red chili powder


Add the salt


Add the Saffron water


Peel the Cardamom pod a little to expose the seeds in it. Put them into the pan. See notes


Add the water and aquafaba to the pan


Add the whole peppercorns


Close the lid and let it cook on medium heat for about 32 minutes or until all the water has dissipated.


Add the almonds, cashews, raisins and coriander. Mix well before serving

Notes
- I used Cardamom with the pods because it add so much aroma. If you don't like the pods, just use about 1.5 tsp of cardamom seeds
- Your cooking time will vary depending on the size of the pan you are using. For best results, use a 12" or wider pan. You can also put all the ingredients after step 13 into a slow cooker and let it cook on its own for about 3 hours or until the water has dissipated