Simple Beer Pretzel Bites made with easy ingredients is the perfect poolside appetizer or take to picnics. I added cheese in some and jalapeno in others. Making pretzels at home is so easy and delicious.
Disclaimer: This post is sponsored by Michelob ULTRA Pure Gold. All opinions are my own
Do you know one of the many perks of living in Florida?
There is a swimming pool around every corner!
How awesome is that!
Even on the coldest day in Florida, there are some people who will be frolicking in the pool or lounging by it.
I am one of them!
I like to eat lunch by pool or bring my iPad to the pool in the evening to catch up on the day's news. Sometimes, I will bring my laptop and write blog posts while lounging by the pool!
If I have friends visiting, we will sit by the pool and chat away. We can spend the whole day by the pool and not even realize that the sun has set.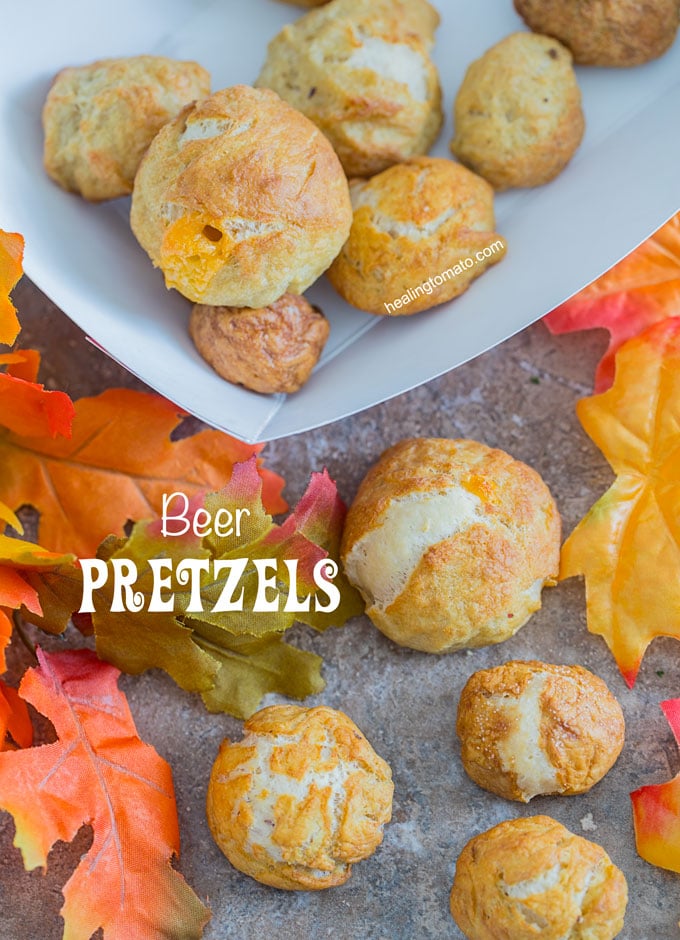 Over the Easter weekend, I had friends visiting from up north where they were subjected to a brutal winter! Poor things! They were practically frozen when they landed here. But, as soon as we sat by the pool with beers in hand, they thawed out completely!
Sure, the weather had something to do with it, but, the beer they had in hand might have been a huge factor in lifting their spirits!
Michelob ULTRA Pure Gold Beer is new on the market, but, it's an amazing organically sourced beer that is completely irresistible!
It has 2.5 carbs, 4g of Protein and 85 calories for every 12 fl. oz. Now, that's what I call a good beer!!
Healthier beers are the best of both worlds, if you ask me. You get all the goodness of beer without any of the heavy carbs or calories!!
Who doesn't want that!?!
With this beer, I decided to try my hand at beer pretzel bites. They are a little outside of my comfort zone, so, it was the perfect challenge. I made these pretzels using the Pure Gold beer and they were soooo soft.
I made several batches of this beer pretzel bites. Some had jalapeno, some had cheese and one batch had raisins. The raisins batch didn't turn out well, so, I am going to experiment further.
My favorite one were the jalapeno beer pretzels. As you know, I have a thing for spicy food. Even my smoothies have jalapeno in them! Or how about my Pineapple Fred Rice with Jalapeno? If you are like me, you will love the spicy pretzels too.
You can also skip the beer and use water. I added a little bit of orange juice in one batch without the beer. Trust me, you will love them!
So, enough talking! Go get yourself some of this delicious beer and start making these beer pretzel bites, PRONTO!
What ingredient will you embed inside this pretzel?
Learn more about Michelob ULTRA Pure Gold Beer and check out the other post they sponsored on my blog.
Beer pretzel bites with jalapeno
Beer Pretzels with Jalapeno
Simple Beer Pretzels made with easy ingredients

Ingredients
For The Flour
2.25

cup

All Purpose Flour

Unbleached

1

tsp

salt

1

tsp

sugar

2

Tbsp

vegan butter

Melted

1

cup

Michelob ULTRA Pure Gold

See Notes

2

Jalapenos

Deseeded, roughly chopped
For The Yeast
1/4

cup

Water

warmed in the microwave for 20 sec

2

tsp

Active Dry Yeast
For Dipping The Pretzels
8

cup

Water

3

Tbsp

Baking Soda
For Basting
3

Tbsp

Vegan Butter

1

tsp

Coarse Salt
Instructions
In a small bowl, mix ingredients for the yeast and set aside for 5 minutes


In a strong bottom pan, add the beer and heat it for about 2 minutes on low


In a bowl, add the flour, salt and sugar


Add the melted vegan butter and the yeast mixture


Add the beer slowly into the flour bowl and mix with hand


Mix into a dough


Lightly oil a glass bowl and place the dough in it


Cover with plastic wrap and set aside for an hour


After an hour, preheat the oven to 400°


In a saucepan, boil the water and the baking soda


Lightly oil a baking tray and set aside


Lightly oil a piece of wax paper and set it next to the dough ball


Uncover the dough and punch it


Oil your hands and make small balls (about the size of baby mushrooms)


Add a piece of jalapeno in the middle and wrap the dough around it


Place the balls on the wax paper


Melt the basting butter in the microwave to melt it


Place each ball in the boiling water and keep it there for 30 seconds


Use a strainer to remove them from the water


Place them on the oiled baking tray and brush with the butter


Using a knife, slit the top of the pretzel balls


Top with the coarse salt and place in the oven


Bake for about 13-15 minutes until the top is browned


Let them cool before serving

Other Stuffing Ingredients
Notes
– You can use water instead of beer. Use 1 cup water and about 2 Tbsp of orange juice
– Oven temperatures vary, so, keep an eye on your pretzels. Remove from the oven when they are browned.
– I made several batches of these pretzels which is why you see different sizes in the photo. The best bites were those that were small sized
– After punching the dough, do not knead it. You want to keep it as light and airy as possible