What are beets good for? You can make a great tomatillo and beet tart with Feta cheese. Use Oregano and Basil to flavor it. Made on Puff Pastry Sheets
I am always trying to find interesting ways to incorporate beet into recipes.
Since I love Tarts and I love tomatillo, a light bulb was turned on in my head.
Why not mix the two together and make a delicious tasting tart?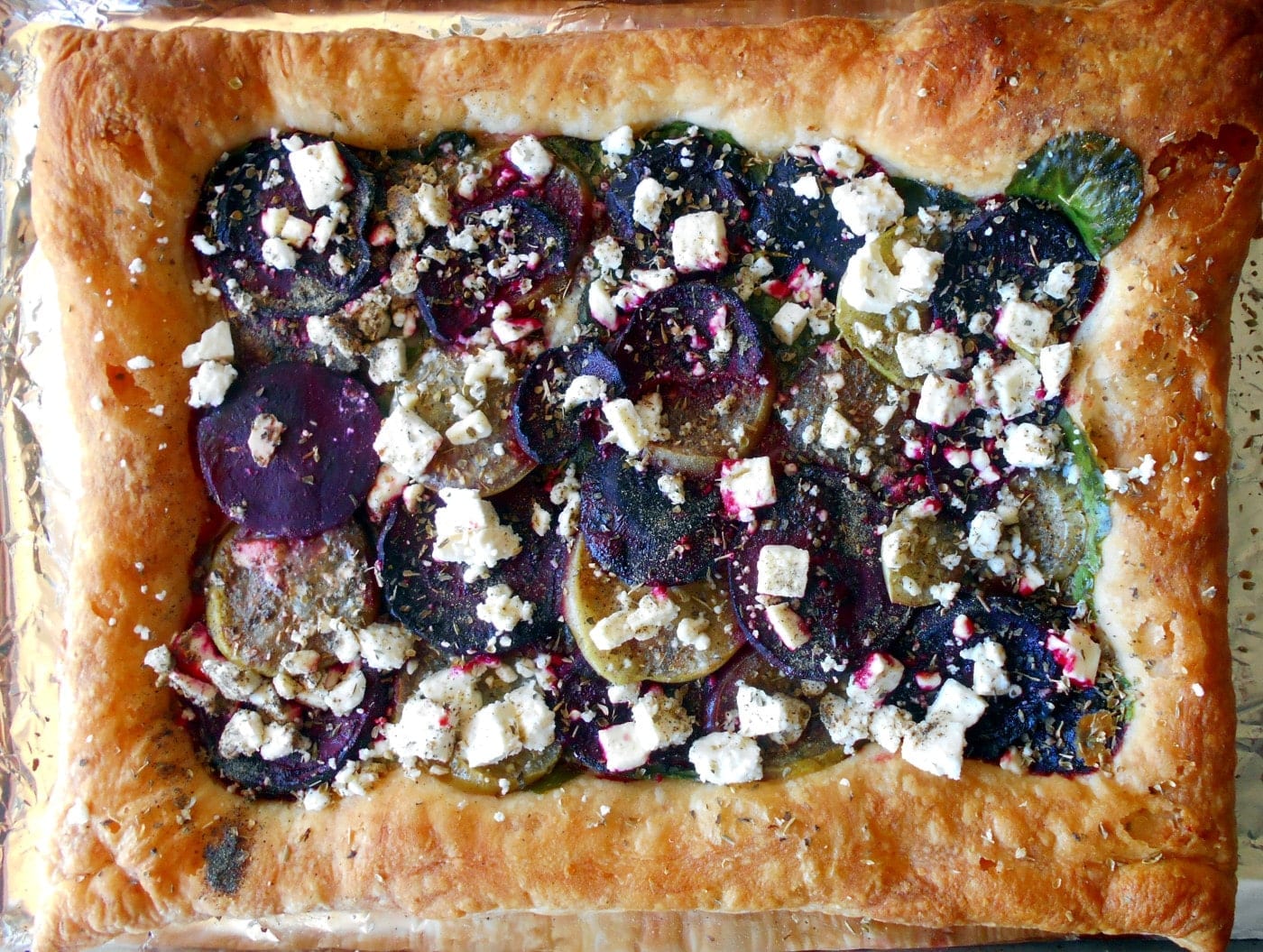 Tarts take so little effort to make and they are great finger foods. I can grab them and rush out of the door without worrying about ruining my outfit.
This tart works great if you are on the Mediterranean diet. It has so many wonderful ingredients like spinach, beets, tomatillo and walnuts. Each of these ingredients bring so much flavor and nutritional benefits to the beet tart.
Clearly I have made too many recipes for the last 2 weeks of "beet week". This is the last in the series. I liked each of the recipes I made.
My favorite way to eat them is now with puff pastry. They both go so well together. Their texture is like a match made in heaven.
When I first started eating beets, I was in terrrible pain from a terrible fall I took. The doctor told me that I should try using bets because it will help in the healing process.
At that time, I was so down and kept wondering, "WHY ME??"
Then, a friend gave me a cheap trinket from a dollar store. He told me to remember that there have been so many many good events in my life. They happened because of and in spite of the bad events.
This is my good luck charm. It helps me keep my life in perspective. I never loose site of the good things that happened in my life.
26 times people got incredibly lucky – Buzzfeed
Recipe Details (Makes 6 squares of Tomatillo and Beet Tart)
Beet Tart With Tomatillo
Beet tart made with freshly roasted beets and placed on a puff pastry sheet

Ingredients
1

sheet

puff pastry

2

beets

Medium sized

2-3

tomatillos

½

cup

mixed greens

½

cup

feta cheese

½

cup

walnuts

chopped

½

cup

extra virgin olive oil

1

tsp

salt

1

tsp

pepper

1

tsp

dried oregano

1

tsp

basil
Instructions
Preheat oven to 375 degrees

Individually wrap the beets and place them in the oven for 30 minutes


Remove one puff pastry from the package and set it thaw it at room tempreture


Remove the tomatillo leaves and was them thoroughly


Cut the roasted beets into thin slices

Cut the tomatillos thinly too

Roll puff pastry sheet to fit a baking tray


Place the rolled puff pastry on a baking tray


Fold down about ½ an inch all around

Brush the top of the puff pastry with olive oil. Brush only a light coat but coat evenly

Lay down the greens on the puff pastry. Avoid the folded down edges

Place the beets and tomatillo alternately on the puff pastry


Brush the top of the beets and tomatillo with oil lightly before placing tray in oven


After about 15 minutes, remove the tart and brush the edges with olive oil

Top the tart with the remaining ingredients and place it back in the oven

Let it bake for another 20 minutes and then allow it to cool.

Top with a balsamic vinaigrette reduction