This beetroot canape with rum roasted pineapples is the perfect appetizer recipe for any gathering. Bagel bites make for a very strong base for the toppings
Beets, pineapple and Rum!
Is there a better combination?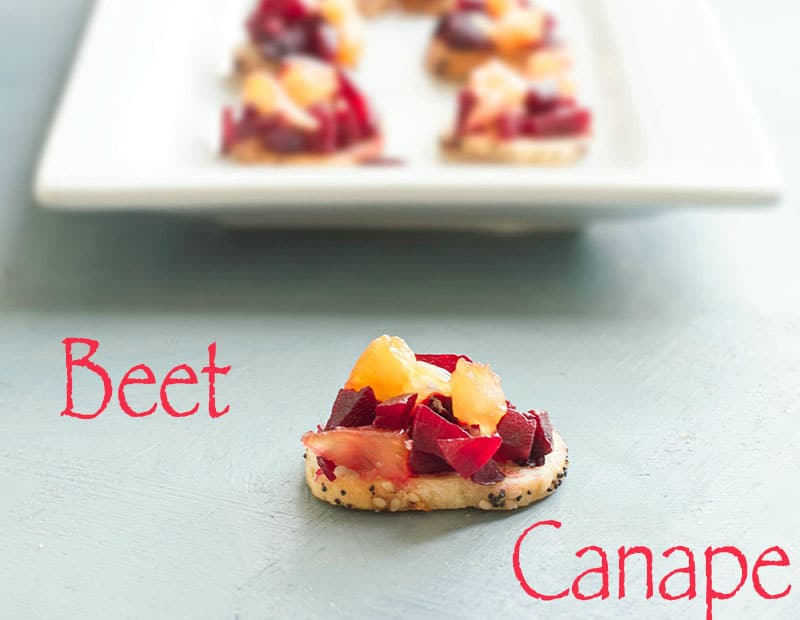 MY LATEST VIDEOS
It must be very evident by now that I am crazy obsessed with beets.  Over the course of this blog, I have had about 9 beet recipes and, rest assured, there will be many many more to come.

So, why am I so obsessed with beets?  I wish I had an answer for you!
I just love their taste  could answer that.  After all, it is a messy vegetable that likes to leave stains on anything it touches.  I even left a beet stain on a bride's white veil! It is a true story and remind me to tell it to you someday.
This is, by far, my favorite beet recipe.  That roasted pineapple with rum is the perfect match for these beets.  They are the Sunny and Cher of toppings!
There is no base for these toppings like bagel bites.  I went with the everything bagel bites because they have so much flavor and it holds the toppings without going soggy.  They were photographed, rearranged and moved to different locations in a span of 30 minutes.  When I consumed them finally, each beetroot canape was crisp and delicious!
Just a healing tomato secret, I started with 3 serving plates of these canapes.  By the time the photo shoot was over, I was down to 1/2 of a serving plate.  My guests consumed some of it, but, I was the biggest culprit! I just can't resist healthy and delicious vegan appetizers.
Ok, let me show you the recipe now instead of continuing to sing its praises…..
What is the one healthy food that you just can't resist?
Beetroot Canape Recipe
Beetroot Canape Recipe (Vegan)
This beetroot canape is made with beets and rum roasted pineapples. Used Bagel Bites for best results

Ingredients
For roasting the pineapple
1/4

cup

vegan butter

melted

2

tsp

Rum

(optional, for the kid version, use 2 tsp of orange juice)

2

tsp

brown sugar

2

pineapple rings
For assembling the recipe
Instructions
To roast the pineapple
Preheat oven to 400 degrees

Mix melted butter, brown sugar and rum


Spray baking sheet with cooking spray


Place the 2 pineapple rounds on the baking tray and generously coat it with the mixture


Roast each side for about 20 minutes or until browned


Remove from the oven and let it cool for a few minutes
To roast the beets
In a bowl, mix olive oil, dried oregano, dried basil, a pinch of salt and ground black pepper

Wash the beets thoroughly


Use a fork to poke holes in the beet and generously brush with the oil mixture


Wrap the beet in the foil and roast in the oven


Roast beets for about 15-20 minutes or until they pass the knife test

Assemble the recipe
Remove both the pineapples and beet from the oven. Set aside to cool

Cut both of them into very small pieces

In a bowl, add the chopped pineapples and beets

To this bowl, Add salt, pepper, dried oregano and lime juice. Mix well


Top each bagel chips with about 1/2 Tbsp of the beets mixture


Repeat the above step for the rest of the bagel chips

Recipe Notes
- You will have oil mixture left from roasting both the pineapple and beets.  Save it for future use or double your beets + pineapple amounts
Nutrition Facts
Beetroot Canape Recipe (Vegan)
Amount Per Serving (20 pieces)
Calories 1072
Calories from Fat 576
% Daily Value*
Total Fat 64g 98%
Sodium 1602mg 67%
Potassium 17mg 0%
Total Carbohydrates 101g 34%
Protein 16g 32%
* Percent Daily Values are based on a 2000 calorie diet.