Use that jar of bell pepper to good use before it goes bad. Make bell pepper pesto using fresh basil and serve it as a sauce or spread. Can be refrigerated or frozen for future use.
I love those jar of bell pepper strips to put on sandwiches or in salads.
But, they go bad quickly!
How many times have I opened the jar and be met with disgusting site and smell!
So, what to do with a jar of bell peppers?
Turn them into an UNBELIEVABLE pesto recipe!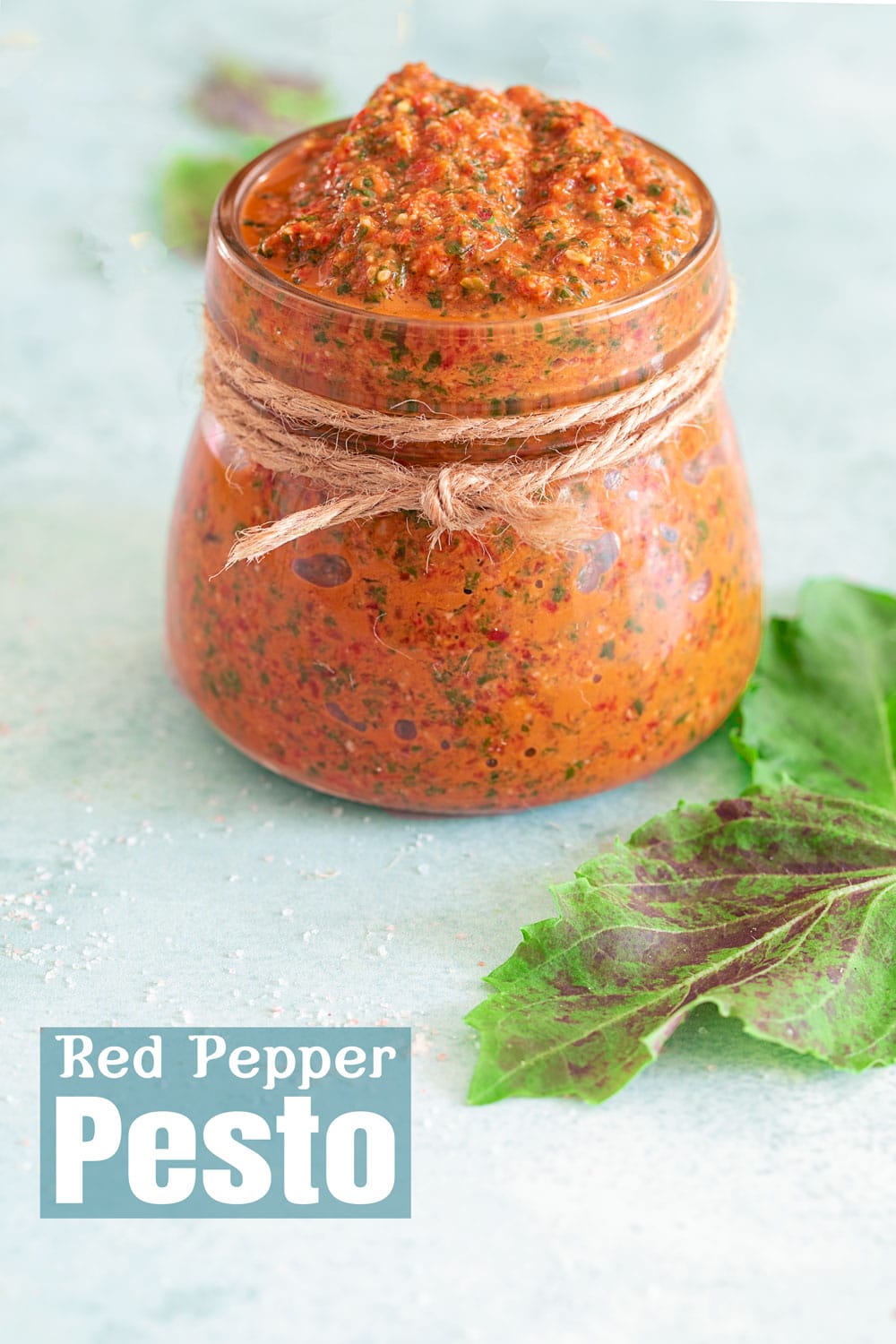 🍅 Handy Tip: Use bottled bell peppers in this recipe because they are convenient. Go with the strips or bell pepper pieces, but make sure you wash them thoroughly. This will remove the taste of the brining liquid.
Ingredients
Here is a quick look at the ingredients. It is to understand why these specific ingredients were chosen. To get the full recipe, go to the bottom of this post.
Pine nuts – They add a nutty flavor and also give this recipe it's good fats.
Purple basil – Purple basil is packed with so many nutrients like Polyphenols, fiber and Vitamin E.
Pink salt – It is a more natural form of salt and has 84 trace minerals in it.
Extra virgin olive oil – It's good fats help absorb nutrients in this recipe.
Bell Pepper – They are a very good source of Vitamin C.
Instructions
Start by washing the bell pepper strips. I put it in a colander and run it under cold water.
In a food processor, add half of the basil and blend it up.
Now, add the remaining basil and the rest of the ingredients except bell peppers.
Blend it up until it's creamy.
Finally, add the bell peppers and blend until it's fully blended.
👩‍🍳 Substitution tip: If you don't have pine nuts, you can use blanched almonds, cashews or walnuts. Make sure to grind them first.
Answering Common Questions
Can I freeze pesto?
Pesto is easy to freeze and it lasts a long time. Put it into ice cube trays and cover. Or, put it into Ziploc bags and lay flat in the freezer.
When I refrigerate this bell pepper pesto, I put it into a glass jar.
Can I make a nut-free pesto?
Yes, it's easy to make a nut-free pesto. Substitute pine nuts with:
– Seeds like hemp seeds, sesame seeds or flax seeds.
– Canned canned chickpeas can be used. Roast chickpeas in the oven to make them crispy.
– Pretzels make a good substitute too. Grind them up along with the other ingredients
– Crunchy edamame will also do the trick.
Why roast the pine nuts to make pesto?
Pine nuts are best when they are light roasted. It brings out their natural oils and flavors when you roast them.
It makes the pesto taste more nutty and delicious.
Is pesto keto?
This pesto recipe is keto friendly. Pine nuts are high in good fats, but, use it sparingly. They do have about 9g of carbs in a 100g of serving. That's not too much, but it might be a lot for some people.
🌶 Spicy Tip: Add a little spice to this pesto by adding red pepper flakes or a spicy pepper in it.
Storing tips
Always use glass jars to store pesto because it will be refrigerated. This is the (Affiliate Link) one I like to use.
Make it and refrigerate immediately, if you are not using it. This will help the taste remain fresh.
Even if you are going to use it in a day or two, store it in glass jars to prevent the ingredients from reacting with the container.
To freeze them, place them in ice cube trays with covers like (Affiliate Link) this one from Amazon.
How to use pesto
Have you tasted a giant tomato sandwich where pesto is used as a spread? It's a must try!
A few more pesto recipe
I have a whole collection of the best pesto recipes that will knock your socks off! Try pesto recipes made with scallions, cilantro, and arugula.
What's your favorite part of this bell pepper pesto recipe?
Sharing is caring
Don't be shy, chime in below in the comments. Let me hear your opinion on this recipe.
⭐️ If you tried and enjoyed Bell Pepper Pesto recipe, please rate it 5 stars! Share it on Facebook, Pinterest, Twitter, Instagram and even YouTube. ⭐️
Bell Pepper Pesto with Purple Basil
What to do with jar of bell peppers? Turn it into a simple pesto recipe that is easy to make.
Ingredients
2

Tbsp

pine nuts

2

cups

purple basil

lightly packed

1

tsp

salt

Adjust to taste

3

Tbsp

extra virgin olive oil

8

oz

bell pepper strips

1/2 of a 16oz jar or 1 cup or roasted bell peppers
Instructions
Roast the pine nuts stove top. Roast for about 1 minute to bring out the natural oils and flavors.

In a food processor, blend half of the basil first

Add the remaining basil, roasted pine nuts, salt and extra virgin olive oil

Scrap down the sides of the processor

Blend until it's a pesto consistency

Add the bell pepper strips and blend until pureed.
Notes
*** CALORIES INFORMATION IS APPROXIMATE. CONSULT A HEALTHCARE PROFESSIONAL FOR MORE DETAILED INFORMATION.
Pine nuts can be used sparingly on a keto diet.
You can use the bell pepper strips or the big bell pepper pieces that come in a jar.
Make sure you wash the jarred bell pepper because it comes with other flavors like vinegar, etc.
This is a vegan pesto recipe, but you can always make it vegetarian by adding fresh Parmesan. You can also add a tsp of ground flax seed.
Tranfer it to a glass jar after you have made it. Storing it in a glass jar will keep it fresh longer
You can also freeze it and it will last for 6 months.
If you don't have pine nuts, you can use almonds or walnuts. Make sure to grind them first.
I always like to blend half of the basil first. This way, I can be sure that it will be blended evenly. It's not important step, but I like doing it that way.
Sometimes, I will make it spicy by adding red pepper flakes or a spicy pepper in it.
Nutrition
A note about the purple basil
I grow my own basil in my garden because I love having it when I am need it and it's more fun to grow it over buying it.
This time, I decided to try and grow purple basil. Sadly, they didn't grow completely purple like they were supposed to. I think I grew them in the shade instead of direct sunlight.
However, what grew was this AMAZING shade of purple and green basil. They are so beautiful and I almost didn't have the heart to harvest them.
And, they taste so delicious!
Regular basil (AKA Genovese basil) will also work in this recipe.