The Best Corn on the Cob recipes that are vegan and perfect for summer cookouts, picnics or any occasion. 5 super easy Quick, easy vegetarian and vegan corn on the cob recipes
If you have a love of eating corn on the cob, then, I have the perfect 5 recipes that you just can't resist.
These recipes are so easy to make and even meat eaters can't resist
Tips for working with corn on the cob
– If you are grilling them on open flame, make sure you keep the bottom end part of the cob. Its makes it easier to turn it on the grill
– Use sweet corn on the cob because they taste so delicious in any recipe.
– Don't throw away the cob after you have eaten the corn. You can use the naked cob to make veggie stalk. I have also seen it being used as a dish scrubber.
– If you buy a huge batch of corn on the cob, you can easily freeze the extra. Remove the husk and place in ziploc bag. Make sure you remove all the air out of the ziploc bag and seal it tightly. Write date on top and freeze for upto 6 months
5 Corn on the cob recipes
This is my new favorite corn on the cob recipe. I made it with a creamy tofu grilling sauce and grilled it stove top. Then, I topped it with spices and served it.
You won't believe how delicious this recipe turned out. Make sure you try it today and come back to let me know what you thought
Vegan Grilled Corn on the Cob
Vegan Mexican Grilled Corn on the cob or Vegan Elote is very easy to make using the stove top grill and a creamy tofu sauce
Check out this recipe
---
This second recipe on my best corn on the cob recipe list is probably a little controversial. Cilantro has a way of dividing people, lol
If you are a cilantro lover, like me, this cilantro corn on the cob recipe is going to make you drool.
I used cilantro, green enchilada sauce and spices blended together and then, doused the corn with it. It was then cooked in a pressure cooker for a few minutes. You can also use a regular grill to make it.
Corn on the cob with cilantro lime sauce
Cooking corn on the cob in the pressure cooker with an easy cilantro lime sauce
Check out this recipe
---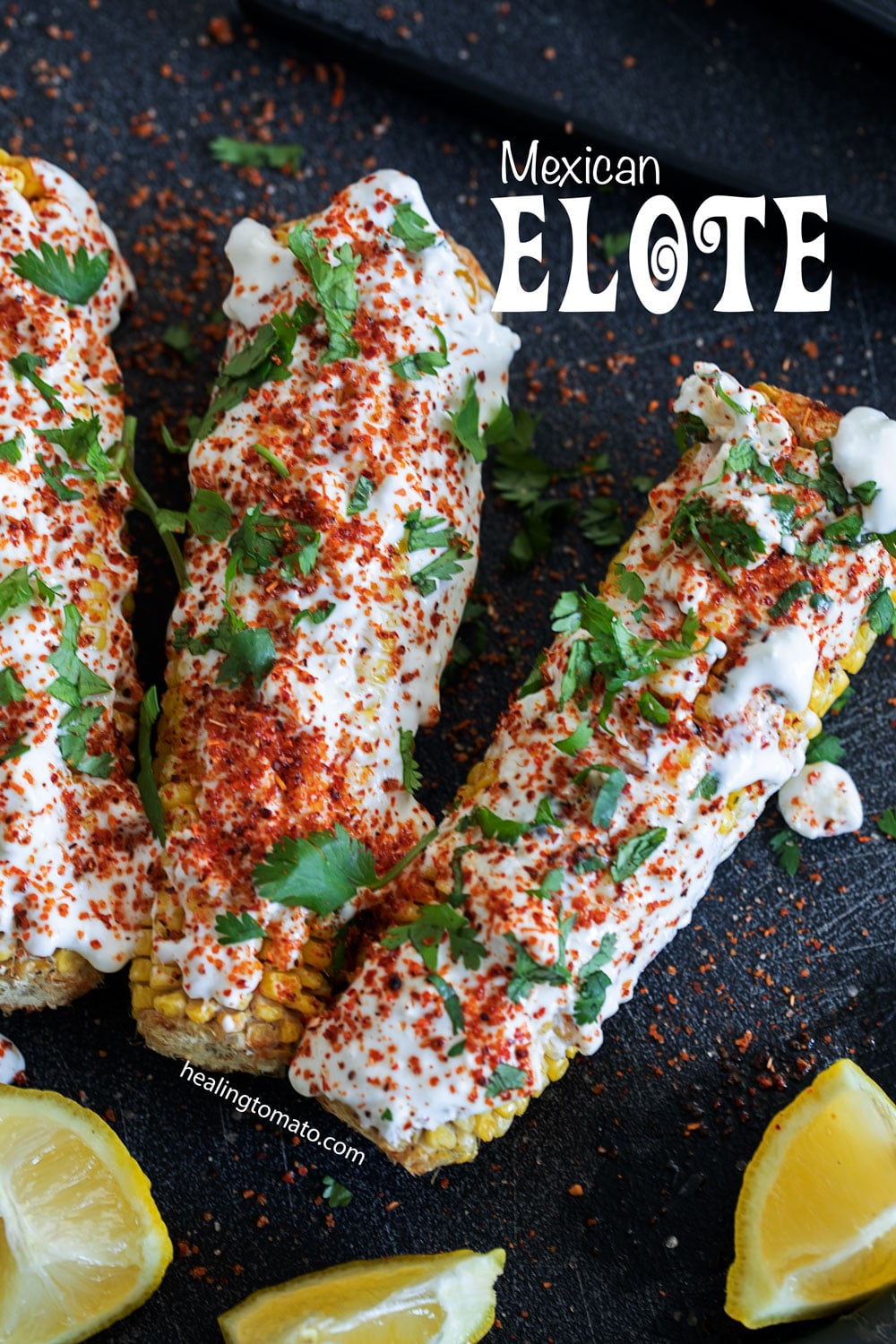 This is one of those recipes that makes EVERYONE drool. It's that combination of corn, cotija and tajin that makes this elote recipe completely irresistible!
I grilled this in the oven, but, you can easily grill it on a grill or make it stove top. Either way, you will never make Elote without tajin!
So, I hope you like it and make it today. Send me pics of the recipe
Mexican street corn on the cob
Mexican style corn is oven-roasted and topped with Cotija Cheese and Tajin Seasoning
Check out this recipe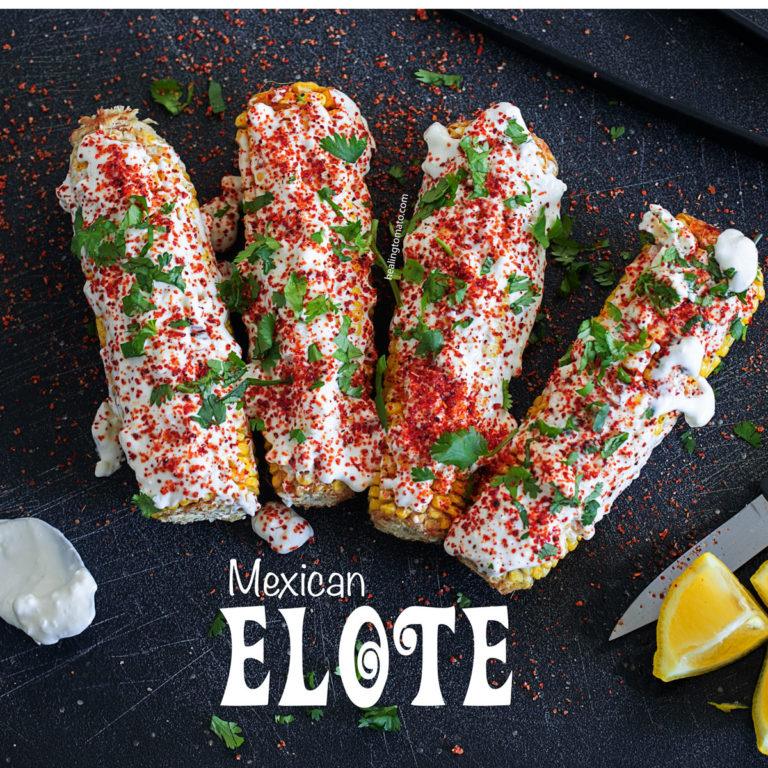 This is one of those recipes that does so well at potluck parties. There is something so warm and inviting about a corn on the cob curry
If I had to pick a favorite from this best corn on the cob recipes list, I think this corn on the cob curry would be the one. It is because I am super biased towards Indian food (I talk about my love of Indian food in my Palak Makhani recipe)
So, take this to your next pot-luck party and impress your guests with its distinctive flavors
Corn On The Cob Curry
Corn on the cob curry is the perfect dinner recipe for the whole family. Made with coconut milk

Check out this recipe
---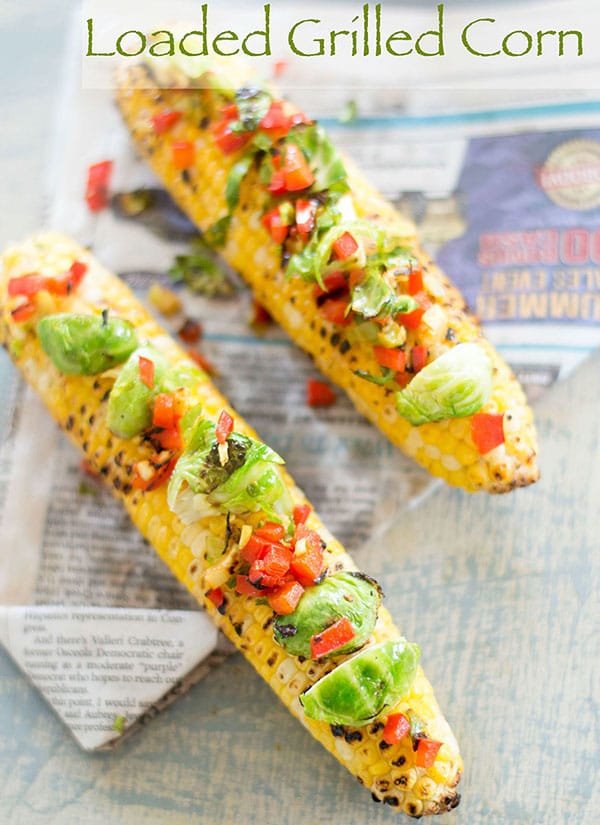 I had to put this recipe on the list because it gets no love from my readers. :(. It seems like it might be hard to eat it, but, its really not.
If its hard to eat with the Brussels sprouts on top, remove the corn from the cob and mix it with the Brussels Sprouts. You an eat it as a salad or a side dish
Either way, this corn on the cob is beyond delicious and you won't mind the Brussels Sprouts either.
Grilled Corn Loaded With Brussels Sprouts Salad
Summer grilling is fun with this corn and Brussels sprouts and red bell pepper salad Vegan, Vegetarian
Check out this recipe
---
Your cob questions answered
Can I cook corn on the cob in the oven?
Yes, these corn on the cob recipes are easily made in the oven. I prefer using foil or foil pack because it keeps my oven clean. But, you can also put the corn on an oven safe rack, place a baking tray under it and put it in the oven
How to cook frozen corn on the cob
This depends on the method of cooking. If you are boiling it, you don't need to thaw it, just place it in boiling water. Same thing for when you are pressure cooking or slow cooking the corn. If you are oven cooking it or grilling it, make sure you thaw it and dry it off before cooking it
How to cut corn on the cob
Cutting it with a knife is the fastest way to cut it into smaller pieces. Its much easier than you think, especially with a well sharpened knife
Does Corn on the Cob need to be refrigerated
If you can use the corn on the cob within a week, then you don't need to refrigerate it. Otherwise, remove the husks and hairs and place it in Ziploc bags (write date on top). You can refrigerate or freeze it
Can corn on the cob be frozen
If you buy a huge batch of corn on the cob, you can easily freeze the extra. Remove the husk and place in Ziploc bag. Make sure you remove all the air out of the Ziploc bag and seal it tightly. Write date on top and freeze for up to 6 months
Can corn on the cob be reheated
It depends on the recipe. If it is cooked with milk or dairy products, reheating might not be a good idea. Best thing to do is to remove the corn and store it that way. Most vegan corn on the cob recipes can be reheated, if you separate the corn before you refrigerate it
What can I do with the naked cob
You can use it for making veggie stalk or even use it as a paint roll. Be sure to wash it very well before you use it