A collection of unique pesto recipes that are beyond delicious! Put them in your pasta, use it as a sandwich spread or use it as a dip to your chips! Every recipe will knock your socks off!
Where would we be if the city of Genoa in Italy never introduced us to pesto?
We would be very poor for not knowing it!
Pesto is my favorite sauce to use because it's a very versatile sauce. I get to put it in so many recipes that go beyond pasta!
Tips for pesto
If you have a mortar and pesto, I highly recommend using it to make the pesto. There is something so special about making a stone ground pesto recipe. Trust me, you will love the flavors of that freshly minted pesto.
Growing basil is very hassle free and easy to grow. If you live in an area where you can grow it all year round, do so. You can even use (affiliate link) AeroGarden Harvest
Did you know that there are hundreds of different types of basil variety? Go for varieties like Purple basil, dark opal basil, lemon basil, Thai sweet basil, Italian Large Leaf and Lettuce Leaf Basil. Try a variety for your pesto recipes. Source: How To Culinary Herb Garden and Morning Chores
Always roast your pine nuts a little before you grind them up. It brings out their natural oils and salty flavors.
Pine nuts are the traditional choice for pesto. However, they can be expensive. My local grocery store sells a small sachet packet for about $8!! That is way to expensive for one time use. So, I prefer using cashews or occasionally, sunflower and pumpkin seeds. Use unflavored version of these seeds!
I suggest using only extra virgin olive oil in pesto recipes. Stay away from seed or vegetable oils like sunflower, canola, sesame or corn. They ruin the taste of the pesto and cause havoc on the insides of your body. Source: Better Nutrition and Forbes.
Feel free to use veggies to make pesto. Spinach, broccoli, kale and even carrots can make a good pesto.
You can freeze pesto and keep it for months. There is an ice cube tray method or putting it in freezer-friendly containers.
Best pesto recipes
Here are my favorite pesto recipes. They are designed to be very quick to make and use the simplest ingredients.
In the comments section below, be sure to let me know which one is your favorite recipe.
Got a jar of roasted bell pepper that might go bad, if not used sooner? You spent $6 to buy that jar and now, half of the bottle going to find its way into the dumpster!
Well, I turned it into pesto and extended it's life! I am happy to see that $6 didn't go to waste!
Instead of using regular basil for it, I went with purple basil which is so easy to grow in my garden. Use any basil you have on hand.
I used this pesto to roast a whole cauliflower. Stay tuned, because it's the center of attention in another recipe.
Bell Pepper Pesto with Purple Basil
What to do with jar of bell peppers? Turn it into a simple pesto recipe that is easy to make.
Check out this recipe
---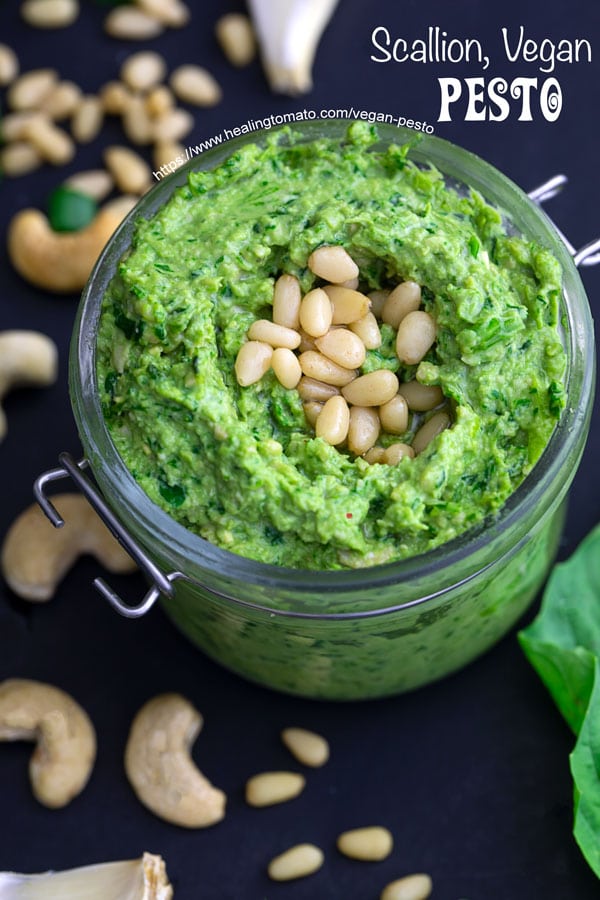 I had scallions left over and they were about to go the way of rot! I know, I see the underlying theme of making pesto from ingredients that were about to go bad.
This scallions were the organic kind, so, they were on the expensive side. I didn't want to just compost them or worse, throw them away.
I looked in my refrigerator to see what I can do with it. My eyes fell on basil that I had gotten from a friend's garden. Inspiration struck and I turned it into pesto!!!
The rest, as the cliche goes, was history!!
This pesto changes how you flavor sweet potato hasselbacks!
How to make vegan pesto using scallions
Quick 5-minute vegan pesto with basil, cashews and scallions

Check out this recipe
---
Yes, another recipe inspired by ingredients going bad!
Arugula doesn't go bad for a while. It takes a long time to get it to go bad. So, this arugula was in my fridge for a while before it got my full attention.
For this recipe, I used cashews and that made the pesto so creamy. This pesto was going to be used a spread in a sandwich, so, cashews are the right texture for it.
This pesto will definitely make you fall in love with arugula.
Arugula Pesto Spread Recipe With Cashews
This vegan arugula pesto recipe is made with cashews and nutritional yeast.

Check out this recipe
---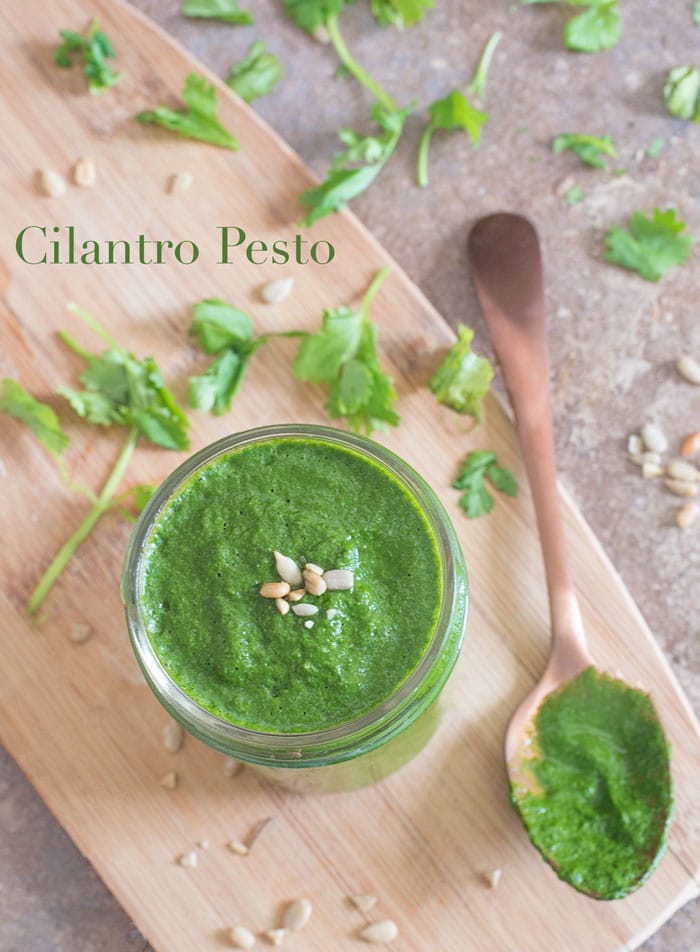 This recipe is inspired by the infamous Indian's green chutney used for dipping samosas.
Cilantro is the base of many Indian recipes, so, I thought I would try it in an Italian recipe. It really makes for an aromatic pesto recipe.
This pesto is good for using in recipes like roasted potatoes or other roasted veggies.
Cilantro Pesto Sauce
Homemade vegan cilantro pesto made with fresh cilantro and sunflower seeds
Check out this recipe
---
This was one of my very earlier recipes. I think it was only my 3rd or 4th recipe. This is why those images look so horrendous!
The images, not withstanding, the pesto is very delicious. I love the natural tang that flavors this pesto. Adding extra garlic makes this very delicious.
This pesto is perfect for pastas like gnocchi or fusili.
---
So, which one is your favorite? If you answered "ALL OF THEM", you are my kind of people!!
Sharing is caring
Thank you for reading my recipe this far. Don't be shy, chime in below in the comments. Let me hear your opinion on this recipe.
⭐️ If you tried and enjoyed this recipe, please rate it 5 stars! Share it on Facebook, Pinterest, Twitter and Instagram. ⭐️