Quick and easy black bean quesadillas (version 2) with Coconut rice and peas! Takes only 35 minutes to make and are the perfect weeknight dinner recipe.
Have you ever put peas in quesadillas?  If you haven't, you are MISSING out.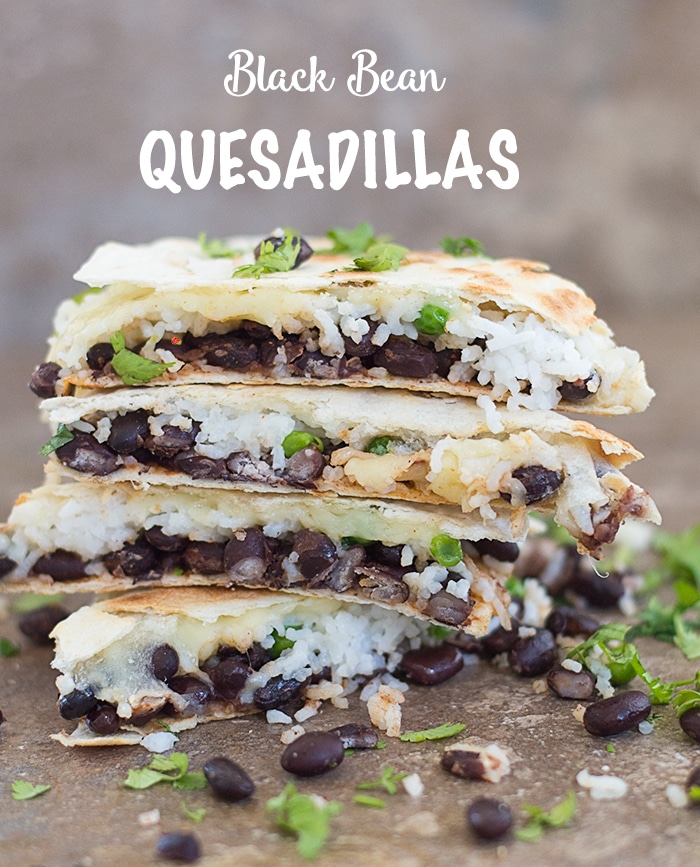 Once in a while, I put together ingredients that have no business being in the same recipe.  Remember how I brought together Brussels sprouts and sweet potatoes into a spring rolls?
This time, I am introducing coconut rice with peas into a quesadilla and what resulted was an out-of-this-world Mexican recipe!
And did I mention that the rice I used was Basmati? Basmati rice in a Mexican recipe! This didn't cause the time-space continuum to rupture!
(I wonder if we would know if such a rupture did exist?)
This was the most delicious fusion recipe I have ever made.  I loved how the soft rice melted when I eat it and the lemon flavors in the recipe gave it a slight tang.
The cheese brings everything together and tastes like the perfect comfort food recipe!  I used pepper jack block cheese because they melt into a stretchy cheese.  What's a quesadilla without stretchy cheese right?
So, are you brave enough to try quesadillas with peas?
How To Make Black Bean Quesadillas

Black Bean Quesadillas With Rice
Quick, easy & stuffed black bean quesadillas made with coconut rice Topped with pepper jack cheese.

Ingredients
Instructions
Add black beans to a bowl


Add 1.5 tsp of taco seasoning and 1 tsp of freshly squeezed lime juice. Mix well


Optional: You can also add more ingredients like corn, red onions, jalapeno etc.

After the rice is ready, heat a large pan on medium heat. After 1 minute, spray pan with cooking spray


Gently place a large burrito tortilla on the pan and heat it for about 30 seconds


Raise the tortilla and spray the pan again then flip the tortilla


Now, add the ingredients on the bottom part of the tortilla.


Add about 1/2 cup of coconut rice


Be sure to keep about 1/4" of space between the rice and the edge of the quesadilla

Top with about 1/2 cup of the black bean mixture


Top with grated pepper jack cheese. I put about 3/4 cup on top


Cover with the top half and gently press down


Very gently, flip the quesadilla. Let the bottom side brown and then remove from heat.


Cut into 4 pieces and serve


This recipe will make about 2 big quesadillas