Simple Vegan Blueberry Gazpacho Recipe made with fresh blueberries is a cold, refreshing summer soup that you just can't resist. Top with crunchy cucumber and fresh blueberries

My local grocery store had a buy one / get one free sale on blueberries and I couldn't resist getting a few!
When blueberries come in season, I normally just make my blueberry vinaigrette or keep them for my overnight oatmeal recipe.
They also taste good in smoothies, but, I wanted to try something different! The hot Florida weather inspired me to make a chilled blueberry soup. I am so glad I did that because this soup was so refreshing and cooling.
If you are looking for more easy gazpacho recipes, I also have a zucchini gazpacho that you can try. Or if you prefer warm soups, check out my list of 5 hearty vegan soups.
What is gazpacho?
Gazpacho is basically cold soup. Its tomatoes mixed with spices and served cold. Traditionally, its made with tomatoes, but, gazpacho has been expanded to include any ingredient as long as its served in chill form
I have actually tried watermelon gazpacho and it was soooo good. Its definitely worth a try making it on hot summer days because the soup can make a hot day seem like a snow day!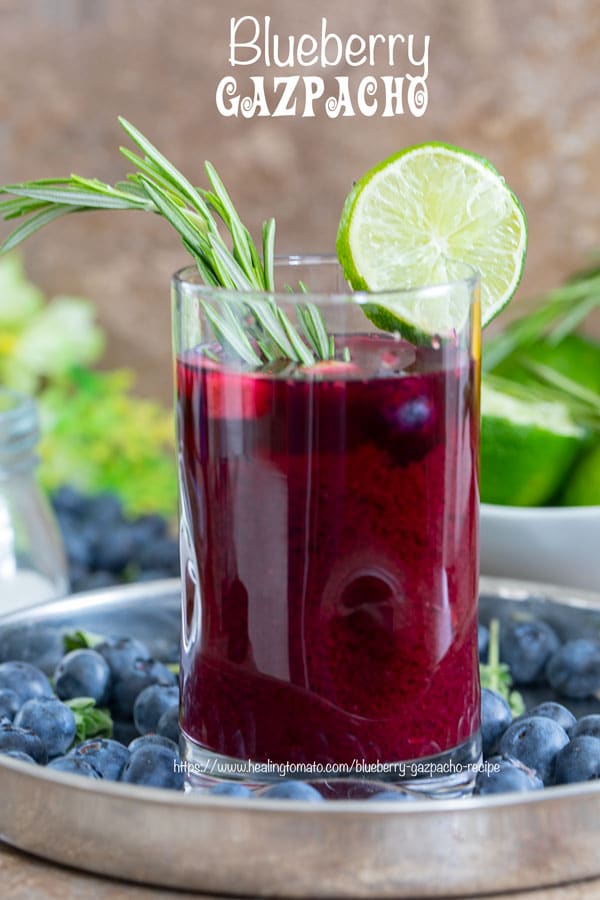 How did gazpacho originate?
Gazpacho originated from the Andalusian region of Spain where it started out as a bread soup. When bread was going stale, the natives would turn it into a cold, liquid-y meal.
P/s Whenever I have bread left over, I turn it into a stale bread salad or make panko bread crumbs out of it.
It evolved to using tomatoes and even bread in it. This is the version we have come to know and love.
Can blueberries be frozen?
Yes, they can be frozen and they will retain their flavors.
So, I was wondering if I could freeze these fresh blueberries instead of turning them into gazpacho soup. I took about a small ziplock bag and put blueberries in it
After that, I froze them for about a week before using them in a recipe. The frozen blueberries retained their shape, texture and color for the whole week. I am sure if I freeze them for longer period, they would remain just as fresh.
So, the short answer is that yes, blueberries can be frozen.
How to store blueberries?
I always have more blueberries than called for in the recipe. This was the first time I tested freezing them. Most of the time, I place them in paper towel and place them in a ziplock bag.
After that, I refrigerate them and use within a week. This way, the blueberry stays fresh and delicious.
How many calories in blueberries?
This is a question I see being asked often online. Its always got me curious and I wonder what kind of calories they have and their nutrition factor.
I like going to My Fitness Pal to get calorie information for everything. According to them, 1 cup of raw blueberries contain 83 calories. They are also a good source of Vitamin C because they have 23% RDA. Check out the full list of nutrition in 1 cup of raw blueberries at My Fitness Pal's Site.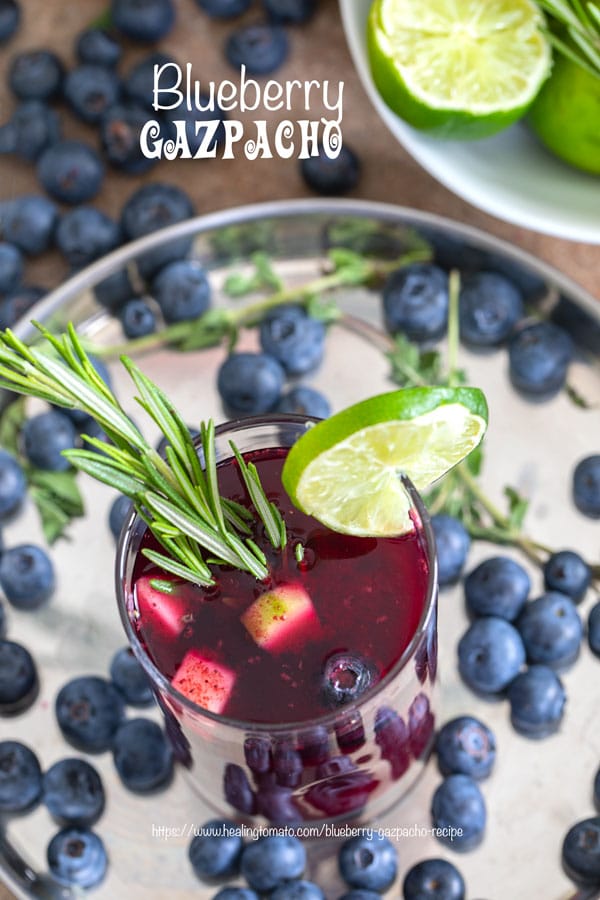 Shopping list
– Blueberries
– Cucumber
– Ginger
– Lime Juice
– Onion Powder
– Oregano
– Almond Milk
Have you tried Deb's Zucchini Parmesan Soup?
What's your favorite gazpacho recipe?
Blueberry Gazpacho Recipe
quick and easy blueberry gazpacho recipe

Ingredients
2

cup

Blueberry

washed and dried

3/4

Cucumber

peeled and deseeded

1

tsp

Ginger

peeled

1

Tbsp

Onion Powder

1

Tbsp

Lime Juice

1

tsp

Oregano

use fresh oregano

1/4

cup

Almond Milk

or coconut milk
Instructions
Place all the ingredients into a blend


Blend on low 2 minutes


Transfer to a strainer


Cover the liquid and chill overnight


Save Pulp for Future Recipes

Notes
– Chill a minimum of 5 hours. Overnight is better
– Serve with Ice Cube, if you want
– When serving, add a few cubes of cucumber and blueberries in the soup