Broccoli Dippers made with lentils, carrots, broccoli and seasonings. Coated in panko bread crumbs and shallow fried to give it a crispy outside texture. These broccoli bites are a huge hit in my home
Disclosure: This is a The High-Protein Vegan Cookbook review. I received an advanced free copy of this cookbook for review.
I finally found a vegan protein recipe that I can eat every day!
These vegan broccoli veggie dippers are so easy to make (took me less than 30 min) to make. I was also able to use them in meal prep recipes and enjoy them all week!
The broccoli and lentils are a match made in delicious vegan heaven!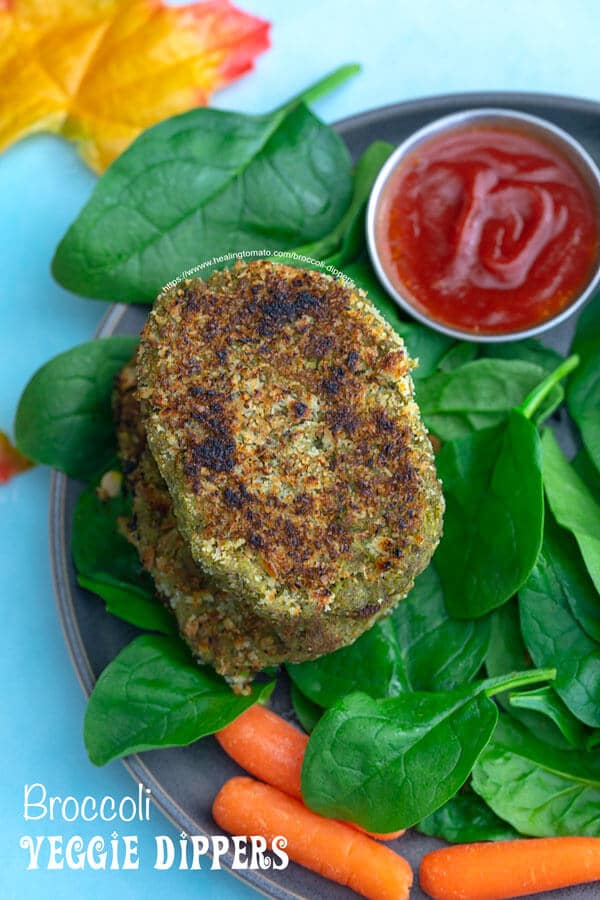 Tips for making this dippers
– This recipe calls for steamed broccoli and cooked lentils. I used my pressure cooker to steam the broccoli and lentils at once. For me, this is faster than the stove top method recommend in the cookbook. But, both methods are effective.
– The cookbook doesn't specify if she uses regular bread crumbs or panko. I used homemade panko bread crumbs because I found that they shallow fry better than regular bread crumbs
– Make sure that the heat is set to medium high and keep it there. The first time I made these as a test run, I kept turning the heat up and down because the pan was getting hot. That made the broccoli bites cook unevenly.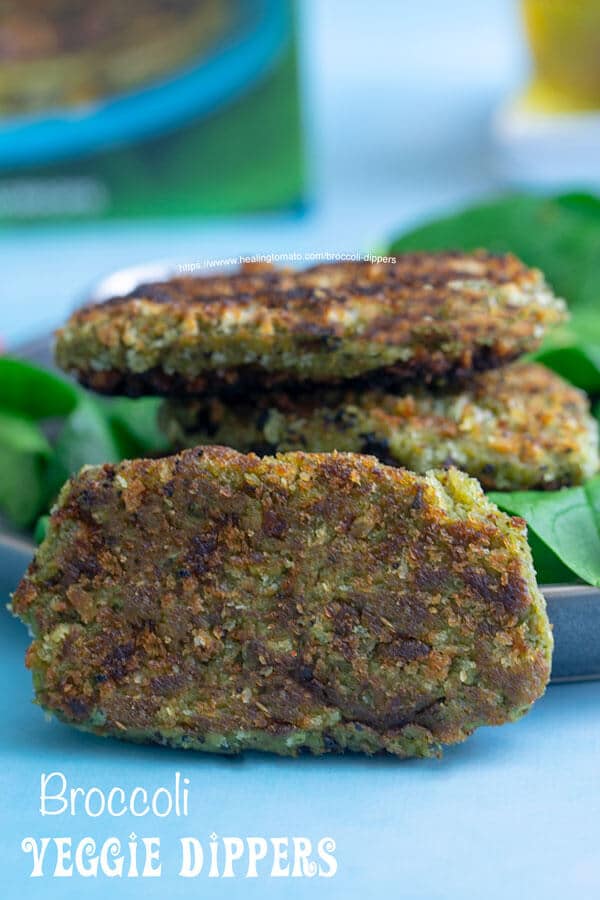 – To store them, separate each broccoli dipper with small parchment paper. The parchment soaks up the excess oil and also keeps the broccoli bites from breaking apart
– Store them in an upright container and they won't fall apart when you remove them
– These broccoli dippers are delicious by themselves. I liked putting them into a pita bread, with spinach, Muhammara (or hummus), onions, vegan feta and pickled tomatoes. This makes for the best lunch recipe ever!
What is a chia egg?
Chia egg is a quick vegan way to get all the properties of an egg. It acts like a binding agent just like eggs.
As you know, vegans don't eat eggs. Its consider a potential life form and its also an animal by-product which makes them sacred for vegans. So, its common to use egg subsitute or egg-like ingredients in recipes.

I have always used flax eggs which is made of 1 Tbsp flax meal to 3 Tbsp warm water. Ginny is using ground chia seeds in the same way and they end result is one well put together broccoli dippers.
If you don't have ground chia seeds, grind regular chia seeds in a coffee grinder.
Check out my complete guide on what vegans don't eat. Did I miss an ingredient?
Best dipping sauce
In the cookbook, the dippers are served a vegan mayo sauce which is really delicious.
Here are more options for the dip:
So, what's your favorite vegan protein recipe?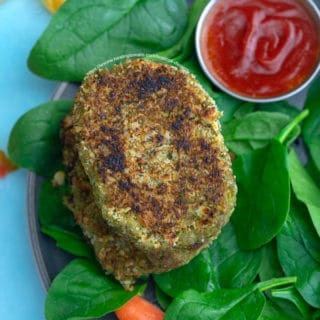 Broccoli Dippers
Get your vegetables the fun way. These dippers are small patties that you can pick up with your fingers. Eat them plain or dip them into your favorite sauce. Party food!
Ingredients
¾

cup

lentils

2

cups

broccoli florets

fresh

1

tablespoon

ground chia seeds

½

cup

shredded carrots

¼

teaspoon

garlic powder

¼

teaspoon

dried parsley

½

teaspoon

salt

¼

teaspoon

ground black pepper

¼

teaspoon

onion powder

¼

teaspoon

dried oregano

¼

teaspoon

dried basil

¾

cup

panko breadcrumbs

divided

1

tablespoon

extra virgin olive oil
Instructions
To cook the lentils
Rinse and drain the lentils.


Place the lentils in a medium-large saucepan and pour in ½ cup water.

Place the pan on high heat and bring to a boil.

When the water comes to a boil, turn down to medium high


Cook for 20 minutes or until lentils are tender and water has dissipated

To steam the broccoli
Meanwhile, add water to a medium saucepan with a steamer insert and bring to a boil

Add the broccoli to the insert and steam over boiling water for 10 minutes


Remove from steamer, drain excess water and set aside.
To make the patties
Mix ground chia seeds with 3 tablespoons water in a small bowl.

Place all ingredients in a food processor, except ¼ cup breadcrumbs

Process until well combined with a crumbly texture

Divide mixture into twelve pieces and roll each piece into a ball


Flatten them into patties and coat the patties on each side with the remaining breadcrumbs

Heat the oil in a medium skillet to medium high

Brown the patties for 3 minutes on each side.

Serve with dairy-free chipotle mayonnaise or any of your other favorite spicy dipping sauces.
Notes
This recipe is from the "The High-Protein Vegan Cookbook" by Ginny McMeans (On Page 23)