Cast Iron Mediterranean Brussels Sprouts are a healthy, low-carb recipe. Add Kalamata olives & sun-dried tomatoes and make it the perfect Keto friendly dish. It will make a believer out of any Brussels Sprout hater
How can anyone hate Brussels Sprouts?
I LOOOOVE them!
I could eat them any time of the day and I wouldn't mind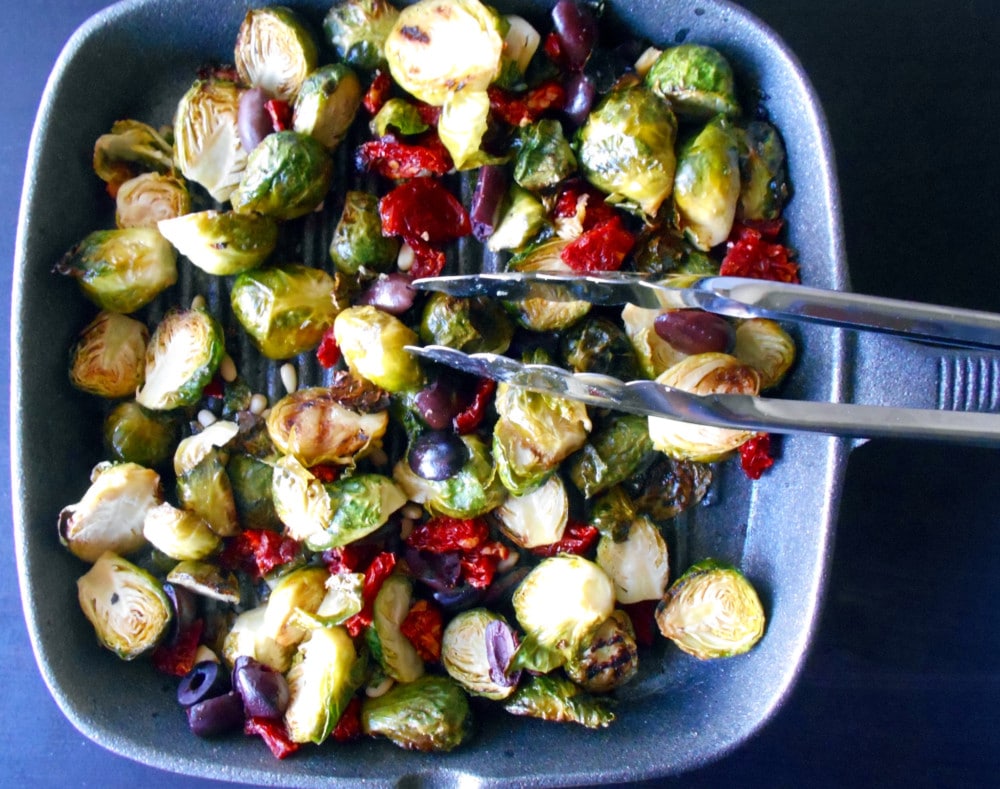 This time, I am grilling them on a stove top grill and adding other ingredients to it. I use very little oil in this recipe, but, you can also sub it with coconut oil.
With or without feta?
I made this recipe twice before posting it. The first time, I added some feta cheese and OH MY GOD!!!
It was beyond delicious!
The second time, I decided to keep it completely vegan and it was sooooo good.
So, I had a dilemma on my hands. Should I recommend with or without feta? Or should I recommend it with my vegan feta cheese?
I am not known for my "she can make the tough, hard decisions for the betterment of humanity"! I couldn't make this decision to save humanity!
For this reason, I leave the choice up to you.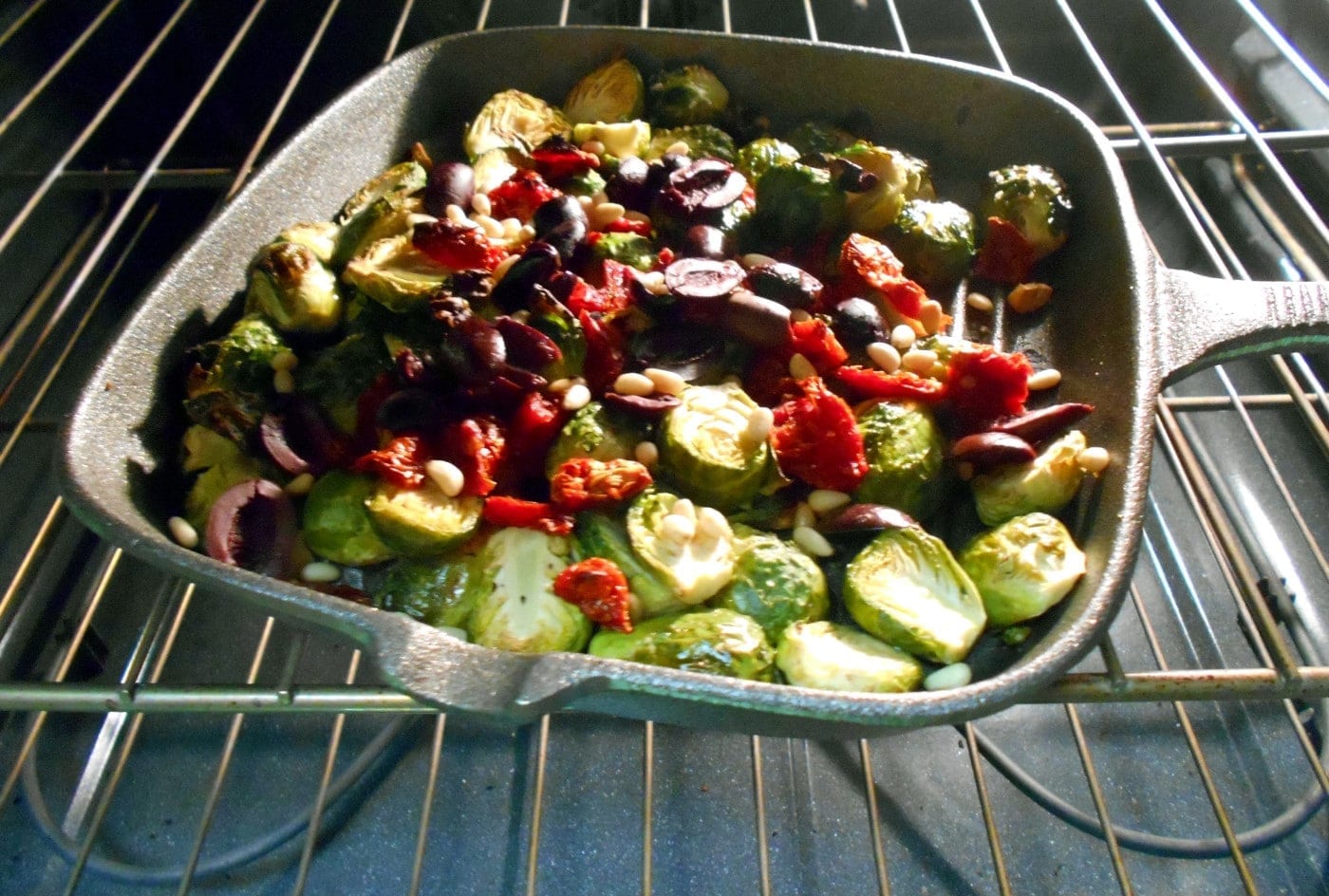 If you like feta cheese, you will not be disappointed in this recipe. If you are not the feta cheese kind of person, you will still fall in love this recipe.
What to serve with Brussels sprouts
In a pita bread with Hummus
In a flatbread that you rolled into a wrap. Use Hummus for the base
In a spinach wrap with tahini as the base
By itself!
This salad is delicious by itself or you can put it into a pita bread with hummus. It would make the perfect light lunch recipe that you can brown bag and eat in the park.
Bottom line is that if they are prepared correctly, Brussels sprouts make an amazing meal. Get my complete guide on how to work with Brussels sprouts. A good vegan Brussels sprouts recipe always makes me forget that Brussels sprouts are good for me. Their taste supersedes all expectations.
In this recipe, I paired with sun-dried tomatoes, kalamata olives, red peppers, pine nuts and feta cheese. All these ingredients are perfect for those following the Mediterranean diet
What Brussels Sprouts Team are you in? Team "Awesome!" or Team "Sucks!"?
Thank you for reading my post. Your support is greatly appreciated! Feel free to Pin it for future use.
How to make Mediterranean style Brussels sprouts
Brussels Sprouts – Mediterranean Style
Lightly oiled and grilled Brussels Sprouts with olives and sun-dried tomatoes

Ingredients
2

Cups

Brussels sprouts

5

pieces

Sun-dried tomatoes

roughly chopped

½

cup

Kalamata olives

2

tsp

Pine nuts

1

Bay leaf

¼

cup

extra virgin olive oil

divided into 2 equal parts

⅛

tsp

Salt

Pepper flakes

(optional)

⅛

tsp

peppercorns

roughly ground

¼

cup

crumbled Feta cheese

(optional)
Instructions
Preheat oven to 350 degrees

Lightly roast the pine nuts in a small pan and set aside

Clean the Brussels sprouts thoroughly. Dry on paper towel then cut into halves


Heat a cast iron pan and add one portion of olive oil

Add the sprouts to the pan and heat at medium heat

Add the salt and stir slightly

After seven-eight minutes on the stove top, move the Brussels sprouts to the oven.

Let them bake inside the oven for ten minutes

While the Brussels are in the oven, heat a medium pan

Add the remaining oil and allow to warm up

Add the Kalamata olives and sun-dried tomatoes

Cook them for about 5 minutes and tossing them gently

Remove the Brussels sprouts from the oven and mix with kalamata mixture


Place them back in the oven for a few minutes until the Brussels sprouts are slightly wrinkled


Remove from the oven and set aside for a few minutes


Top with the roasted pine nuts and the crumbled feta before serving

Notes
Nutrition Info is approximate