Caramel Popcorn with apples and pecans – Take your popcorn eating to a whole new level with this recipe. It is really easy to make and serve it on movie nights or game nights. Just add hot caramel, pecans & apple chips
This recipe was originally sponsored by Assassin's Creed movie
I just can't get enough of these popcorn! It is sweet and nutty with tang from the granny Smith apples rounding up the yummy flavors!
They are seriously addicting and they were perfect for movie night.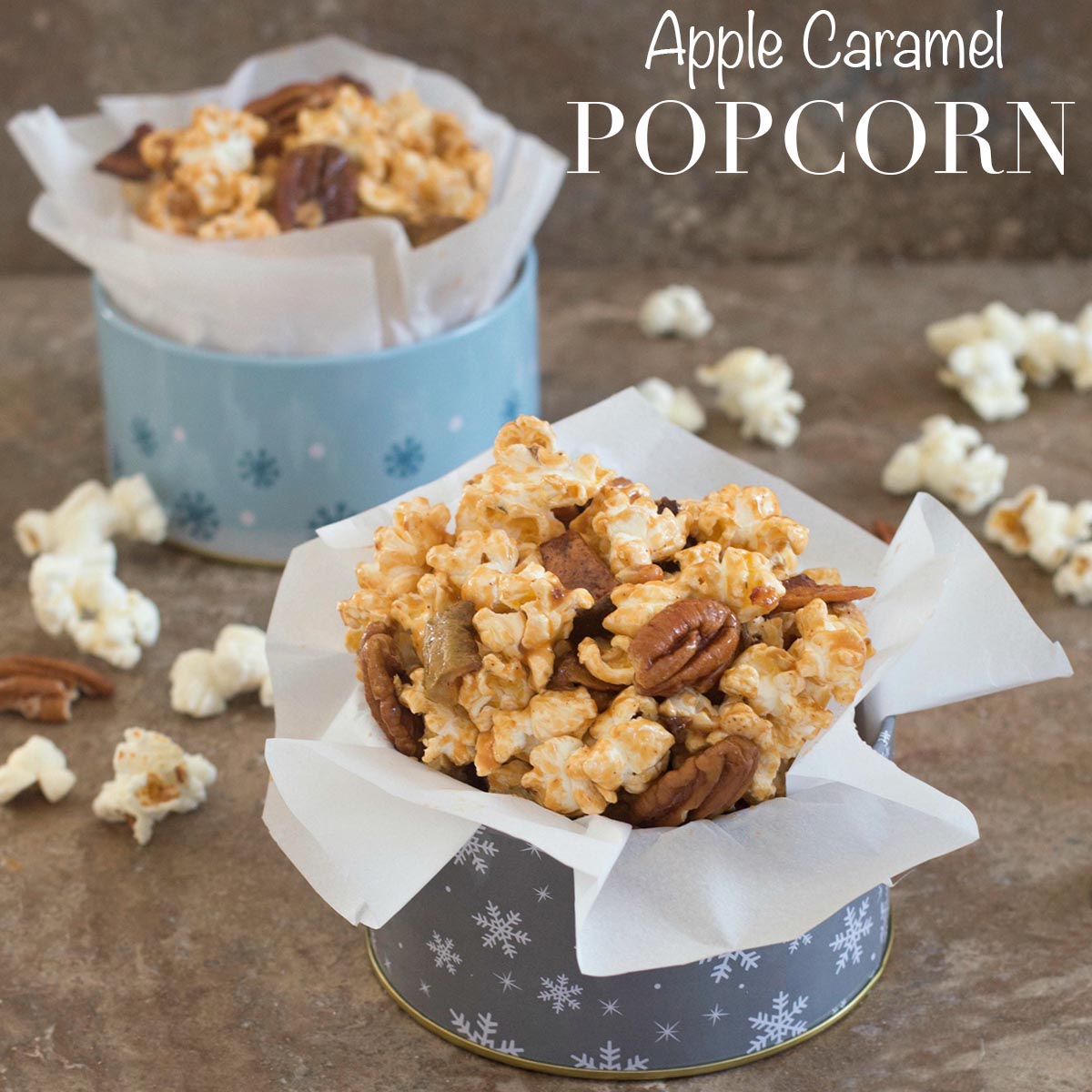 For me, the popcorn making process is just as much fun as watching the movie itself. I always try to put a twist to my popcorn recipes like my crazy, nutty popcorn and enjoy watching everyone devour it.
This time, I went with a sweet popcorn idea. I have had caramel popcorn hundreds of times and it it always makes me happy. There is caramel, apple chips and pecans in this popcorn which turned out to be the greatest combination ever.
Caramel and popcorn are a match made in foodie heaven.
Making popcorn is a family affair. It is a time when everyone loves helping out in the kitchen. It is a fun way to spend time with everyone. To make apple chips, they put sugar and cinnamon on the apple slices.
That is endless fun for them.
The best part of making the popcorn is pouring hot caramel over the popcorn! Everyone seems to be mesmerized as the caramel lazily falls out of the jar and drops into the popcorn.
I just love seeing everyone's faces as I pour the caramel.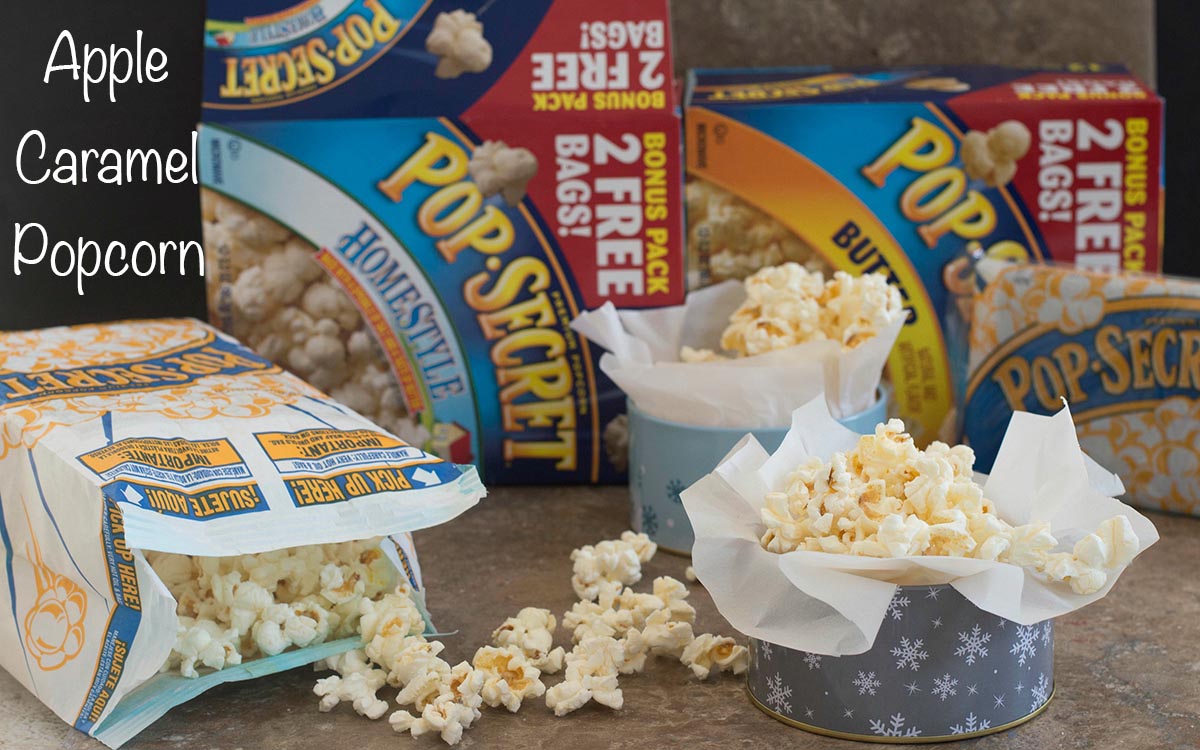 My favorite Pop-Secret popcorn flavors are Kettle Corn Popcorn and Homestyle popcorn.
They are light and airy which makes them easy to mix with other ingredients.
What is your favorite ingredient in popcorn?
Caramel Popcorn Recipe
1) Preheat oven to 250 degrees.
2) In a bowl, add 3 tbsp of sugar, 2 Tbsp of cinnamon and ¼ tsp of nutmeg. Mix well
3) Core 2 Granny Smith apples and then cut them into thin rounds. I made them about ¼″ thick
4) Cut a lemon into half and rub it on the apple slices. Sprinkle the sugar mixture on the apples.
5) Place the apples in the oven and let them bake for about 45min to an hour. The apples are done when they turn crispy.
6) Remove them from the oven and allow them to cool.
7) While the apples are cooling, make 2 bags of Pop-secret's homestyle popcorn according to the instructions in the bag. Let the bag cool for about 30 seconds before opening it.
8) Lightly crush apples them into small pieces and place them in a big bowl
7) Add 2 cups of pecan halves to the bowl
8) Open the bag of microwaved popcorn and transfer them to the bowl
9) Add about ¾ cup of hot caramel on top of the popcorn mixture
10) Use a rubber spatula to mix the popcorn, apple chips, pecan and caramel
11) You can make popcorn balls or just leave them as is. Either way, prepare to have delicious and sticky hands while enjoying them
"This post is part of a social shopper marketing insight campaign with Pollinate Media Group® and Pop Secret, but all my opinions are my own. #pmedia #Pop4AssassinsCreed "
Caramel Popcorn With Apples and Pecans
Take your popcorn to a whole new level. Caramel popcorn is easy to make. Add hot caramel, pecans & apple chips and serve it on movie nights or game nights
Ingredients
For The Apples
3

tbsp

sugar

2

Tbsp

cinnamon

¼

tsp

nutmeg

2

Granny Smith apples

Cored, cut into rounds

½

lime
Other ingredients
2

bags

Pop-secret's homestyle popcorn

2

cups

pecan halves

¾

cup

caramel

heated for about 30 seconds in microwave
Instructions
Preheat oven to 250 degrees.

In a bowl, mix sugar, cinnamon and nutmeg


Cut a lemon into half and rub it on the apple slices


Sprinkle the sugar mixture on the apples.

Place the apples in the oven and let them bake for about 45min to an hour, until crispy

Remove them from the oven and allow them to cool.

While the apples are cooling, pop 2 bags of Pop-secret's homestyle popcorn according


Let the bag cool for about 30 seconds before opening it.

Lightly crush apples them into small pieces and place them in a big bowl

Add pecan halves and popcorn to the bowl

Add about ¾ cup of hot caramel on top of the popcorn mixture

Use a rubber spatula to mix the popcorn, apple chips, pecan and caramel
Notes
- You can make popcorn balls or just leave them as is. Either way, prepare to have delicious and sticky hands while enjoying them
- Nutrition info is approximate