Crust a Goat Cheese roll with crushed cardamom, pistachio and cashew nuts. Cut into circles. Serve crusted goat cheese salad with a light orange dressing
This is a very pretty salad, if I say so myself. All the colors in this recipe remind me of Christmas
Pistachio recipes always remind me of Christmas. Maybe it is the color or it is the aroma.
Either way, pistachio adds so much flavor to any recipe. They have turned goat cheese into a very delicious block of cheese!
If you are not a vegetarian or a salad lover, this goat cheese salad just might get you to take another look. All these colors and flavors are the embodiment of all vegetarian recipes.
This is also a very easy salad to make. The goat cheese log takes less than 10 minutes to make. Place it in the fridge for 30 minutes to let all the ingredients blend.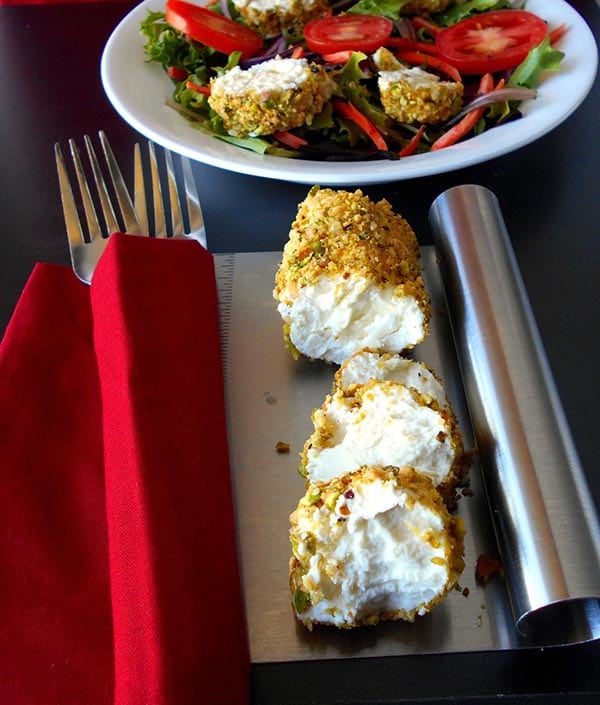 Now, I have a skip in my step and a smile on my face. This salad photo is making me drool and have happy feelings all around.
The other element to this goat cheese salad recipe is cardamom seeds. In Indian recipes, cardamom is almost always paired with pistachios.
Cardamom recipes are so delicious, especially in dessert. Check out this dessert recipe by Manu's Kitchen for a Seimifreddo.
These seeds are considered exotic, but, I really love their aromatic presence in any food. At restaurants, I can see its aroma waft to my nostrils when the dish is brought into the dining area. If you have images of me as Pepe Le Pew air gliding towards the white aroma lines from a pie in the window sill, then you would be imaging me correctly. 🙂
I know instinctively when a recipe has cardamom. It has a very distinct aroma that stands out in every recipe. It is minty with a slight sweetness in it.
When it comes to the looks department, however, it is beautiful on the outside and ugly on the inside. Sorry, it had to be said.
From the outside, it has a wonderful green shell. But, when you remove the shell, the cardamom seeds look like tiny rat droppings.
I know, I know! You are thinking that this is a first time that a food blogger has talked about rat droppings in a recipe blog.
Cashews round out the flavor of goat cheese, pistachios and cardamom.
I saw a recipe for a pistachio crusted goat cheese on the Heart Beet Kitchen's blog and I thought I could modify this to my taste.
So, I mixed pistachio and cardamom together. Since the taste can be a little strong, I added cashews to it. Cashews will take away both the pistachio and cardamom's strong flavors and bring them down a notch.
The goat cheese also gets it flavor enhanced by pistachios and cardamom seeds. Have a taste of the crusted goat cheese and tell me what you think! I would love to hear what you got out of it.
For the dressing, I went really light. I wanted the goat cheese to be the star of your recipe, so, no other flavors should be competing with it.
I used my Star Anise and Orange Dressing. It is very simple and easy to make.


Cardamom and Pistachio Crusted Goat Cheese Salad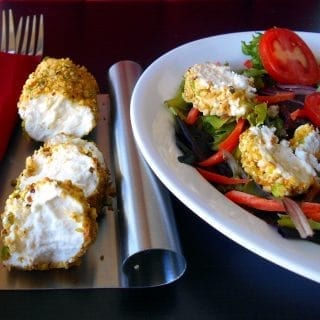 Cardamom and Pistachio Crusted Goat Cheese Salad
Easy goat cheese salad made with fresh salad

Ingredients
20

pistachios

unsalted and removed from their shells

8

cardamom

de-seeded

15

cashews

unsalted

1 6

oz

goat cheese

mixed greens

½

cup

carrots

shredded

¼

red onion

julienne

1

roma tomato

cut into rounds
For the Star Anise and Orange Dressing
Instructions
Mix the salad ingredients and set aside


Roughly grind pistachio, cardamom and cashews in a food processor


On a long dish, spread the pistachio mixture

Place the goat cheese log on the mixture and roll it around

Be sure to coat it very well. Don't let any of the goat cheese be seen.

Wrap the coated goat cheese in plastic wrap and refrigerate for 30 minutes


In a salad plate, add the greens, carrots, onions and tomatoes

Unwrap the goat cheese and cut it into rounds


Place the goat cheese circles on the salad
Drizzle with the salad dressing and serve immediately
Notes
30 Minutes in the refrigerator.
Nutrition
Calories:
736
kcal
Carbohydrates:
95
g
Protein:
25
g
Fat:
31
g
Saturated Fat:
15
g
Cholesterol:
45
mg
Sodium:
599
mg
Potassium:
650
mg
Fiber:
7
g
Sugar:
81
g
Vitamin A:
6820
IU
Vitamin C:
44.6
mg
Calcium:
228
mg
Iron:
5
mg