Chermoula sauce is a 5-minute Marinade recipe that is one of my favorite Moroccan cuisine recipes. It's an aromatic sauce made with fresh parsley, cilantro and mint.
Do you love finding different marinades, like I do?
A good marinade like this chermoula sauce can take a plain recipe and turn it into a juicy, flavorful dinner!
Best part is that it uses all fresh ingredients and ready in just 5 minutes.
Jump to:
Ingredients
Here is a quick look at the ingredients. It is to understand why these specific ingredients were chosen. To get the full recipe, go to the bottom of this post.
Fresh herbs – The herbs used are parsley, cilantro and mint. Parsley helps reduce bloating and helps with lowering blood pressure. Cilantro helps fight heart disease and diabetes. Mint is rich in iron and can help fight bad breath. Sources sited below.
Harissa paste – This paste is a common ingredient used in Moroccan food. It's made with bell pepper which is a huge source of Vitamin C. Harissa is a mildly flavored, giving this chermoula sauce a tangy flavor. I have flavored my cucumber salad and arugula salad with it.
Lemon and lemon zest – Lemon Zest is packed with fiber and Vitamin C. Lemon juice is a powerhouse of Vitamin C and brings a unique tang to the sauce. Sources sited below.
Coriander seeds and cumin seeds – These seeds are huge in Ayurvedic medicine because they have colossal benefits on the digestive system. Sources sited below.
Capers – Capers add tang and saltiness to this recipe. They are not traditionally used in Moroccan cooking, but, I love how they up the flavor feast in this recipe. Capers are high in flavinoids and niacin. Sources sited below.
🌿 Herb Nutrition: Cilantro, Parsley and Mint are a Vitamin A and Vitamin C powerhouse. Add them salads to elevate it's nutrition content.
How to make chermoula sauce
Step 1 – Prepare the coriander and cumin seeds
Start with the coriander and cumin seeds. Heat a stainless steel pan and add both seeds to it.
Heat for 2 minutes to roast, stirring constantly. Remove from the heat and let it cool for 1 minute.
Transfer to a mortar and pestle. Crush them to powder form. You can use blender, but this is a more traditional way and it does brings out their natural flavors.
Put the crushed seeds into a food processor.
Step 2 – Prepare the sauce
Put the garlic, lemon juice, avocado oil, lemon zest, chili powder, salt, and Harissa paste into the food blender along with the crushed seeds.
Blend on low until it's completely blended. It will be liquid consistency. In fact, it's the perfect salad dressing because it's light and flavorful.
Now, add the fresh cilantro, parsley and mint leaves. Blend until it's a sauce consistency.
Open it and enjoy the wonderful aromas coming out of it. Add the capers and red chili flakes. These 2 ingredients are optional, but highly recommended.
Now, it's ready to use as a marinade or refrigerate for future use. If you prefer a paste consistency, cut the liquid ingredient amount into half (lemon juice and avocado oil).
🥗 Salad Dressing Tip: Blend the garlic, ground seeds, lemon juice, zest, oil, chili powder, salt and Harissa paste. Use it as a salad dressing and you will fall in love with it.
Answering common questions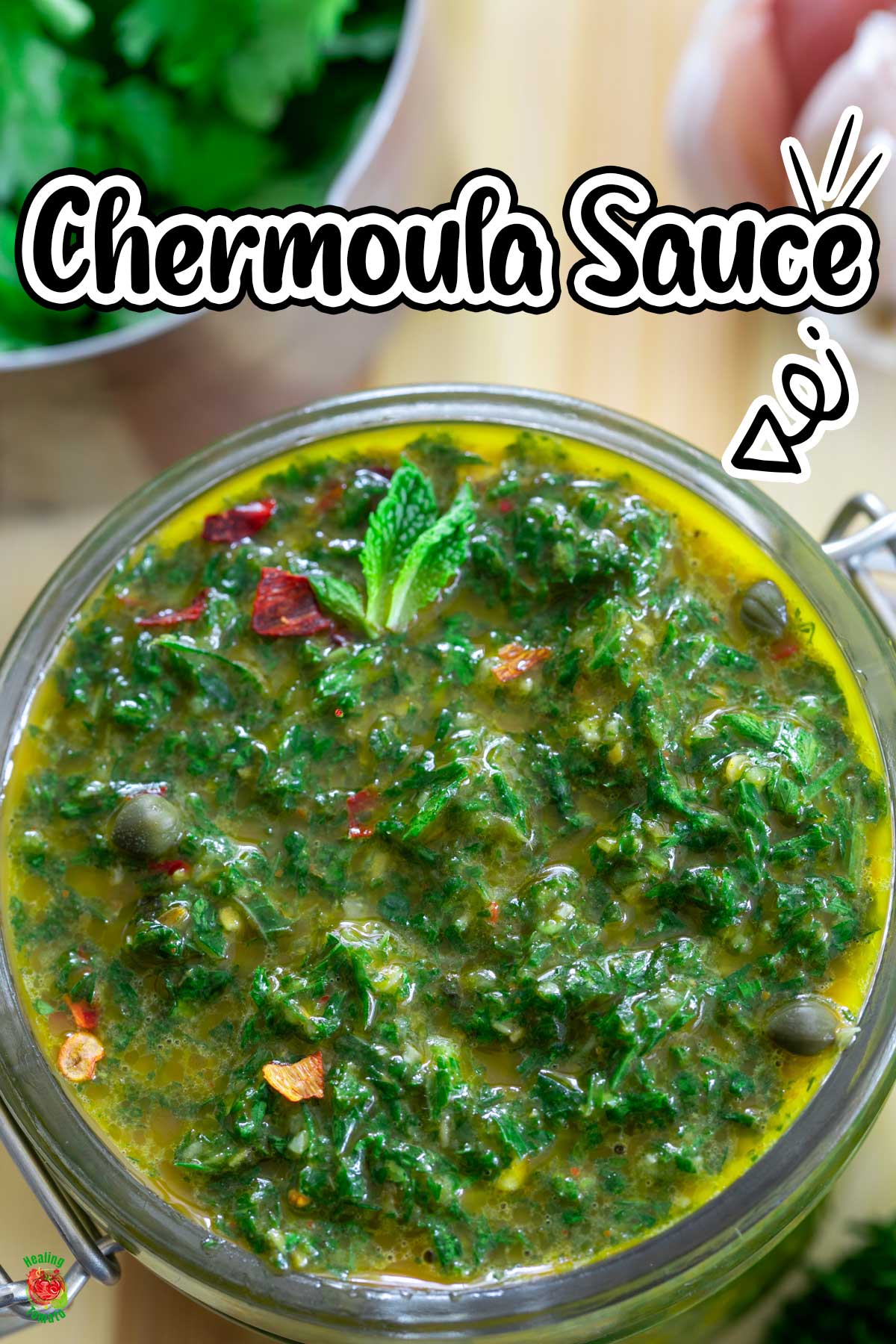 What is chermoula?
Chermoula is a very traditional Moroccan dish that is easy to make. It's normally used as a marinade, but can also be used as a sauce. Traditionally made with cilantro, parsley and spices, this sauce can change the flavors any dish for the better.
Is chermoula spicy?
Traditionally, there are no spicy peppers in it. You can make it spicy by adding extra chili powder and/or red chili flakes made from chiltepin peppers.
Chimichurri vs Chermoula
Chimichurri is an Argentinian and Uruguayan sauce that uses just parsley. Chermoula, makes use of both parsley and cilantro. Chermoula is considered more North African and Moroccan sauces.
Is a mortar and pestle needed for this recipe
No, you can blend the roasted coriander and cumin in a coffee blender. Or blend it first in the same food processor you are going to use to make this sauce. Mortar and pestle brings out the natural oils and flavors of the seeds like no blender can.
Here is the (Affiliate Link) mortar and pestle I recommend. Here is the food processor I use – (Affiliate Link) Electric Food Chopper
Is this an authentic chermoula recipe?
No, this recipe is an adaptation. It was actually inspired by Epicurious's recipe. Capers are normally not added to the sauce, but I love the flavors they bring.
🌶 Spice Levels: Chermoula is not spicy by default, but that's not written in stone. Adding more spice like chili powder and chili flakes can really enhance the taste.
Storing this sauce
Chermoula sauce can be refrigerated for one week. Use a glass container and make sure the lid is tightly sealed. This way, it will remain fresh for the whole week.
This sauce can also be frozen. The best way to freeze them is by putting it into ice cube trays. Pour 1-2 Tbsp of the sauce into each cube well and cover it to prevent freezer burns. Place in the freezer for up to 6 months.
To cook the frozen sauce, do not thaw it, if possible. Put it into recipes directly. If you are using it as a marinade, then it's ok to thaw it first. Let it thaw at room temperature.
Transfer the chermoula ice cubes into a bowl and let it sit on the counter. It should take about 20 minutes or so.
Use an ice cube tray that has a lid like this (Affiliate Link) silicone tray.
🧊 Storing Tip: The best way freeze this sauce is to put it into ice cube trays. They will be so easy to use in the future. Just pop out the ice cubes as needed.
How to use Chermoula
Try these sauce recipes
This sauce is easy to make without corn starch. It's perfect for any enchiladas or use it as a marinade too. You will love it because it takes just a few minutes to make, using the ingredients you have in your pantry.
This quick and easy black bean sauce is great for noodles or for flavoring tempeh. It's been a good sauce to flavor veggies too. This sauce has all your favorite Asian ingredients.
Use this peanut sauce to grill tofu, tempeh or vegetables. It's also a great sauce to use in summer rolls. This satay sauce can be made in minutes using fresh peanuts. Then, refrigerate it for about 1 week to use in future recipes.
Made using fresh tomatoes and veggies, this sauce is great on pizzas or use as a pasta sauce. The sauce can be refrigerated or frozen and it will stay flavorful for a very long time.
Sharing is caring
Don't be shy, chime in below in the comments. Let me hear your opinion on this chermoula sauce recipe. If you enjoyed this, please give it 5 stars and share it on Facebook, Pinterest, Twitter, Instagram and Youtube
Sources for reference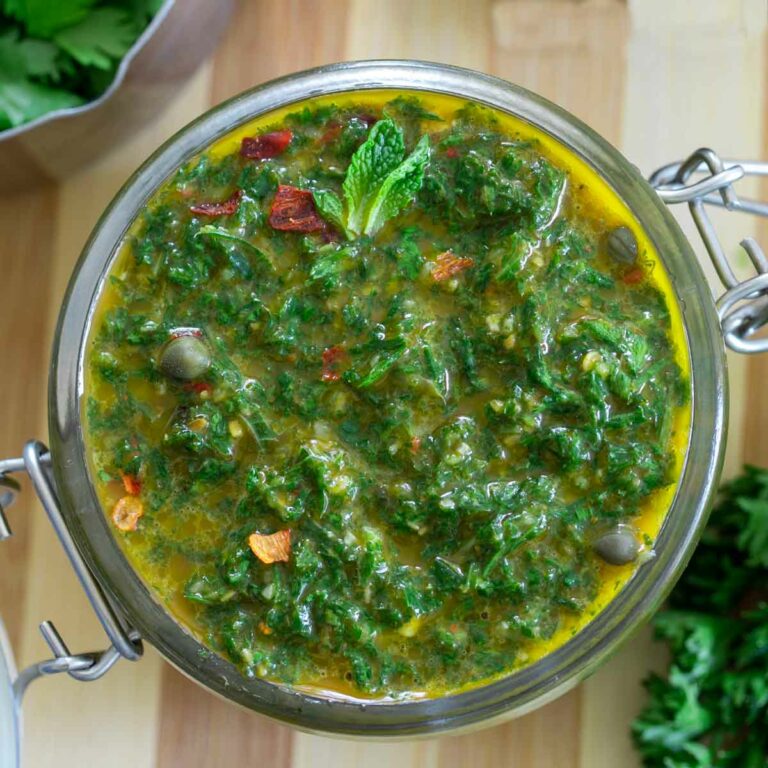 How to Make Chermoula Sauce
Chermoula sauce is a 5-minute Marinade recipe that is one of my favorite Moroccan cuisine recipes. It's an aromatic sauce made with fresh parsley, cilantro and mint.
Equipment
1 Stainless Steel Pan

1 Mortar and pestle

1 Homeleader Electric Food Chopper
Ingredients
1

tsp

coriander seeds

1

tsp

cumin seeds

2

cloves

garlic

1

Tbsp

lemon zest

2

Tbsp

lemon juice

about 1 lemon

⅔

cup

avocado oil

1

tsp

harissa paste

use mild flavored

½

tsp

salt

1

tsp

chili powder

adjust to taste

1

cup

cilantro

packed

1

cup

parsley

packed

⅓

cup

mint leaves

packed

1

tsp

capers

optional

1

tsp

red pepper flakes

optional, adjust to taste
Instructions
Roast the seeds
Preheat a stainless steel pan for 30 seconds on medium heat.

Add the cumin and coriander seeds.

Stir frequently for about 1 minute or until the cumin starts to brown.

Turn off heat and transfer seeds to mortar and pestle.

Grind the seeds until they are fine powder.

Transfer the powdered seeds to food chopper
Making the sauce
In the food chopper, add garlic, lemon juice, lemon zest, salt, chili pepper, cumin seeds, and harissa paste.

Blend on low speed until the mixture is a salad dressing consistency.

Add the cilantro, parsley and mint leaves and blend for 2 minutes or until it's turned into sauce.

Transfer to a glass container and refrigerate
Notes
*** CALORIE INFO IS APPROXIMATE!
Tips
– The shelf life of this sauce is 1 week, if refrigerated. If frozen, it will be good for about 6 months.
– The best way to freeze this sauce is by transferring it to ice cube tray with lid.
– Use fresh herbs only. They really make this sauce stand out.
– Capers and red pepper flakes are optional, but HIGHLY recommended.
– The sauce right before you add the fresh herbs can actually be used as a salad dressing.
– I highly recommend using a mortar and pestle to grind the roasted seeds. It really brings out their strong flavors.
– PLEASE USE ORGANIC HERBS, IF YOU CAN.