What to do with leftover chili? It's a no-brainier to turn them into delicious vegan chili tacos. These tacos are perfect for Taco Tuesday and on any day of the week.
What to make with leftover chili?
Chili and pizza have one thing in common!
They taste better the next day.
So, bring tacos and leftover chili together to make the perfect Taco Tuesday meal.
Tips for making these vegan tacos
Any kind of chili will work for this recipe. It can be a vegetarian chili recipe, vegan chili or meat chili. I used my slow cooker 3 bean chili for this recipe.
The leftover chili can be as old as 14 days or longer, if it had been frozen. If you are using refrigerated chili, it should be less than 7 days old.
Make sure you heat and burn off as much of any liquid there is in the leftover chili. This will make sure that the liquid doesn't seep through the taco shells.
For these tacos, hard tacos are preferred over soft tacos because they don't get soggy easily.
Assemble these tacos at the very last minute. The crunchier the taco, the better the taste experience.
I used regular sour cream and vegan sour cream in these chili tacos. They both tasted so good.
For the greens, I used romaine lettuce and also Lola Rosa lettuce. Choose any greens you have on hand that are not strong in taste (like kale or arugula)
What toppings do you put in chili tacos?
Sour cream (dairy or non-dairy)
Cheese (dairy or non-dairy)
Salsa or Salsa Verde
Onions (red onions are the best)
Sauces (Spicier sauces are better)
Top your chili taco with this corn salsa recipe by Helpful GF
"What can I do with leftover chili?"
Turn it into a chili taco dinner for taco Tuesday!
Sometimes recipes come about when you ask the right questions, don't you agree?
After I made my beet chili a few years ago, I had so much leftover and I had no idea what I was going to do with it.
So, I decided to try it in a taco recipe and I have never looked back!
It has forever changed my taco nights! No matter what toppings I use, there is always chili present at my taco bar.
These chili tacos have been a huge hit at my Cinco De Mayo party.
Chili recipes to use in these tacos
Only hard tacos will do!
There is always that age old question of whether hard tacos are better than soft tacos.
The answer is always hard tacos! Never soft tacos!!
Soft tacos are limited in what ingredients they can hold and for how long they can hold them. Add one wrong ingredient….
.…or one ingredient too many….
…. and they FALL APART!!!!
Hard tacos, on the other hand, are known to carry a heavy ingredient load and live to tell the tale! Until, that is, they are eaten and then they can't tell any tales, lol.
Due to their dense texture, hard tacos can hold a thick chili recipe along with all the fixings. Even sour cream cannot damper their mood.
That first crunch when you bite into it makes hard tacos the king of tacos!
Step by step instructions
Start by assembling tacos in a taco holder. If you don't have one, cut a lemon in half and use it like book ends to the tacos
Layer the bottom with greens like romaine, regular lettuce or colorful lolla rosa lettuce, etc. Stay away from strong tasting greens like kale, arugula or spinach.
Top with a generous helping of the leftover chili. I added about ½ a cup of chili per taco.
Add about 2 Tbsp of guacamole to tacos
Finally, top with chopped red onions (about 1 tsp per taco).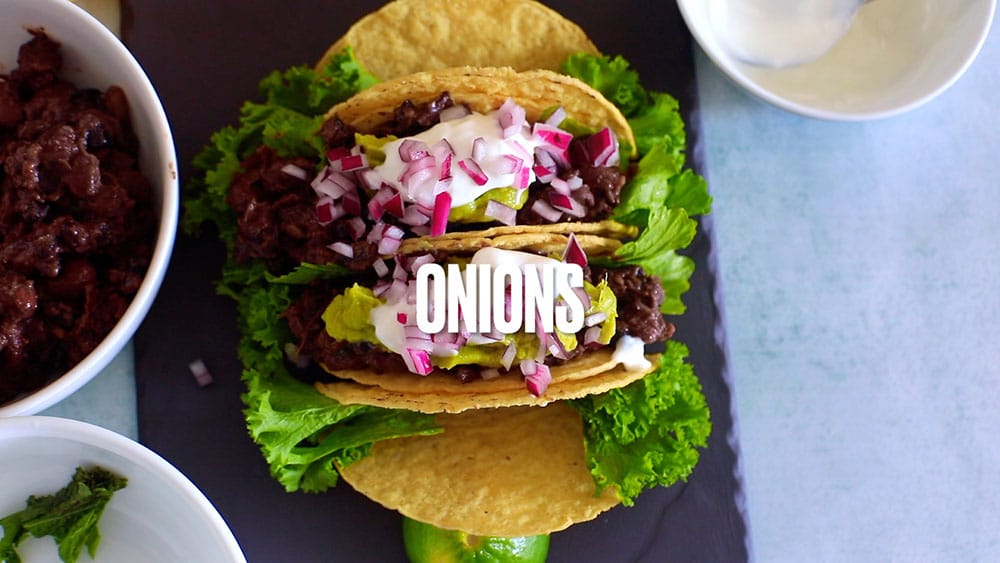 That's it! Your tacos are now done and ready to be devoured.
Sharing is caring!
Don't be shy, chime in below in the comments. Let me hear your opinion on this recipe.
⭐️ If you tried and enjoyed these chili tacos, please rate it 5 stars! Share it on Facebook, Pinterest, Twitter, Instagram and YouTube. ⭐️
Chili Tacos
How to make chili tacos using leftover chili! Easy way to use any leftover vegan or vegetarian chili.
Ingredients
4

hard taco shells

2

cups

leftover chili

divided into 4 half cups

4

Tbsp

guacamole

1 Tbsp per taco

4

Tbsp

sour cream

1 Tbsp per taco

4

tsp

red onions

finely chopped, 1 tsp per taco
Instructions
Start by assembling tacos and ingredients

Layer the bottom with greens

Top with a generous helping of the leftover chili

Add about 1 Tbsp of guacamole to tacos

Top with 1 Tbsp sour cream

Finally, top with chopped red onions
Notes
**CALORIES INFORMATION IS APPROXIMATE. CONSULT A HEALTHCARE PROFESSIONAL FOR MORE DETAILED INFORMATION.
TIPS
Any kind of chili will work for this recipe. It can be a vegetarian chili recipe, vegan chili or meat chili. I used my slow cooker 3 bean chili for this recipe.
The leftover chili can be as old as 14 days or longer, if it had been frozen. If you are using refrigerated chili, it should be less than 7 days old.
Make sure you heat and burn off as much of any liquid there is in the leftover chili. This will make sure that the liquid doesn't seep through the taco shells.
For these tacos, hard tacos are preferred over soft tacos because they don't get soggy easily.
Assemble these tacos at the very last minute. The crunchier the taco, the better the taste experience.
I used regular sour cream and vegan sour cream in these chili tacos. They both tasted so good.
For the greens, I used romaine lettuce and also Lola Rosa lettuce. Choose any greens you have on hand that are not strong in taste (like kale or arugula)