The BEST chocolate chip waffles with pecans is a very easy brunch and breakfast waffle recipe. They are fluffy, moist, airy and ready in just 17 minutes! Can also be made vegan.
Want to learn how to make waffles without eggs?
Yes, it is possible and the results are a feathery delicious waffle recipe!
So, what do I use in place of eggs? The not-so-secret ingredient is Chia eggs!
Tips for making these waffles
These waffles make about 4cups of batter. That should make about 4 waffles, depending on your waffle maker.
The batter can also be used to make pancakes.
Make the batter and refrigerate for future use. It will be good for 1 week.
I add butter to the recipe and that makes sure that it doesn't dry up.
For the pecans, I used toasted finely ground pecan. I find them better than using whole pecans in this recipe.
The chocolate chips are made by Enjoy Life. These chocolate chips are vegan friendly. I prefer their chocolate chip chunks which I roughly chop up and use in this recipe.
These waffles are very freezer-friendly. Make them and freeze them for up to 6 months.
How to make these waffles vegan
Vegan Sugars – For this recipe, I use Wholesome Organic's Granulated sugar. It's vegan friendly, fair trade and free of pesticides.
Butter – Personally, I used dairy butter but, you are free to use vegan butters and plant-based butters.
Milk – Almond milk or hazelnut milk is the best non-dairy milks to use in this recipe. Hazelnut is my favorite, but, they are hard to find and can be expensive.
Vanilla Extract – I use Rodelle's all natural vanilla extract. They are made from Madagascar vanilla bean. Read the ingredients of the vanilla extract you use. Some are made from Beaver's body parts. If it says "Natural Flavors" in the ingredients, you must avoid buying it.
Difference between Belgian waffles and regular waffles
Regular waffles AKA American waffles have smaller holes in them. Belgian waffles, on the other hand, have deeper holes so they can hold more maple syrup or other toppings.
My chocolate chip waffles recipe can easily be used in a Belgian waffle maker or a regular waffle maker. I used it in a regular waffle maker because I don't have a Belgian one.
Do you own a Belgian waffle maker and what do you think of it?
Types of waffles
Belgian waffles
American waffles
Brussels waffles
Potato waffles
What is a chia egg?
A chia egg is simply a combination of chia and water! When they are combined in the right proportions, they have the perfect sticky texture that looks like eggs.
So, chia egg is like an egg without the use of chickens! You don't have to wonder which one came first, LOL!
Every time I say chia, the song "Chhhhchia" Pops in my head. If you were around in the '90s, you will know exactly what I am talking about.
What to top on waffles
Berries like strawberries, blueberries, raspberries and blackberries
Chocolate sauce
Whipped cream (regular or vegan)
Nuts like walnuts, pistachios and whole pecans
Ice cream
Reheating these waffles
Use your oven for best results. You can use a toaster oven too.
Do not thaw them. That will just make them limp and watery.
Place the frozen waffles in a preheated oven. I preheated my oven to 250°
Place a parchment paper on a baking tray. Line the waffles on the parchment paper, leaving about ½″ space between the waffles.
Cook for about 10-15 minutes and then remove from the oven
Top with maple syrup and your favorite toppings before devouring them.
Waffles made with self-rising flour
Yes, it's possible to make waffles using self-rising flour
I have been making chocolate chip waffles using self-rising flour for a long time. Since self-rising has baking powder and salt already in it, I don't have to worry about getting my proportions right.
To use all-purpose flour, add 1 tsp of baking powder and ½ tsp of salt to 1 cup of All-purpose flour.
More breakfast recipes
This tofu scramble is a long time favorite of this blog. It's a very hearty breakfast and I am told that it's the perfect hangover food!
Southwestern Tofu Scramble
Tofu Scramble made with hearty ingredients that can be made in 30 minutes.

Check out this recipe
This is one of those very versatile recipes that everyone loves. This French toast pudding is great for breakfast, brunch and even dessert
Vegan French Toast Pudding
How to make the BEST Vegan French Toast Pudding for your guests. Eggs not required! This bread pudding recipe is a super easy, colorful and aromatic dessert to make for your family.
Check out this recipe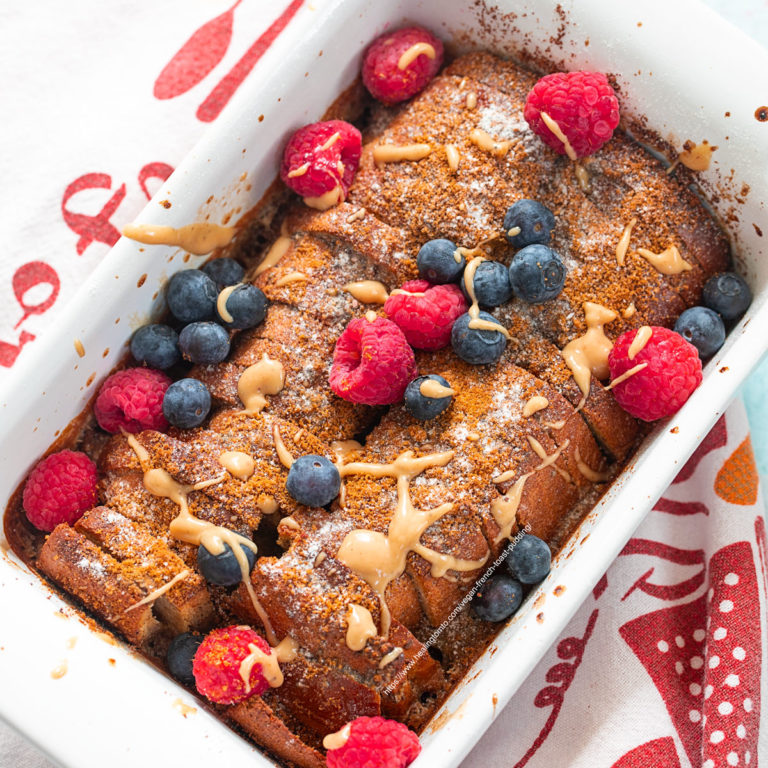 This smoothie bowl is packed with so many good ingredients like avocado, peanut butter, hemp seeds, pumpkin seeds and so much more.
How to make Chocolate Banana Smoothie at Home
This decadent chocolate smoothie bowl is ready in 5 minutes

Check out this recipe
Why have an ordinary, boring avocado toast when you can have an EXCEPTIONAL avocado toast. I topped this toast with berries too.
The BEST Avocado Toast Recipe with Berries
A quick 10 minute recipe for Avocado Toast with simple ingredients

Check out this recipe
This recipe uses dairy cheese, but you can easily make it with vegan cheese. It has sweet potatoes and hidden veggies in it.
Sweet Potato Hash
Cheesy sweet potato hash recipe made with mushrooms, bell peppers; topped with cheese
Check out this recipe
Sharing is caring
Thank you for reading my recipe this far. Don't be shy, chime in below in the comments. Let me hear your opinion on this recipe.
⭐️ If you tried and enjoyed this chocolate chip waffles recipe, please rate it 5 stars! Share it on Facebook, Pinterest, Twitter and Instagram. ⭐️
Chocolate Chip Waffles with Pecans
Easy waffles recipe made with self-rising flour, chocolate chips and pecans. Take just 17 minutes to make. With vegan options too.
Ingredients
For the chia egg
1

Tbsp

chia seeds

3

Tbsp

water

room temperature water will be perfect
For the batter
1

cup

self-rising flour

2.5

Tbsp

butter

1

Tbsp

pecans

finely chopped pecans

1

Tbsp

chocolate chips

I use Enjoy Life's chocolate chunks that I roughly chop

1.25

cup

Almond milk

Hazelnut or regular milk will work too

2

Tbsp

granulated sugar

1

tsp

vanilla extract

I use Rodelle's Natural vanilla extract

1

tsp

cinnamon powder

⅛

tsp

ginger powder

optional
Instructions
If your waffle iron needs to preheated, do so now.

In a small bowl, add the chia seeds and water

Set it aside for 5 minutes

In a glass bowl, add the flour and chia egg

Add the rest of the ingredients in the order listed

Place the batter in the waffle maker. Put as much as your waffle maker allows

Close the lid of the waffle maker and let it cook until done

Remove the waffles and put them in a plate

Continue making the waffles in the waffle maker until all the batter is used

Top with your favorite ingredients and serve
Notes
**** CALORIES INFORMATION IS APPROXIMATE. CONSULT A HEALTHCARE PROFESSIONAL FOR MORE DETAILED INFORMATION.