This is a sponsored conversation written by me on behalf of Cool Foods. All the opinions and text are mine.
5 Quick and easy cream cheese dips made with fruits, nuts and veggies. Serve with bagel chips and take them with you while you are on-the-go.
Why have just one boring dip when you can have 5 AMAZING dips to serve with chips, veggies, pita and even bread!
These dips are made with all your favorite ingredients and can be made any time of the year.
I already have a favorite. Which one is yours?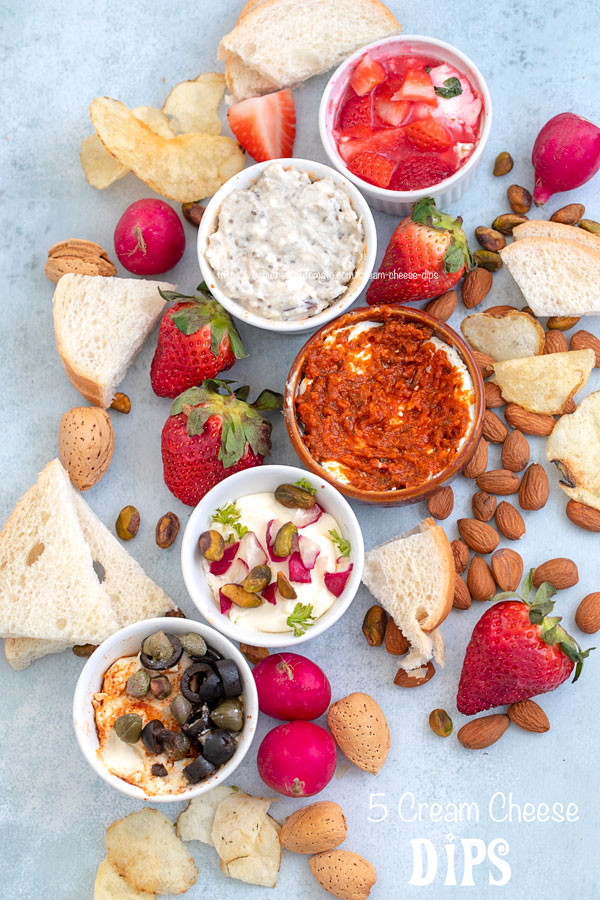 Dips have come a long way from the ordinary ranch dip.
This days, I am always astounded by the dip spread at any parties or meetings I go to. The dips have included unique ingredients like jackfruit and even cinnamon.
Yesterday, I was privileged to taste a dip made with pepperoncini! My taste buds are still reeling with all the tangy flavors.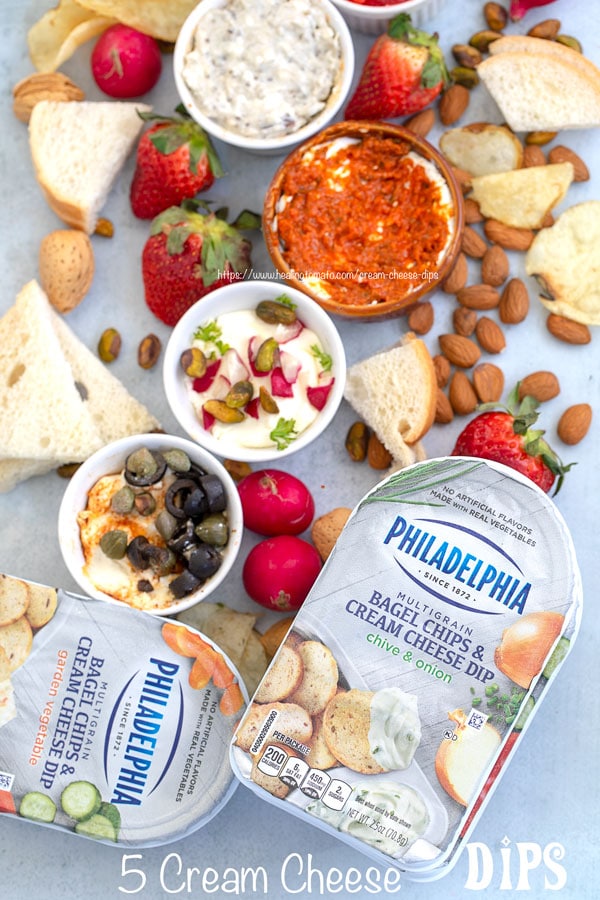 It goes without saying that dips need chips and vice versa. So, make sure you have the right chip to go with the right dip.
I love pita chips and I love tortilla chips for this dips. They are the perfect compliment to the savory dips.
You can also go with veggies like carrots, cucumber and cauliflower. Dip and devour them. It's the best way to get your daily veggies intake.
I made 5 more very quick cream cheese dips that you can take with you when you are running errands or just working hard at your desk. Take a quick cream cheese and dip break, like me.
Tips for working with cream cheese
– Cream cheese doesn't melt easily which is a very good thing. I keep it refrigerated in the "cheese" section of the fridge where it stays fresh for months
– Set it out on the kitchen counter for about 30 minutes before working with it. This makes the cheese easy to mix and makes it easier to add other ingredients into it.
– Once opened, place the unused cream cheese in a glass container and refrigerate.
– Use up opened cream cheese within 1 month of opening it.
– I like to cut each cream cheese block into 4 equal parts and that makes it much easier to work into recipes or even top on bagels.
Sun-dried tomato pesto with cream cheese
Of all the 5 dips, this one is my favorite and not just because it has tomatoes in it.
This recipe is so quick since it needs only 2 ingredients – Sun-dried Tomato Pesto and cream cheese.
Mix them together and serve with bagel chips.
If you want to try other types of pesto instead of the Sun-Dried Tomato one, I have an Arugula Pesto recipe and a Scallion Basil Pesto recipe that will taste just as delicious with cream cheese. Or, pick any other type of pestos.
Roasted eggplant with cream cheese
I used Japanese eggplant in this recipe because they roast faster, and they don't have too many seeds.
Add the roasted eggplant, cream cheese and crushed almonds into a bowl. Mix well and set aside.
Top with dill and lemon zest before serving. Serve with bagel chips or my Eggplant Chips.
Sweet strawberry with cream cheese
In a microwave safe bowl, add 2 tsp of brown sugar and 2 tsp of water. Heat on high for 3 seconds or until the sugar has melted
Add 2 chopped strawberries to the bowl and ½ of a cream cheese block.
Mix well, garnish with fresh basil and serve with pita chips.
I had leftover strawberries which I used in my chocolate strawberry smoothie and strawberry balsamic dressing
Radish, pistachio and cream cheese dip
Cut 2 radishes into small pieces and place in a bowl. Add cream cheese and roughly chopped pistachios to the bowl. Add ⅛ tsp salt and ⅛ tsp of black pepper.
Mix well before serving with bagel chips.
If you have time, roast the radishes using my recipe and then add it to the cream cheese and other ingredients.
Spicy mixed olives and cream cheese
Have you tried spicy olives? I tried them recently and felt like I was in flavor HEAVEN!
When I put spicy olives into cream cheese, it was better than any olive dip I have ever tasted!
In a bowl, add 2 Tbsp of black olives and 2 Tbsp of green olives. I chopped them up roughly, but it's not necessary
Add ½ block of cream cheese, ⅛ tsp of lemon pepper and ½ tsp of oregano.
In a microwave safe bowl, add 3 tsp of extra virgin olive oil and 1 tsp of cayenne pepper. Adjust the cayenne to your taste. Heat for about 30 seconds
Add the heated oil to the cream cheese bowl, mix well and serve with pita chips or bagel chips.
Have any leftover bagel chips? Make Beet Canape or put it into Spinach salad