A quick, simple homemade creole seasoning recipe that is easy to make using everyday spices. It takes less than 5 minutes to make and have a long shelf life
Disclaimer: This recipe is inspired by Emeril Lagasse's recipe. I took his recipe and tweaked it to my taste.
A spicy creole seasoning is just what the doctor called for!
I wanted to make a creole seasoning that is emblematic of creole food. When I think of creole food, I think of it as "waking up your soul", so, I made a seasoning that awakens all the senses
This is spicy, tangy creole seasoning recipe that makes any recipe stand out in flavor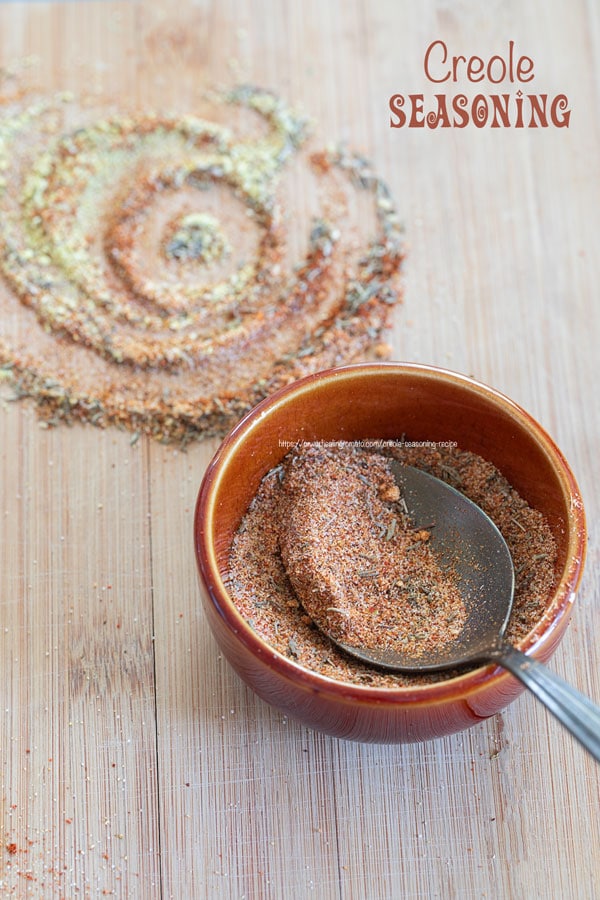 Tips for making this seasoning
Make a huge batch of this recipe because it doesn't go bad
For best results, store it in a glass container. It should be air-tight when the lid is shut. This will keep it's aromas from fading. Here is a bottle I like to use (Amazon Affiliate Link) -> Air-tight Glass Spice Bottles.
If you have (affiliate link) arbol whole chili, use them instead of red chili powder. Add it to a blender along with the other ingredients and blend it up to powder consistency
I use both red chili powder and chili powder in my DIY Creole seasoning recipe. I think chili powder is has a nice spice, but, I wanted to make it take it up in the heat department.
So, I went with red chili powder which is extra hot. To me, this creole seasoning is not spicy at all, but, I advice you to make it according to your taste. Keep in mind that, once its in a recipe, the heat comes down significantly.
What is Creole seasoning?
Creole seasoning is a blend of dried spices and a little bit of chili to bring all of the flavors together
Creole seasoning has its roots in Caribbean cooking which made use of a lot of spicy seasoning in their meat recipes. It dates back to the colonial era and eventually found its way to Louisianan's cooking.
A blend of English cooking and Caribbean food gave birth to creole cuisine which is what we get to enjoy today
Source: Dictionary.com, Wikipedia and my personal experience
This creole seasoning recipe is inspired by Emerils Creole seasoning recipe which is delicious. But, I like a mine to be on the tangy and spicy side, so, I modified it slightly.
Cajun Vs Creole seasoning
Cajun seasoning is mostly about blending different peppers, all of which have varying levels of hotness. I have seen Cajun seasoning made with white pepper, black pepper, red peppers and whole chili
Creole seasoning, on the other hand, likes the use of dried spices like oregano, thyme and parsley
Ingredients
Chili Powder
Red Chili Powder
Garlic Powder
Salt
Onion Powder
Dried Thyme
Dried Oregano
Cumin Powder
Lemon Pepper
Common questions when making this seasoning
Is it vegan?
Yes, creole seasoning is very much vegan because its a blend of different spices only
However, some DIY Creole Seasoning recipes do use bacon bits. Why? I don't know the answer to that. So, always ask the chef to confirm that they do not use bacon bits in their seasoning
Store-bought seasonings don't have bacon bits in them, so, they are vegan friendly
Creole seasoning is famously used in curing / flavoring meats, so, its a common misconception that creole seasoning is not vegan.
The seasoning, by itself, is vegan. How it is used is where the question rises on its veganism
If you are confused about vegan ingredients, I have a handy-dandy guide on vegan food.
Aren't chili powder and red chili powder the same thing?
No, chili powder happens to be a blend of spices like chili pepper, salt, spices and garlic powder
Red chili powder is just a grinding of red chili to make a powder out of it
Can I make it without salt?
Yes, you can absolutely make this creole seasoning recipe without salt. Its much better this way, because you can add salt to the food that will be using the creole seasoning
I actually used low salt in this recipe because I wanted the spice and tang to stand out.
What is it used for?
This seasoning recipe is so versatile. I have used in soups, pasta recipes, my homemade Jambalaya recipe and even my barbacoa recipe
Would you believe me if I put this creole seasoning in a curry recipe? I put it into my favorite curry recipe and it was unbelievably good! Watch for the recipe coming soon on the blog.
How long will it last?
This creole seasoning can last for more than 6 months.
Store it in a glass bottle with an air-tight lid. Place it in a cool, dry space and away from sunlight.
We have also refrigerated (not freeze) spices in the past, if we made too much of it. This goes for garam masalas and any homemade seasoning we make. I highly recommend it.
If you like homemade spices, try my Greek seasoning recipe or my Cuban seasoning recipe.
How to Make Creole Seasoning
This Creole seasoning is a quick blend of chili and dried spices that is perfect for seasoning any recipe. Ready in less than 5 minutes and has a long shelf life
Ingredients
2

tsp

garlic powder

1

tsp

salt

1

tsp

chili powder

1

tsp

red chili powder

I used the extra hot version

1

tsp

onion powder

1

tsp

dried thyme

1

tsp

dried oregano

1

tsp

cumin powder

1

tsp

lemon pepper
Instructions
In a bowl, add all the spices

Mix the spices using a spoon

Store in a glass jar with an air-tight lid
Notes
– Adjust the chili powders to your taste. Personally, I think the level of spice is perfect in this blend because the heat will be evened out when you add it to recipes
– Store it in a glass bottle with an air-tight lid. Place it in a cool, dry space and away from sunlight. This recipe will last for more than 6 months