Slow cooker blackberry jam is an easy crock pot recipe to make. Just add the ingredients and it will cook itself. Add nutmeg & your PB&J will be delicious!
Ever since I bought a crock pot and made my vegan bolognese recipe, I have been addicted to it!
Recently, I was guilty of making this homemade blackberry jam at 11pm on a Wednesday night. There is nothing wrong with that, right?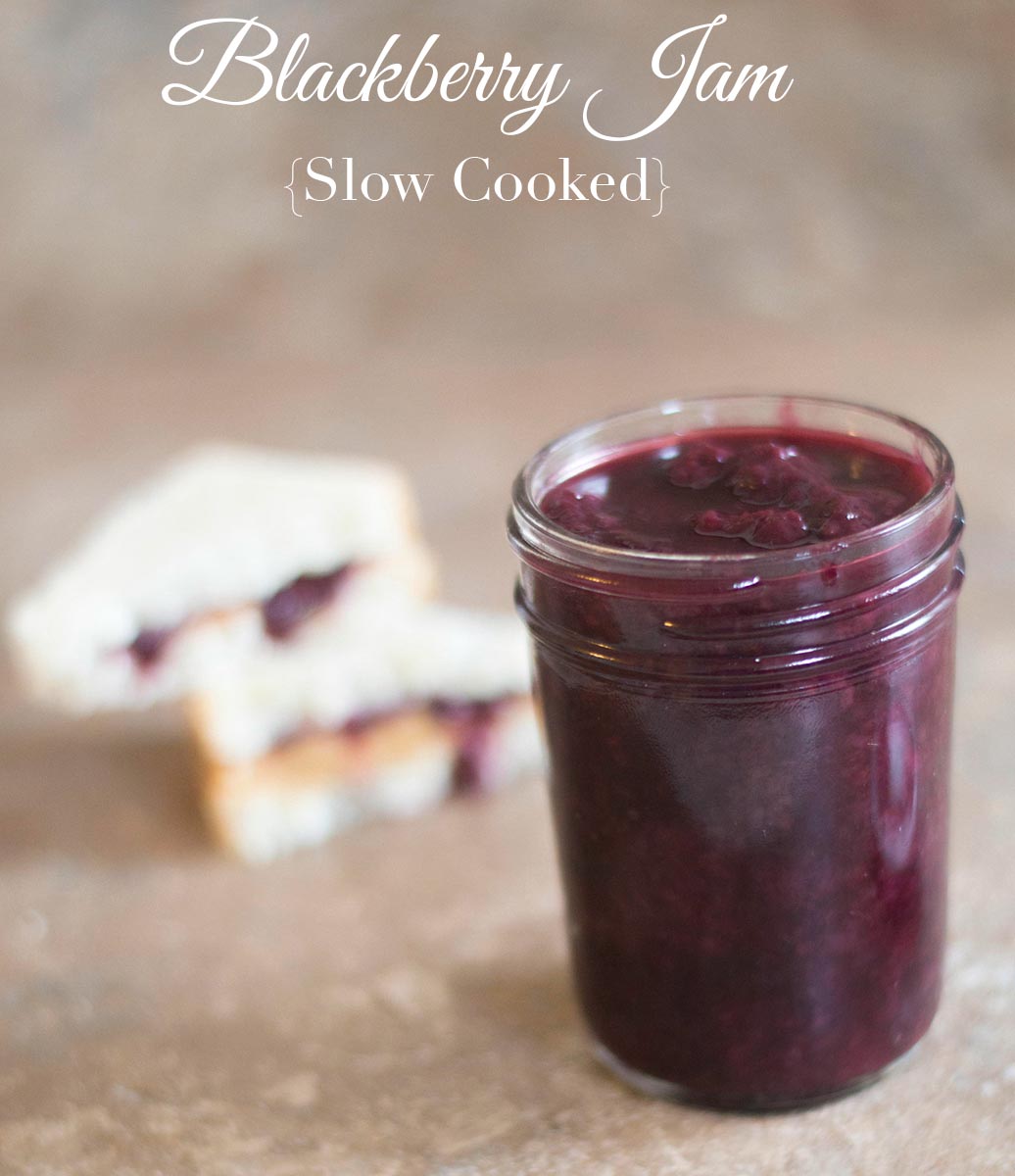 My brain is buzzing with all kinds of crock pot recipes.
I am kicking myself for not having a slow cooker before because it is so convenient.
When I was in NJ, I used to make jam all the time. Good fruits are only available in good weather, so, I would get my fill of them in the summer.
Any fruit I had left over would turn into a jam, marmalade or jelly. My favorite was a peach and apricot jam. That is the first thing I plan to make when I get back to NJ.
Early in the life of this blog, I made a tomato and raspberry jam that was absolutely scrumptious.
Whenever I have a few cherry tomatoes left over, I turn them into a raspberry jam.
The secret to a good jam recipe is a secret ingredients. This strawberry jam by Smucker's had pepper flakes in it. My recipe has a dash of nutmeg and that makes the blackberry jam so yummy!
The best thing about owning it is that I can make all kinds of easy slow cooker recipes. I am thinking of creating a soup recipe next. It is just in time for an upcoming cold winter.
What is your favorite jam recipe to make at home?
Crock Pot Blackberry Jam
Slow cooker blackberry jam is an easy crock pot recipe to make. Just 4 ingredients needed to make this jam

Ingredients
2

cups

blackberries

fresh not frozen

2

cups

sugar

2

Tbsp

lime juice

freshly squeezed

1

tsp

nutmeg

freshly ground
Instructions
In a small crock pot, add 2 cups (500g) of blackberries

The sugar part is tricky because it depends on the ripeness of your blackberries. See notes


Add 2 Tbsp of lime juice. I used freshly squeezed lime juice

Add 1 tsp of freshly ground nutmeg

Cover the top and let it cook on high for about 2 hours. Stir occasionally

After 2 hours, turn it to low and cook it with the lid open

Cook for about 1 hour or until it start to have a jelly consistency

Turn off heat and let it cook

If it feels clumpy, use a hand blender for about 20 seconds

Transfer to a glass bottle and refrigerate after it has cooled
It has a shelf life of about 2 weeks in the refrigerator
Notes
If blackberries are tart, add 2 cups of sugar. If they are already sweet, add about 1.5 cups of sugar. If you are unsure, add only 1.5 cups of sugar first. Once it has started to melt, taste it. Add more, if needed.
Shelf Life of about 2 weeks in the refrigerator