Cuban Flavored Red Beans and Quinoa Made in a Slow Cooker. This is a quick and simple dinner recipe for the whole family. It makes itself, so, you don't have to put any effort into making it. Eat them by itself or use it in taco recipes
** This recipe was part of a guest post I wrote on my friend Debra's blog (Bowl Me Over). It was part of the Vegan Cuban Bowl.
Last weekend, I did a major cleanup in home. There were boxes, packaging materials, old clothes and so much junk eating up valuable space in my storage space.
It was time for some serious spring cleaning!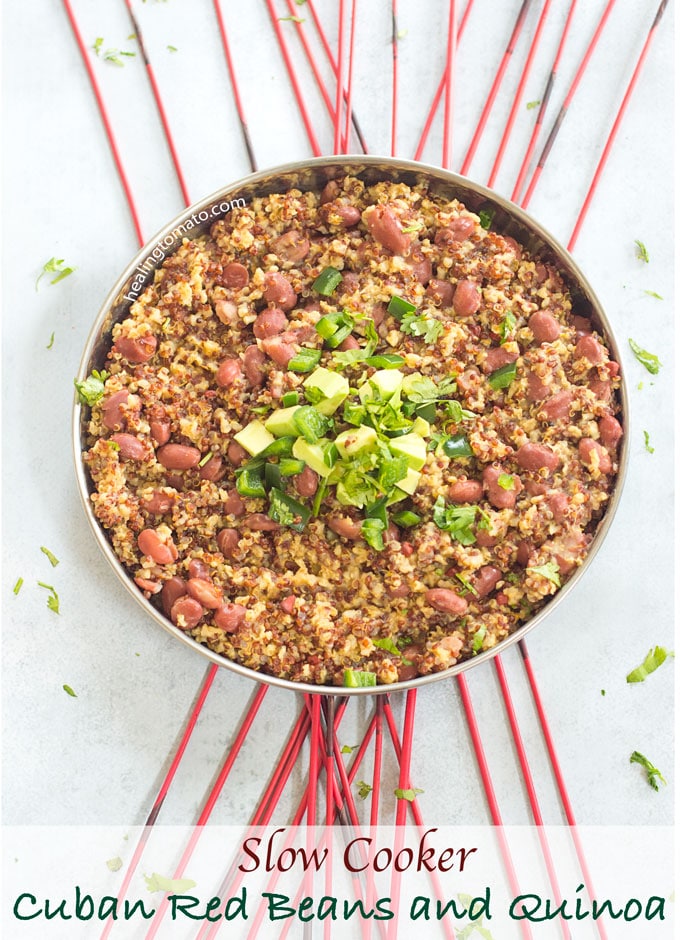 As I was pulling out stuff from my closet, I found so much stuff that I forgotten about. Also, I found about ten (Affiliate Link) Allen wrenches to add to my already large collection! My Allen wrench collection is a remnant of my tech support days.
You know what else I found?
My Crock Pot!!!!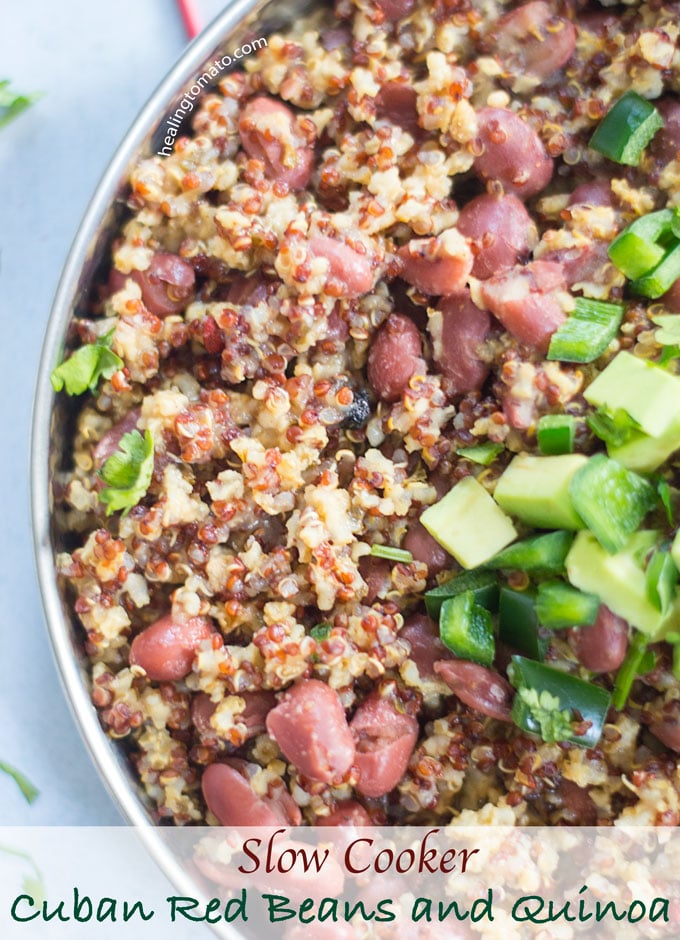 In December 2016, I saw a sale on (Affiliate Link) crock pots at my local big box store and I just had to have it! I brought it home and my mind was making up all kinds of recipes! For now, I was just going to put it in the storage room until I was ready to use it.
As it happens with so many things in my storage, it got pushed to the back as I made room for new items like my NutraMilk or my (Affiliate Link) pressure cooker machine!
Now, it was time to make a recipe in the crock pot!
This crock pot is so good and easy to use! Its light weight, cleans so easily and the inner compartment is dishwasher safe!
It also cooks food a little faster than other slow cookers I have tried. Its a 4-quart version, so, it can easily cook a huge meal for a family of four.
I think I want to try more slow cooker recipes next year. Maybe even some dessert recipes too.
If you like this crock-pot recipe, try my Slow Cooker Boiled Peanuts or my Slow Cooker Lentils recipe.
What treasure items have you found tucked away in the back of your storage closet?
Crock-Pot Red Beans and Quinoa
Crock Pot Red Beans an Quinoa
Quinoa, Red Beans and Green Bell Pepper Cooked in a Crock Pot with Cuban Seasoning

Ingredients
For the Crock Pot
½

cup

Red Quinoa

¼

cup

White Quinoa

½

Green Bell Pepper

Finely Chopped

1.5

Tbsp

Cuban Seasoning

1

tsp

Salt

2.5

cup

Water

1

can

Small Red Beans

I used Goya's Small Red Beans Can

¼

cup

red onions
For Garnish (Optional)
1.5

tsp

Lime Juice

Freshly Squeezed

¼

Avocado

1

Jalapeno

Optional

Cilantro

Roughly Chopped
Instructions
Place all the ingredients in the crock pot (except the small red beans, onions and the garnish)


Mix well and set it on high


Close the lid and let it cook for 2.5-3 hours


Mix well every 30 minutes


When all the water has dissipated, turn off the crock pot


Add the red beans, onions and lime juice; mix well


Transfer to a serving bowl and garnish before serving

Notes
– I used Goya Canned Small Red Beans. Make sure you rinse them thoroughly after removing from the can.
– If you use dry red beans, soak them overnight first. Then, add them with the quinoa and add about ½ cup more water