This is a very simple cucumber salad made in Japanese style. Their is ginger-marinated in Mirin, giving the salad a sweet and sour taste.
How good is your guest etiquette?
I went to a birthday celebration some time ago and the host family was of Japanese descent. For the vegetarian guests, the only thing we could eat was this wonderful cucumber salad. The hosts were not being rude, they just were not informed of our dietary restrictions.
I have always heard that the Japanese people are one of the most humble, sweet, polite, pragmatic and respectful people. Those attributes were affirmed at this birthday celebration.
The hosts apologized profusely and even offered to order Pizza or other take-out of our choice. They couldn't imagine us eating only the cucumber salad.
However, we politely declined as required by the unwritten rules of guest etiquette.
Were it not for these rules, I would have jumped up and demanded the pizza!!!!
The Saki was free flowing, so, many of the vegetarians were happy drinking the saki and eating the cucumber salad.
Guest etiquette is a very funny concept for me!
As a guest, all the etiquette protocols force you and me to say pleasant things about the host even though we don't mean it.
Do you know how many times I have heard from my guests that I have a lovely home??
Do you know how many times I have used that exact phrase when I am a guest in someone's home?
The answer to both questions is, "Too Many Times!"
Guest etiquette requires that particular compliment to be uttered right when the guest enters the home.
A compliment, even the most glaringly insincere ones, make the host feel special.
No matter how many times I have been a host or a guest, I am always surprised by the display of every guest etiquette protocol.
This cucumber salad calls for Mirin to be used. Mirin to the Japanese people is like Olive Oil to Italians. That is my conclusion.
I have seen Japanese chefs buy Mirin in bulk and go through it like water.
Cucumber salad is very simple to make. Infact, it is easily THE simplest thing I have made for my blog.
Unlike the traditional cucumber salad recipe, I actually soak ginger for about an hour in Mirin. If I can marinate it overnight, I choose that option.
P/S: have you tried my cucumber sandwich recipe?
So, what is your favorite or funny guest etiquette?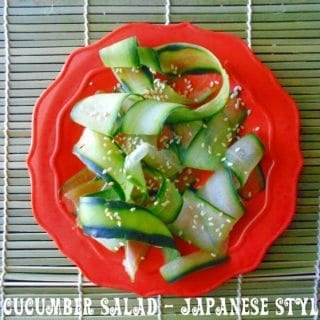 Cucumber Salad made Japanese Style
Japanese Cucumber Salad made with mirin

Ingredients
1

Japanese Cucumber

Or English Cucumber

1/4

cup

Mirin

Sub with Rice Vinegar)

2

tsp

sugar

1/8

tsp

salt

optional

3

tsp

sesame seeds

4

slices

ginger

thinly sliced, peeled
Instructions
In a small glass bottle, add the Mirin and ginger. Marinate overnight

Cut the cucumber in half, lengthwise

Using the potato peeler, create thin strips of cucumber.


Peel the cucumber, leaving alternating green strips.


Place the peels on a paper towel to soak up the moisture


Combine the ginger-soaked Mirin, sugar and salt and stir well.

Heat a pan but add no oil to it.

Add the sesame seeds and then toss lightly until light brown in color

In a mixing bowl, add the cucumber strips, Mirin mixture and sesame seeds.


Toss lightly using a pair of chopsticks

Serve the cucumber salad immediately
Notes
I highly recommend the marinating of ginger and mirin
Nutrition
Serving:
2
g
Calories:
84
kcal
Carbohydrates:
18
g
Fat:
1
g
Sodium:
372
mg
Potassium:
41
mg
Sugar:
11
g
Vitamin A:
30
IU
Vitamin C:
0.7
mg
Calcium:
29
mg
Iron:
0.4
mg