Don't Hate Coconut Water – There are so many good things you can do with Coconut water. 100% coconut water will change your hydration habits forever
I have met people who hate coconut water and it never ceases to surprise me! How can anyone hate something as natural as coconut water?
Growing up in an Indian home, I was exposed to coconut and coconut water on a daily basis.  It was as common as water in our home.
Coconut is considered sacred and its often used in traditional ceremonies.  From Births to Weddings and all the festivals, coconut and its water are always a prerequisite.
Don't hate coconut water because I have 3 huge reasons why should always have an endless supply of them in your pantry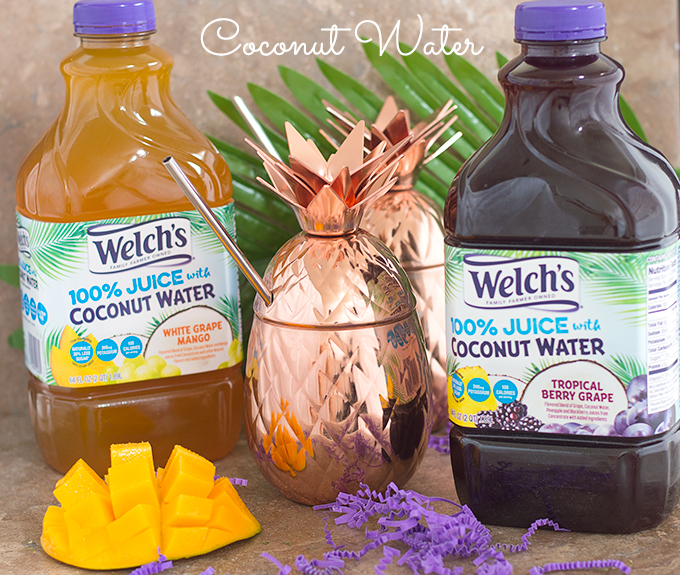 3) Drink an 8 Oz Glass of Coconut water, Get Two Fruit Servings!
Coconut haters tend to love fruits, right?  Of course!
Fruits are plentiful, but, sometimes you just don't feel like chopping it up and putting it into a salad.  I can't tell you how many days I have let laziness win over eating fruits.
With the 2 fruit servings, coconut water can never win over laziness! Its as easy as opening and pouring!
2) Only 100 Calories Per Serving
That's my kind of drink! 100 calories is like a snack.  Every time I find myself feeling parched after a long day in the Florida heat, I am so happy to have a cool drink.  Having coconut water  which is only 100 calories means I won't get full before dinner.  That is always a plus!
So, coconut water that tastes great and has only 100 calories is like having my cake and eating it too (without all the guilt!).
1) No Added Sweeteners, No Added Sugar and No Artificial Flavors
Nothing turns off a coconut water fanatic quite like fake flavors.  This is why I like Welch's because they know that they don't need to add insane ingredients to make it delicious.  They let 100% coconut water do the talking.
Between the White Grape Mango and the tropical berry blend, I have to say that the White grape mango is my favorite.  Its so light and goes down smoothly.  Don't be surprised  when you see it in an upcoming gazpacho recipe because its so perfect for it.
0) Honorable Mention: It Freezes Really Well
I couldn't resist throwing in a little extra about coconut water.  This coconut water freezes really well. I put the ice cubes in regular water, drink recipes and even a few curry recipes.  It brings a very light coconut flavor to any recipe without overpowering it.  Freezing it is also a great way to preserve the coconut water that you will inevitably buy in bulk from now on!
So, don't hate coconut water because it can do more good than bad.  It makes your happy from the inside out!
What's your favorite way to consume coconut water?