Eggplant chips are a quick game time snack or snack for any occasion. They are healthy and filling. Flavored with Mediterranean spices
These are quick snack ideas that you can make for kids or adults.
Its amazing how vegetables I hated as a child are now my very favorite things to experiment and eat.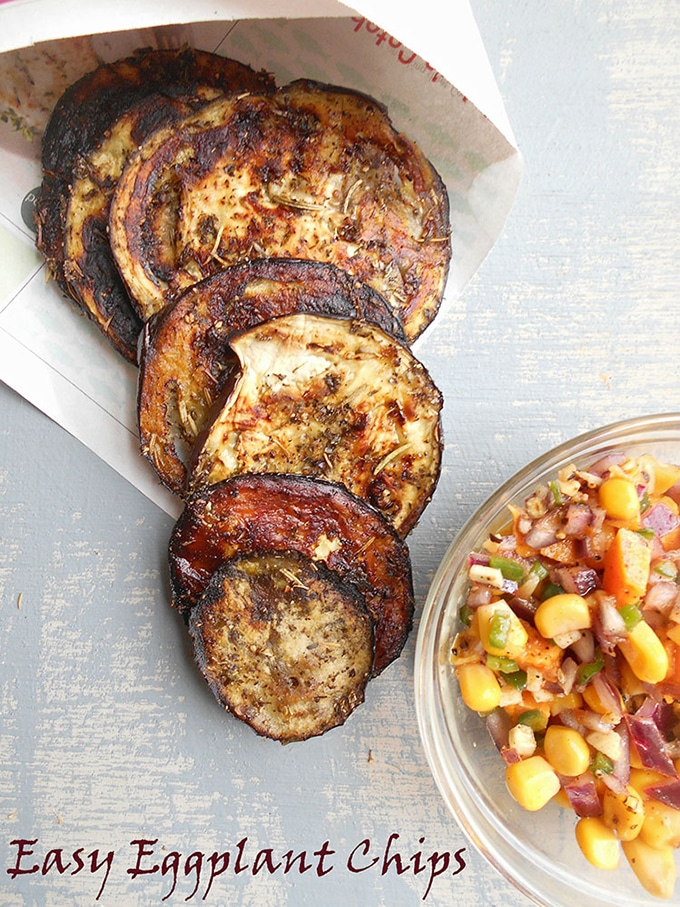 Eggplant chips have become one of my favorite snacks, especially when I experiment with many different spices.
I love turning veggies into chips because it makes for a great snack. My favorite is this butternut squash chips and a creamy vegan avocado used as a dipping sauce.
I even graduated to other veggies, like Kale chips which are very special becuase I used sriracha in them.
Today, I bring you the eggplant chips made with Mediterranean flavors and they are so delicious!! I like noshing them while I am sitting at my desk.
Personally, I like my eggplant chips slightly on the burnt side. When served with a salsa recipe (coming soon), it is the perfect comfort food.
It is so easy to make because it takes only a few ingredients. Plus, it takes less than 30 minutes to make. This makes sure I don't have any excuse to eat junk food.
I had eggplant left over after my eggplant curry recipe, so, turning it into chips was the perfect way to use it up.
I wonder how turnip chips would taste. It will be my next experiment. What is your favorite veggie chip flavor?
Do you have to peel eggplant before cooking?
No, you don't have to peel the skin from an eggplant. Most recipes will taste better with the skin. However, some recipes, like "baba ganoush" or "baingan bharta" recipes require the skin to be peeled because you want to work with the "meat" of the eggplant.
How do you remove bitterness from eggplants
Salting eggplant is the best way to remove the bitterness from eggplant. Salt helps take away most of bitterness and add a little flavor to the chips.
Are eggplant chips vegan keto friendly?
These eggplant chips are vegan keto friendly snack that is very easy to make. I use a variety of dried spices and also use extra virgin olive oil. This snack will make you forget potato chips!
How to salt eggplant?
– Wash the eggplant in cold water
– Cut the top green part of the eggplant and just a small tip from the bottom
– Cut the eggplant into desired shape (cubed, sliced or strips). If you are finely dicing them, then you don't need to salt it.
– Place the cut eggplant in a colander and sprinkle 1 tsp of salt for 1 eggplant
– Using your hands, mix the eggplant and salt
– Place colander under cold running water and "wash" the salt off the eggplant, using gentle pressure
– Place washed eggplants on a paper towel and pat it.
– Make sure its dried before using in a recipe
How to make eggplant chips
1) Preheat oven to 325 degrees. Assemble the dry spices (1/2 tsp of basil, parsley, oregano, crushed pepper, salt and 1/4 tsp of rosemary)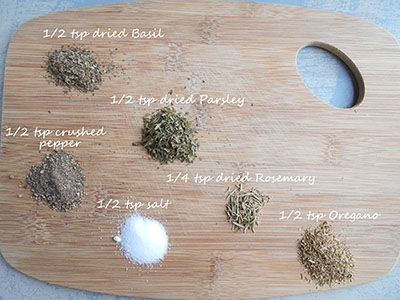 2) In a bowl add 1/4 cup of extra virgin olive oil and the dry spices
3) Place the salted and dried eggplant in the bowl with the oil and dry spices. You can see how to salt eggplant above in this post.
4) Coat the eggplant chips with the oil and spices. Arrange them on a baking tray.
5) Place the tray in the oven. When you see the top browning, you can flip the eggplant chips. Bake for about 15-20 minutes until the chips are evenly browned. Remove from the oven and allow to cool. Serve with ketchup or one of my salsa recipes.
Try my beet chips recipe that I made in the air fryer.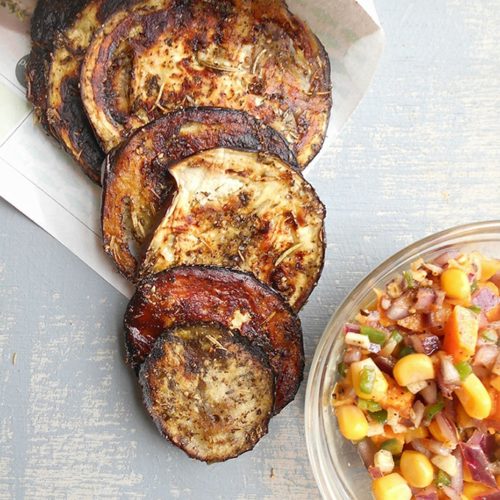 Eggplant Chips – Mediterranean Style
Quick and easy Mediterranean eggplant chips for a quick snack

Ingredients
1/2

eggplant

1/2

tsp

basil

1/2

dried parsley

1/2

dried oregano

1/2

crushed pepper

1/4

salt

1/4

tsp

rosemary

1/4

cup

extra virgin olive oil
Instructions
Preheat oven to 325 degrees.

Assemble the dry spices in bowl and add the oil


Cut the eggplant into thin slices


Drop the eggplant slices into the oil mixture and coat well


Spread out the Eggplant slices on a baking tray


Place tray in the oven


When you see the top browning, remove from the oven and flip the eggplant chips


Bake on the other side until they start to brown


Remove from oven and let them cool before serving