This aromatic Eggplant Curry is a very simple and easy recipe. Perfect vegan dinner recipe that is good for lunch or dinner. Made with Indian spices
Are you one of those people who hates eggplants?
Are you a fan?
This curry is so easy to make and delicious!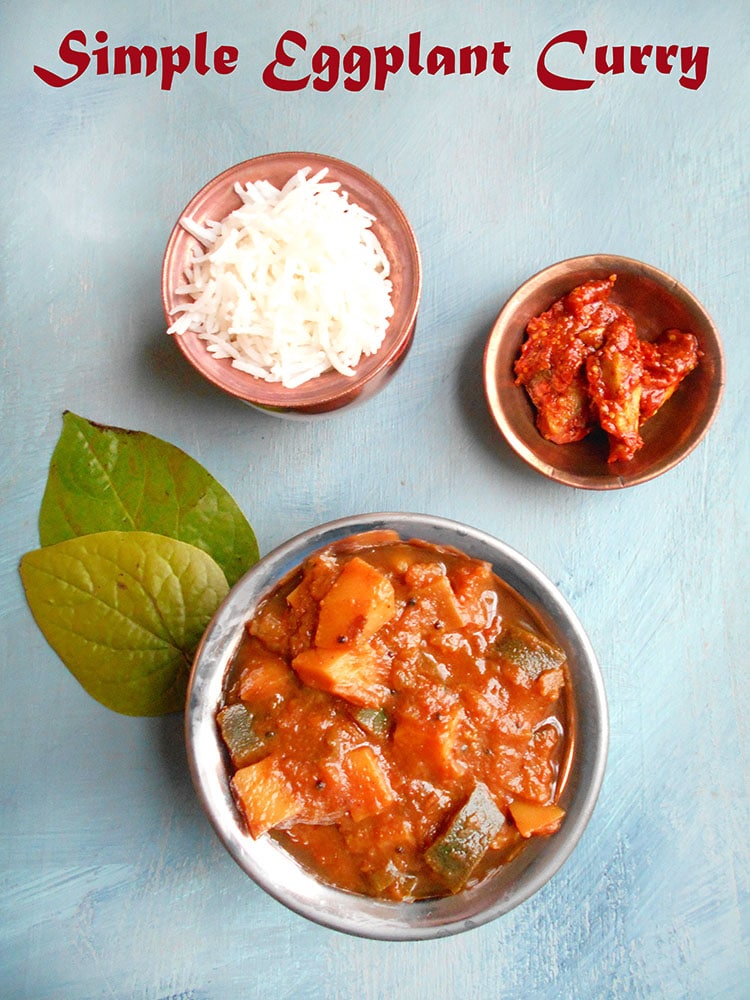 Growing up, I loved curries but always hated eggplants. Now, I can't get enough of this curry. It is amazing how taste change with age, isn't it?
I prefer using Japanese eggplants in all my recipes. In the case of this eggplant curry, I had to go 3 different stores and they didn't have it, so, I ended up using the classic variety.
It isn't that I haven't used them on this blog in the past. My eggplant parm recipe, I used them. They do have a purpose in the culinary world, but, I cannot get myself to like them as much as the Japanese variety.
Cooking eggplants is an interesting challenge. For curries, boiling the eggplant is the best way to go. This is a great guide on how to boil an eggplant. Boil the potatoes also because they will melt in your mouth.
What food did you hate as a child but cannot get enough of it now?
Recipe for Eggplant Curry
1) Use 2 cups of boiled eggplant (1 small-sized classic eggplant) and 1 cup of boiled potatoes (1 medium sized red potato). Remove the skin from the potatoes only.
2) In a medium pan, add 3 Tbsp of olive oil
3) Add 1/8 tsp of Methi (Fenugreek) Seeds
4) Add 1/2 Tbsp of Black Mustard Seeds (Rai)
5) When the mustard seeds start popping, add 1/2 tsp cumin seeds.
6) Add 1/2 cup of chopped onions
7) Add 1 tsp of crushed garlic. If you can stand more garlic, add another 1/2 tsp.
8) Add 1 tsp of crushed ginger.
9) Add 1 Tbsp of chopped jalapeno. If you can stand the heat, go for 1 tsp or more
10) Let the onions get a little translucent and then add 1/4 tsp of Red Chili Powder (Extra Hot)
11) Add 1/2 tsp of Turmeric Powder
. Use more, if you prefer.
12) Add 1/2 Tbsp of Tamarind chutney. I will add another 1/2 Tbsp towards the end. You can add the whole Tbsp now, if you prefer
13) Mix well and add curry leaves, if you have them. Add 2 cups of freshly pulped plum tomatoes
14) Mix well and then add 3 cups of water.
15) Add 1 + 1/2 tsp of salt. You can adjust the amount according to taste
16) Add the boiled eggplant and potatoes. Crush about 3 potato and eggplant cubes. This will help thicken the curry a little.
17) Mix well and then add 1/2 Tbsp of brown sugar
18) Add 1/2 Tbsp of cumin powder
19) Add 2 tsp of garam masala or adjust to taste.
20) Mix well and set the heat to medium high. Cook for about 25 minutes or until the water is thickened. Remove the eggplant curry from heat and serve with Basmati rice and Spicy Mango Pickes
Eggplant Curry Recipe (Vegan)
This simple recipe for Eggplant Curry is the perfect dinner recipe. If you are looking for vegan dinner ideas or vegetarian dinner ideas, try this delicious version of the traditional Indian recipe for Baingan bharta
Ingredients
1

japanese eggplant

chopped

1

red potato

skinned, chopped into cubes

3

Tbsp

extra virgin olive oil

1/8

tsp

Fenugreek Seeds

(Methi)

1/2

Tbsp

Black Mustard Seeds

(Rai)

1/2

tsp

cumin seeds.

1/2

cup

onions

chopped

1

tsp

garlic

crushed

1

tsp

ginger

crushed

1

Tbsp

jalapeno

chopped

1/4

tsp

Red Chili Powder

(Extra Hot)

1/2

tsp

Turmeric Powder

1

Tbsp

Tamarind chutney

divided

3

curry leaves

(optional)

4

plum tomatoes

(crushed in a mini processor)

3

cups

water

1.5

tsp

salt

1/2

Tbsp

brown sugar

1/2

Tbsp

cumin powder

2

tsp

garam masala
Instructions
Boil the eggplant and potatoes


In a medium pan, add extra virgin olive oil


Add fenugreek seeds and black mustard seeds


When the mustard seeds start popping, add cumin seeds

Add chopped onions, jalapeno, garlic and ginger


Let the onions get a little translucent and then add Red Chili Powder (Extra Hot)

Add Turmeric Powder.


Add 1 part tamarind chutney


Mix well and add curry leaves, if you have them

Add 2 cups of freshly pulped plum tomatoes

Mix well and then add 3 cups of water

Add 1 + 1/2 tsp of salt (adjust to taste)


Add the boiled eggplant and potatoes


Crush about 3 potato and eggplant cubes to thicken the curry


Mix well and then add brown sugar, cumin powder and tamarind chutney


Add 2 tsp of garam masala or adjust to taste

Mix well and set the heat to medium high


Cook for about 25 minutes or until the water is thickened


Serve with basmati rice

Notes
Nutrition info is approximate