Quick and Easy Eggplant Parmesan Sandwich is the perfect comfort food recipe for any meal. It takes only 30 minutes to make this sandwich. Don't you just love all that cheesy goodness?
This eggplant Parmesan sandwich is now my favorite sandwich in the world.
Its the best comfort food recipe to make and its the most delicious recipe ever!
So, in celebration of August being the month for Sandwiches, I figured I would bring you my favorite sandwich recipe ever!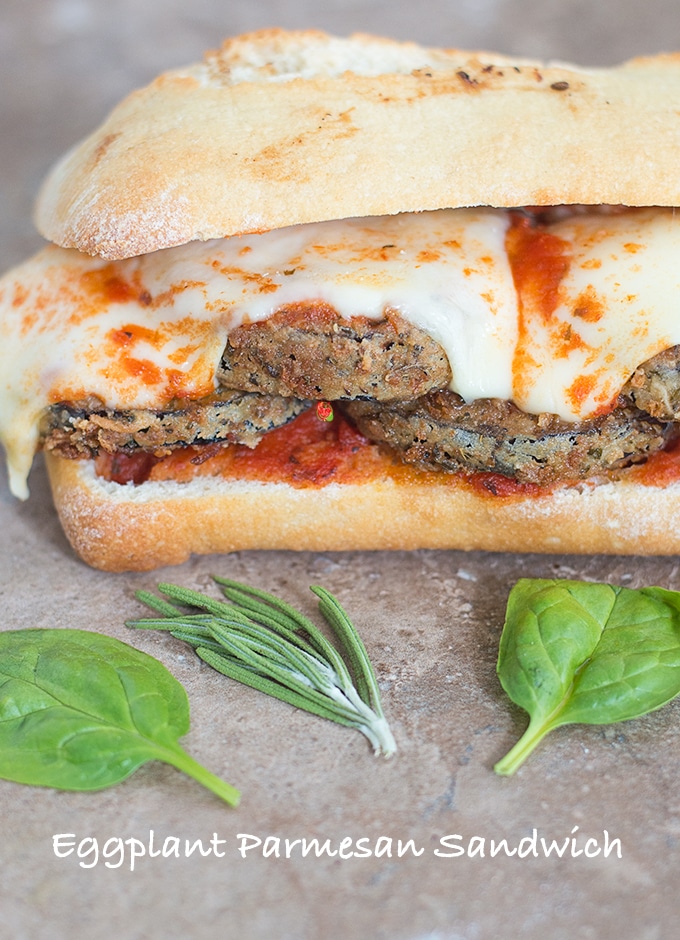 Look at all that ooey-goey melted Mozzarella cheese!!
There is something so comforting about melted mozzarella isn't it? Even my Mozzarella Cheese Sandwich is a drool worthy because of all the melted cheese.
The best part of this sandwich is that I used Aquafaba to bread the eggplant. In the past, I have used almond milk and flax seed meal which were ok.
However, Aquafaba is completely revolutionized everything I do. It works so well when acting as a binding agent in burgers and other patties.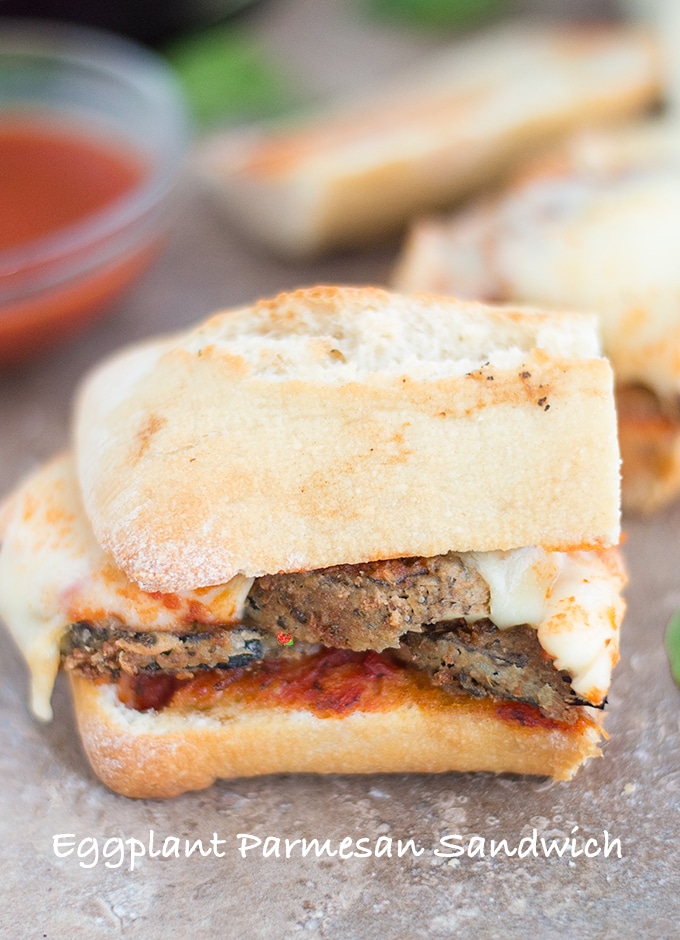 Now, you can go for your store bought pizza or marinara sauce for the Parmesan. However, I highly recommend my homemade pizza sauce because it is made with all fresh ingredients. Plus, it has an extra amount of garlic which made it that much more delicious.
You can also add red or green bell peppers, onions and mushrooms to this recipe. I kept it as simple as possible, but, I do love some red peppers in the sandwich
Baking the eggplants is a good option for this recipe. However, I found that shallow frying them is much better. I used very little oil to shallow fry about 7 eggplant rounds.
Two of these rounds didn't make it to the sandwich!
Ciabatta worked so well for this sandwich. Nothing kills the sandwich experience like a stale bread. So, if you can't find fresh ciabatta, use a fresh hoagie sandwich bun.
For best results, you can do an open bake first. Once the cheese has melted, you can cover the top. I oiled the top part just a little bit before covering it.
Eggplant parm is my favorite thing to eat at Olive Garden. It's also one of the few vegetarian friendly recipes at that restaurant, lol.
What is your favorite sandwich?
Eggplant Parmesan Sandwich
Easy Vegetarian Eggplant Parmesan Sandwich

Ingredients
For the Eggplant
½

Eggplant

medium (cut in circular shapes)

2

tsp

salt
For Breading the eggplant
1

cup

all purpose flour

2

tsp

Oregano

(dried)

1

tsp

Parsley

(dried)

1

tsp

Rosemary

Fresh, if possible

2

tsp

black pepper

1

tsp

salt

(optional)

½

cup

Extra Virgin Olive Oil

2

cup

panko bread crumbs

¼

cup

Parmesan

shredded

1

cup

aquafaba
For the Sandwich
1

Ciabatta Loaf

About a foot long

1

cup

pasta sauce

or marinara

4

slices

Mozzarella Cheese
Instructions
Preheat oven to 350 degrees and lightly oil a baking sheet


In a mixing bowl, sieve the flour. Then add the salt, pepper, oregano, Rosemary and Parsley


Mix well using a spoon


In a separate bowl, add the olive oil, onions, peppers, oregano, basil and salt. Mix well and set aside

In a separate bowl, mix the panko and Parmesan. Set aside.

Breading the Eggplant
Dip one eggplant slice into the aquafaba

Coat the eggplant very well and then drop it into the all purpose flour mixture


Coat well on both sides and transfer to the Panko + Parmesan bowl


Coat well and place it on the baking tray


Do the same for the other eggplant rounds


On the stove top, heat the oil in a medium pan and shallow fry the eggplants on both sides


Transfer the fried eggplant to a paper towel and dab to remove the extra oil


While they are cooling, split open the ciabatta bread


On one side of the bread, generously spread the Pizza sauce

Top with the fried eggplants, then the mozzarella cheese.


Dab a couple teaspoons of pizza sauce on top of the mozzarella

Place the sandwich open-faced into the oven and bake for 10 minutes or until the mozzarella has melted.


Cover the top of the sandwich and, optionally, lightly baste it with oil


Place it in the oven for about 5 more minutes and then remove

Cut into half and serve immediately
Notes
Nutrition information is approximate