Vegan No Bake Energy Bites Recipe with tahini, za'atar and dates. These healthy energy balls with dates and nuts are a perfect on-the-go snack or put them into a snack prep routine. They are even kid-friendly
Have you had one of those weeks where you were too sick to even have enough energy to walk to the kitchen?
I had one of those weeks and I kicked myself for not having some healthy energy bites or even granola bars already made
So, I made a quick energy bites recipe today that didn't take too much effort or ingredients. Plus, its delicious!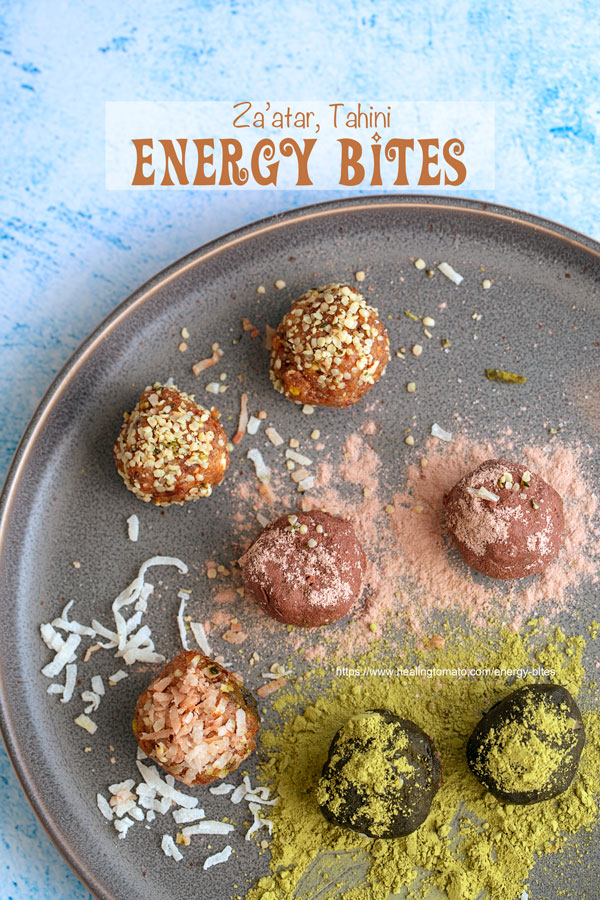 What are energy bites?
Energy bites are small balls packed with nutritious ingredients designed to provide, well, energy.
Energy bites AKA Energy Balls are supposed to be really quick to put together and are mostly centered around getting protein. I am one of those people who could really use these bites on a daily basis, but, I am always too lazy to make them myself
In this recipe, the tahini and the dates provide quite a bit of protein. I always have homemade tahini because I love using it on salads or as dips. Recently, I made a basil pesto tahini sauce for my roasted cauliflower salad and it was beyond delicious.
If you don't want to make tahini at home, the store bought one is also very good. I recommend this one by (affiliate link) Joyva Sesame Tahini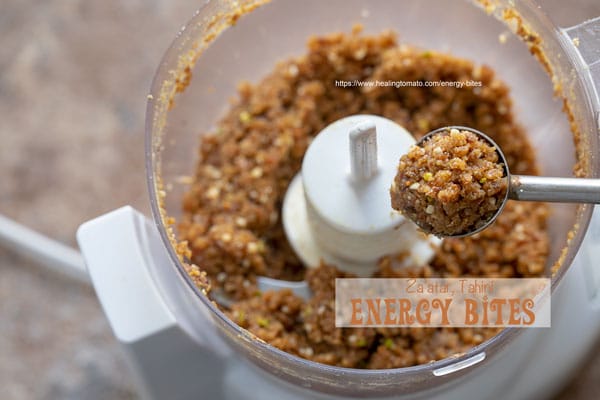 No Bake Energy Bites Recipe
I think all energy bites should be no bake because I am too lazy to bake them. Plus, it takes too long to bake them.
So, I put ingredients in this recipe that don't need to be baked. All I had to do was blend them in my tiny food processor and that was it.
Ideally, I should have refrigerated them for about 2 hours before eating them, but, they were perfect right out of the blender
If you have time, refrigerate them for 2 hours before eating
These no bake energy bites are calories friendly because they are low calorie and low carb snack
Why add Za'atar in Energy Bites
Ok, this was not something I had planned. It was not even on my list of test ingredients to add to the bites.
But, as I was researching the history of dates, I kept seeing how important they are in Middle Eastern cuisine. So, I thought Za'atar would feel right at home in these vegan energy bites
Za'atar has become my favorite spice to use in almost everything. It was perfect for spicing up mixed nuts, it made my tabouli recipe taste a million times better than I expected and my Muhammara recipe had a very authentic taste.
Now, Za'atar has taken these energy bites to a whole new level!
Here is the (affiliate link) Za'atar spice I like to use.
Can Energy bites be frozen?
No, I don't recommend freezing the energy bites because it has oils and that just doesn't taste well when I bite into a frozen energy bite
Instead, I recommend placing them in an air-tight glass container and refrigerating them. They will be good for about 1-3 months
You can also store them in your pantry in a cool, dark corner. They will be good for about a 1-2 weeks
Coating the energy bites
I made this energy balls easily, but, I had a heck of time trying to figure out with what I should coat them. The problem was that I had so many ideas and I just couldn't narrow down my focus
So, I tried 4 different coating ingredients and they all tasted good. Pick your favorite and let me know what you think
P/S: You don't need to coat them because they taste perfect just by themselves. But, coating them made them look pretty for the camera 🙂
Coating with Hemp Seeds
Ok, if I had to pick a favorite, I think hemp seeds were the perfect coating. They are light and they stick easily. Plus, the hemp seeds don't fall off once they have been refrigerated.
Hemp seeds not only add nutrition to a recipe, they also make the dish look delicious. I used them on top of my pineapple smoothie and it made the drink look like a supermodel!
Coating these bites with Coconut
I took shredded sweet coconut and blended it up a little. Then, I coated the energy bites in them and refrigerated it. That's it!
Shredded sweet coconut can be found in any grocery or box stores (baking aisle). They are cheaper there than in any online stores. They even have non-GMO and vegan friendly sweet coconut
Coating Energy Bites in Chocolate
I used my favorite new Dutch chocolate powder. Its Juice Plus+ Complete's Dutch+. I put it in my chocolate smoothie bowl and it's my favorite smoothie recipe of all time
You can use any Dutch chocolate powder to coat the energy bites
Coating with Matcha Powder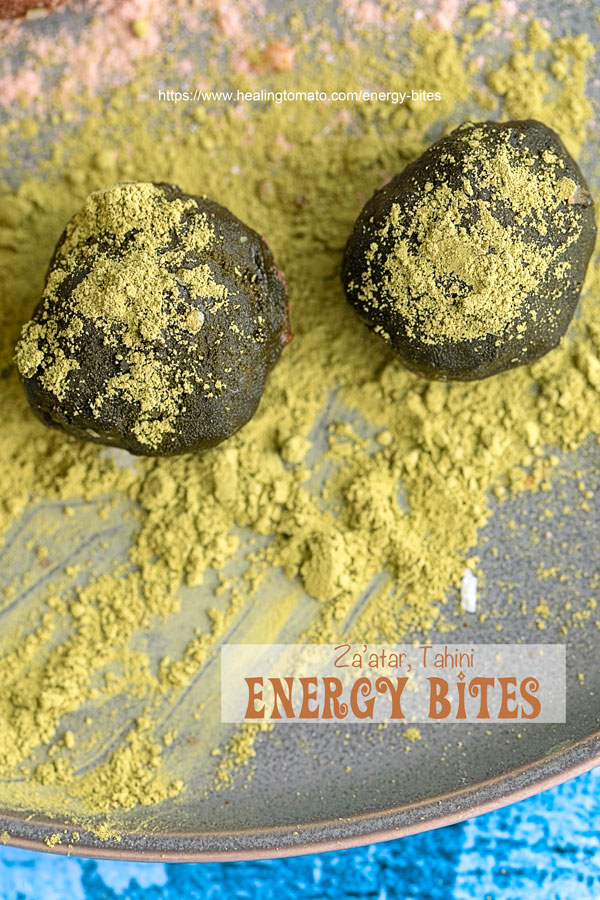 Ok, I am going to be honest here. Coating with (affiliate link) Matcha may not be for everyone
There is a little bitterness to the bites which I really liked, but, I don't know if everyone else will like it. So, try it and let me know what you thought
Also, the Matcha makes the bites darker by the minute. I recommend refrigerating without coating the Matcha and then coating it when you are ready to eat
If you like to try more Matcha recipes, I have pancakes, hazelnut butter, tzatziki and sparkling water
What else can I add in these bites

-Peanut butter
– Chocolate Chips
– Pecans, walnuts or cashews
– Oatmeal
– Banana (Fresh or Dried Chips)
So, make these no bake energy bites with dates today and come back to tell me what you thought. Be sure to rate the recipe below when you make it
What's your favorite energy bite ingredients?
Energy Bites with Dates
Quick energy bites recipe for the perfect healthy snack

Print
Pin
Rate
Ingredients
For coating (optional): shredded sweet coconut, chocolate powder, matcha or hemp seeds
Instructions
Line a small tray with parchment or wax paper and set aside


In a blender, add dates, za'atar, flax, almonds and pistachios


Roughly grind these ingredients for about 1 minute


Add the remaining ingredients


Blend on high until everything is mixed


Use a Melon baller or a round spoon to scoop out a small amount of the mixture


Make a ball out of this small scoop and place on a parchment paper


Make balls out of the remaining mixture and set on the parchment paper


Coat with your favorite coating ingredient


Refrigerate for 2 hours

Notes
– If you use the store bought tahini, it has a layer of oil.  Use that in these recipe as sesame oil. – Coating the energy bites is not necessary.  The bites taste delicious without it.  Nutrition info is approximate
Nutrition
Calories:
56
kcal
|
Carbohydrates:
3
g
|
Protein:
1
g
|
Fat:
4
g
|
Sodium:
1
mg
|
Potassium:
55
mg
|
Sugar:
1
g
|
Vitamin C:
0.5
%
|
Calcium:
1.5
%
|
Iron:
2.5
%