This is a recipe for fried green tomatillo made with carom seeds. A new twist on a southern favorite of fried green tomatoes. Tangy and spicy appetizer that is super easy to make
If you are old enough to remember the movie, "Fried Green Tomatoes", you will love this recipe!
I loved the movie, but, I decided to try the recipe using tomatillos instead of tomatoes.
Carom seeds are a huge part of this recipe. They are so easy to find and are huge in Indian Cooking.
The best way to describe the taste of this seeds is: spicy with a slight tanginess. They are of the same family as Thyme but very different when it comes to taste. They have the mintiness of fenugreek seeds, the spiciness of oregano and just a little tangy hint of lemon seeds.
It is so rarely used in Western cuisine that even Siri hasn't heard of it. When I asked Siri to type Carom, it actually typed it "Carmen". I am tempted to nickname these seeds, "Caron San Diego"!!
I have tried to convince my friends to like this and have had a small degree of success. Many of them, however, cannot get past the smell. It has a deep pungent aroma which is twice as strong as the normal aroma of dried oregano.
When it is added to hot oil, it can get into your nose and clear the sinuses of your future generation.
With that in mind, let me introduce you to the fried green tomatillo with carom seeds.
When the fried green tomatillo is prepared this way, you will notice that the carom seeds provide a unique twist to this very traditional southern dish.
When paired with all the other ingredients, it works harmoniously giving this dish a very tasteful balance. It also helps take away some of the tangyness of the tomatillo
I used store bought breadcrumbs in this recipe, but, you can easily use my homemade panko breadcrumbs. They are so easy to make. Its also a good excuse to use up herbs and bread that may be going stale
Slight detour at this point in the blog. Do you remember what happened to Chris O'Donnell's character in the movie that almost shares the same name as this dish? That scene still makes chills run down my spine every time I see it.
Even after 20 years, I go through a box of Kleenex whenever I see the movie.
This fried green tomatillo can also be used as patties in a veggie burger. Or, they can be used as sandwich fillings. Personally, I like to enjoy them with an onion, cucumber and radish salsa.


How to make fried green tomatillo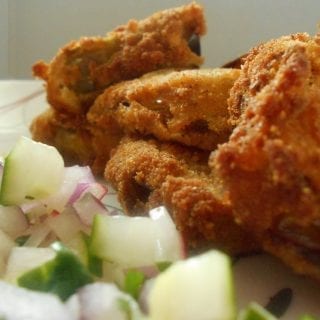 Fried Green Tomatillo
Fried Green Tomatillos

Instructions
In a mixing bowl, add the flour, carom seeds, turmeric, Cajun spices, salt, pepper and water.

Mix well by hand until the consistency is creamy

Dip the tomatillo, 1 slice at a time

Remove the dipped slice and place it in the breadcrumbs bowl.

Coat the slice in breadcrumb all around and place it carefully into the heating oil

Place the oil on medium heat

Fry each side for about 2 minutes.

Drain using a frying strainer and then place the fried slice on a dish with paper towel

Prepare the remaining slices the same way and then set aside to cool
Plate the tomato slices and the onion, cucumber and radishes salsa.
Nutrition
Calories:
411
kcal
Carbohydrates:
78
g
Protein:
12
g
Fat:
5
g
Sodium:
2555
mg
Potassium:
360
mg
Fiber:
8
g
Sugar:
4
g
Vitamin A:
1210
IU
Vitamin C:
7.9
mg
Calcium:
70
mg
Iron:
5.3
mg