Vegan frozen hot chocolate with mint is perfect for those hot summer days. Cooled hot chocolate poured over shaved ice cubes
Me: Can I get a Hot Chocolate, please?
Coffee Clerk: Its 90° outside?!
Me: I know.
If you don't care that you get funny looks when you order hot chocolate on hot summer days, then, you are my kind of people!!
Tips for making this drink
Use shaved ice in this frozen hot chocolate recipe. The best way to get shaved ice is by grinding ice cubes in a smoothie blender until you get a snow consistency
Be sure to cool the hot chocolate completely before adding to the shaved ice
Do not shave the ice cubes until the hot chocolate has completely cooled down. Adding warm hot chocolate to shaved ice will end up in a very watery hot chocolate drink
Use any milk of your choice. I experimented with both regular milk and almond milk. I loved them both, so, choose milk based on your diet preference
Use fresh mint only. Do not use dried mint for this recipe
Be sure to keep the lid on while you steep the mint in the milk. If the milk gets cold quickly, the mint will not be able to give all its flavor to the milk
I prefer using (affiliate link) cane sugar which is vegan friendly. If you can't find cane sugar, use (affiliate link) vegan powdered sugar because it won't clump up or give a chalky taste to this frozen hot chocolate
Recipe inspiration
I am from NYC where Serendipity 3 is located. They know their way around a frozen hot chocolate like no one else!
What I miss most about NYC (other than the snow, food, vibrant, easy transportation, hiking, Mexican food, Indian food, Noodle restaurants, Little Italy, tall TALL buildings, Museums, musicals, food trucks, huge pretzels, Christmas, bagels……) drinking a tall glass of frozen hot chocolate on a hot day!
P/S: Yes, I do miss the NYC's Snow! Crazy, I know, but, it is the truth. 🙂
So, I thought I would try making my own frozen hot chocolate recipe to enjoy on a very hot Florida Summer afternoon!
It paid off because this frozen hot chocolate is delicious! The mint is the star of this recipe because it adds a wonderful flavor to the hot chocolate
Don't skimp on the mint because you will be doing a huge injustice to this frozen yogurt.
I have several other summer drink recipes that will quench your thirst on the hottest day of the year.
More hot chocolate recipes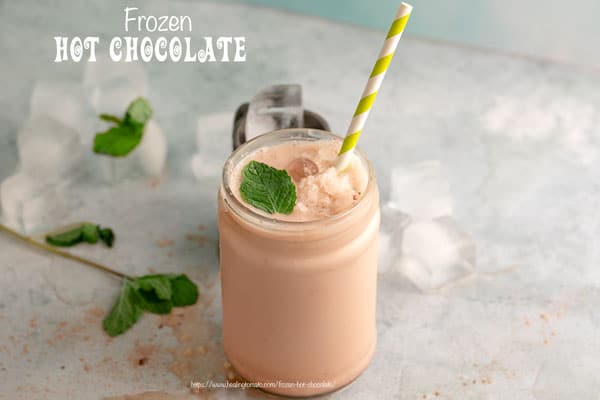 Common questions when making this recipe
What kind of chocolate should I use?
I used the same chocolate powder I used in my chocolate smoothie bowl. Its the Juice Plus Dutch Chocolate.
You can also use Dark Chocolates. There are several vegan dark chocolates. I get mine from Amazon. Be sure to use the plain dark chocolates
Can I top it whipping cream?
Absolutely! There are several vegan whipping creams found on Amazon. See my Amazon picks below. Reddi-Wip® also makes a vegan version of their whipped cream. Top with chocolate shavings for a fun presentation
Can I add alcohol to Frozen Hot Chocolate
You sure can! The best alcohol for this recipe is probably a shot of bourbon, vodka or even Kahlua.
Can I use packaged hot chocolate powder?
Yes, use regular Swiss Miss Hot Chocolate packets. Heat milk, steep the mint, discard mint and then add the hot chocolate packet. Mix well and let it cool. Then, add to shaved ice cubes and serve
Can I freeze this it?
Yes, you can freeze this hot chocolate. It sounds like an oxymoron type of question, am I right? Make sure all the ice has melted first. Then, transfer to ice cube tray and freeze it. Put it into coffee, smoothies or chocolate slushies
Is chocolate vegan?
Yes, you can find vegan chocolate on the market. There are several companies that don't use any dairy in their chocolate recipes.
For a complete guide on what is vegan friendly, check out my handy-dandy guide, "What Vegans Don't Eat"
What else can I add to it?
Chocolate Syrup
Chocolate shavings
Vegan Ice Cream
Chocolate chips
Vegan Marshmallows
Chocolate Sprinkles
Oreos (Use if you are using vegan whipped cream)
How to make frozen hot chocolate
Time needed to make this drink: 40 Min
Bring 3 cups of almond milk to a boil and add 4tsp of demerara sugar (or cane sugar)
Add 15 mint leaves the hot milk
Let the mint leaves stay in the milk for 10 minutes. Keep the pan covered.
Strain the mint leaves
Place the almond milk back on low heat and add 3 Tbsp chocolate powder. I used Juice+ Plus's Dutch Chocolate Powder
Add the nuts. I went with crushed hazelnuts and pistachios. Cook for 5 minutes on low heat
Turn off the heat and let it cool. Make sure you cool it completely. You can even place the hot chocolate in the refrigerator to cool it faster.
I took 12 ice cubes and crushed them in a smoothie maker first. Transfer the shaved ice to 2 glasses
Add the cooled down hot chocolate to the 2 glasses.
Serve immediately
If you mint remaining, check out my post on everything you can make with mint. There is also information on how to store it and some best practices when working with fresh mint.
What is your favorite thing about NYC?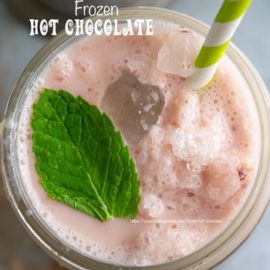 Vegan Frozen Hot Chocolate
Frozen Hot Chocolate made with milk and steeped mint. This silky smooth ice drink is perfect way to beat the summer heat.
Ingredients
3

cup

almond milk

Or milk of your choice

4

tsp

cane sugar

15

leaves

mint

2

Tbsp

hazelnut

roughly chopped, see notes

2

tsp

pistachios

roughly chopped

3

Tbsp

Dutch chocolate powder

12

pieces

ice cubes
Instructions
In a medium sauce pan, add the milk

Heat until it comes to a boil

Add the mint leaves and cover for 10 minutes

Strain out the mint leaves and save them for compost

Place the milk back on the stove at low heat

Add the pistachios, hazelnut and dutch chocolate powder

Let it cool down completely. See notes

When the hot chocolate has cooled completely, crush the ice cubes in a smoothie blender

Add the frozen hot chocolate and serve
Notes
If you don't have hazelnuts, use almonds or pecans.
To speed up the cooling process, place the hot chocolate in the refrigerator for about 8 minutes.