Grape Crostini is a fun dish to make under 30 minutes. The sweetness of the grape combined with the spice of Thyme make this a great recipe
Let us face it. The writing is on the sky!
Summer is almost over……
It is a painful fact, yet, we must all face it.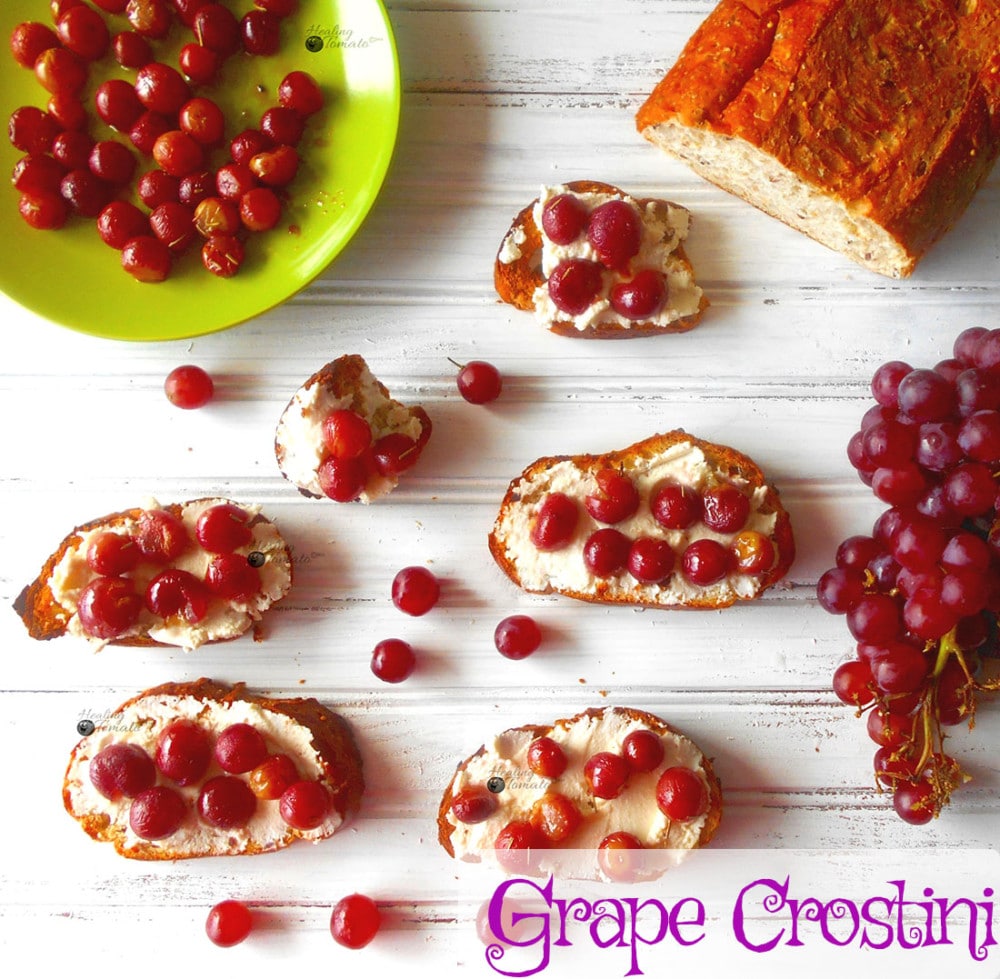 Here are just some of the end-of-summer signs that I can see:
–  The sun rays are just a degree or two less scorching
–  My feet can feel the ocean getting colder as I go in for one last dip
–  Everywhere I turn, there are back-to-school ads
–  Stores are starting to clear sections for their Halloween merchandise
–  The first leaf just fell off a tree I was standing under
–  My favorite summer fruits are about to go on a hiatus
So, before some of the fruits go into hibernation, let me start the goodbye process.
First up: California red seedless grapes.
Grapes are some of my favorite fruits to eat in the summer.  Some might argue grapes can be found all year round!
To those people I say, respectfully, "NO!"
This particular grape variety is perfect only in the late summer.  Its sugar saturation is at its peak in September.
In this recipe, I roast the California red seedless grapes in order to bring out its juices.
These grapes are cook perfectly and adding thyme gives it a slight spiciness.
In the Grape Crostini, I went with Ricotta cheese instead of the traditional goat cheese.  Since Ricotta is mostly flavorless, it is the right taste choice to meld with Grapes.
Grape Crostini is so easy to make and takes less than 30 minutes.  It is a perfect lunch or brunch.
Savor the Grape and the last days of summer.
For the bread, instead of the traditional baguette, I went with a 5-grain Italian bread.
What end-of-summer signs do you not like seeing?
Recipe Details for the Grape Crostini
Grape Crostini
Grape Crostini - Grapes roasted to bring out its natural juice. Roasted with Thyme. Served over Italian bread.
Print
Pin
Rate
Instructions
For the Crostini
Preheat the oven to 400 degrees

Spray the baguettes with cooking spray

Heat the baguette slices until lightly toasted

Remove and rub the baguettes with garlic cloves

Reduce the oven temperature to 350

In a mixing bowl, add the grapes, extra virgin olive oil, black pepper and salt

Spread the grapes on a baking sheet and heat until the grape skin is slightly wrinkled

While the grapes are in the oven, spread the baguette slices with ricotta cheese. Don't hold back!
For Drizzling
Bring the drizzling ingredients together and whisk well. Set aside

Bringing it all together
Remove grapes from the oven and gently crush the grapes with your thumb + forefinger

Top the bread with about 4-6 grapes

Drizzle with the balsamic vinaigrette

If you are using capers, top the crostini with the capers

Serve the Grape Crostini immediately.
Notes
Nutrition info is approximate
Nutrition
Serving:
10
g
|
Calories:
153
kcal
Try a grape compote with any leftover grapes you may have.  I made a plum compote where you can easily substitute the grapes in place of the plum tomatoes