Grape Crostini is a fun dish to make under 30 minutes. The sweetness of the grape combined with the spice of Thyme make this a great recipe
Let us face it. The writing is on the sky!
Summer is almost over……
It is a painful fact, yet, we must all face it.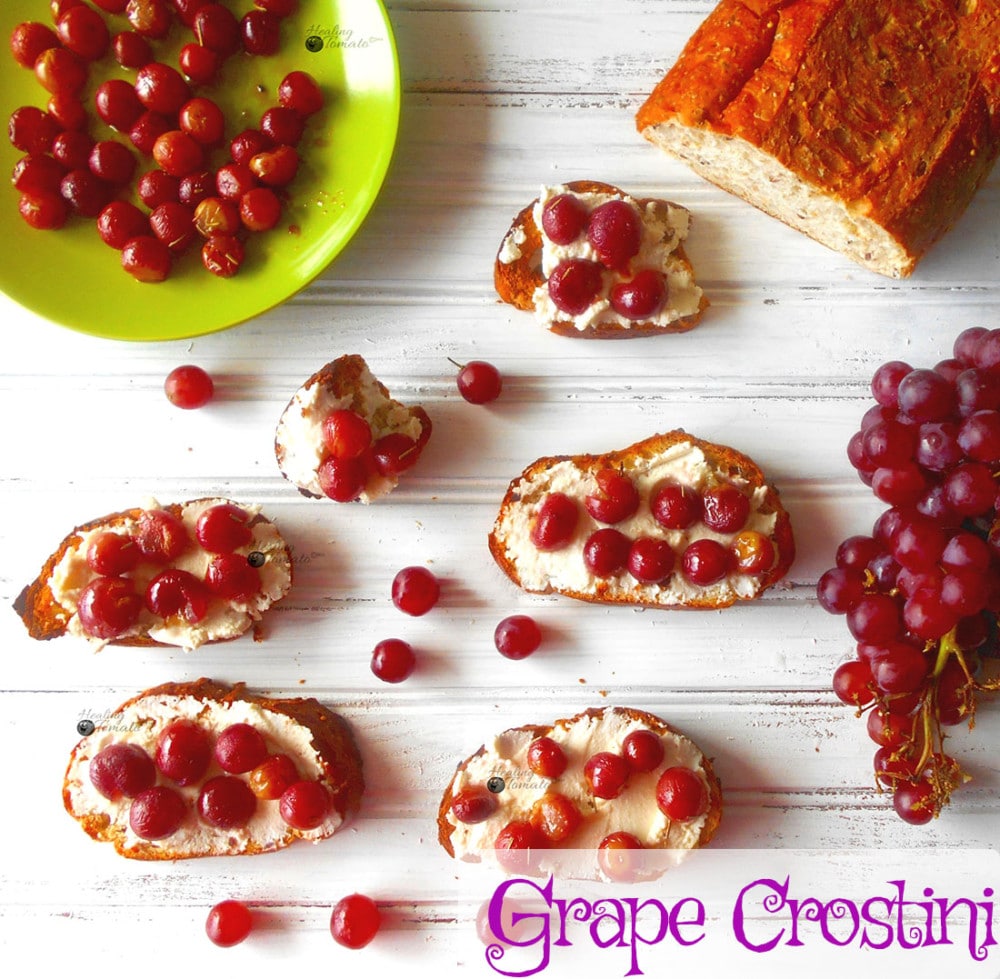 First up: California red seedless grapes.
In the Grape Crostini, I went with Ricotta cheese instead of the traditional goat cheese. Since Ricotta is mostly flavorless, it is the right taste choice to meld with Grapes.
If you prefer goat cheese, try this strawberry crostini recipe by Simple and Savory.
Grape Crostini is so easy to make and takes less than 30 minutes. It is a perfect lunch or brunch.
Savor the Grape and the last days of summer.
For the bread, instead of the traditional baguette, I went with a 5-grain Italian bread.
What end-of-summer signs do you not like seeing?
I have an awesome collection of brunch recipes that everyone will love.
Grape Crostini
Grape Crostini – Grapes roasted to bring out its natural juice. Roasted with Thyme. Served over Italian bread.
Instructions
For the Crostini
Preheat the oven to 400 degrees

Spray the baguettes with cooking spray

Heat the baguette slices until lightly toasted

Remove and rub the baguettes with garlic cloves

Reduce the oven temperature to 350

In a mixing bowl, add the grapes, extra virgin olive oil, black pepper and salt

Spread the grapes on a baking sheet and heat until the grape skin is slightly wrinkled

While the grapes are in the oven, spread the baguette slices with ricotta cheese. Don't hold back!
For Drizzling
Bring the drizzling ingredients together and whisk well. Set aside

Bringing it all together
Remove grapes from the oven and gently crush the grapes with your thumb + forefinger

Top the bread with about 4-6 grapes

Drizzle with the balsamic vinaigrette

If you are using capers, top the crostini with the capers

Serve the Grape Crostini immediately.
Notes
Nutrition info is approximate
Nutrition
Serving:
10
g
Calories:
153
kcal