Grilled Corn On The Cob Loaded With Brussels sprouts and Red Bell Peppers Salad.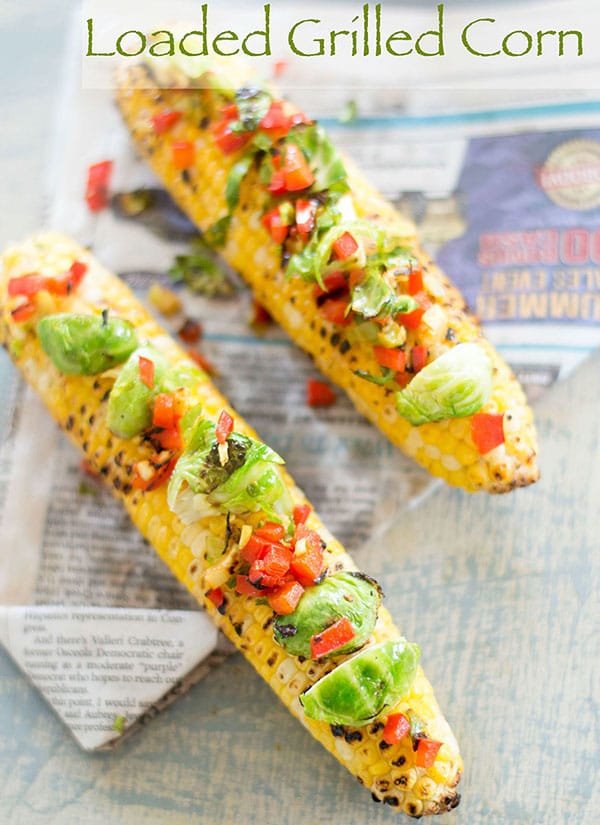 There is no graceful way to eat this grilled corn.  I just wanted you to know before you make this recipe on your first date.  It is romantic to cook a meal for your date, but, eating this corn may not make you look majestic or classy.
Unlike my Mexican Grilled Corn recipe, this recipe requires you to open your jaws really wide.  When you made my loaded tostada, your jaws got the training to eat any future jaw-unhinging type of recipes.  Therefore, for this recipe,  i suggest you just open wide, take a bite and savor the flavor!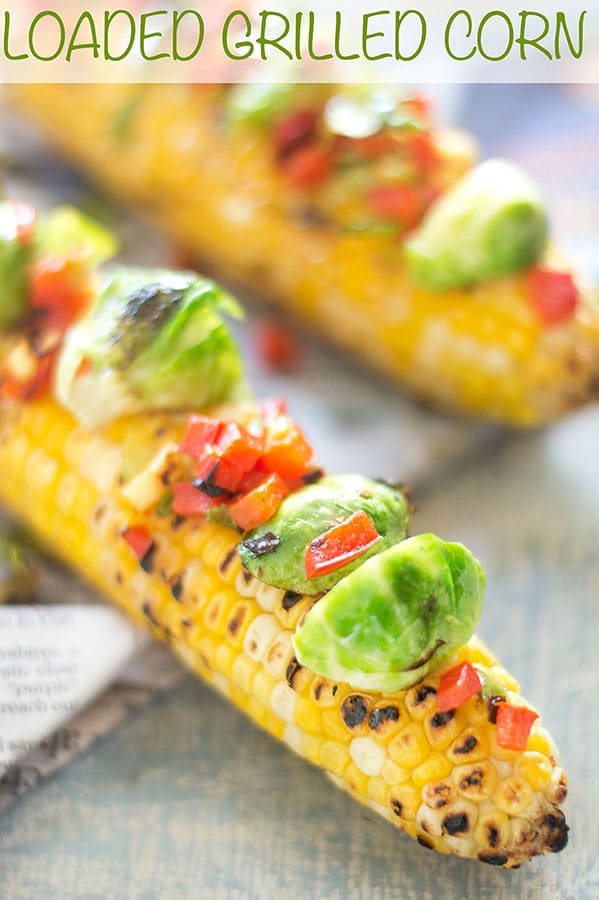 My favorite part of this recipe is the Brussels sprouts.  They were perfectly grilled and even had those charring marks.  I think this recipe is the perfect way to start or end the grilling season. The red bell peppers were so delicious and sweet which added a nice compliment to the recipe.
When was the last time you bought anything delicious and healthy for 33 cents?? Last weekend, I went to a store that was off my beaten path and it paid off in a big way.  Right at the entrance, they had buckets and buckets of fresh corn on the cob with giant price marks of 33¢.  They certainly knew the way into my heart and my pocket.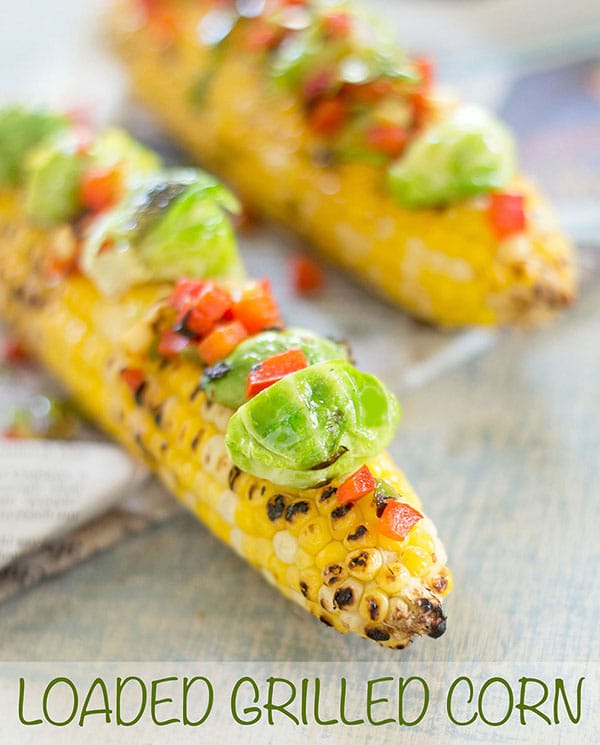 What is your favorite topping on grilled corn?
Loaded Grilled Corn
1) Grill corn on the grill.  Bobby Flay has a perfect way to Grill them or Live Strong can show you how to grill corn without a grill.
2) Wash and dry 1 cup of Brussels sprouts.  Cut each sprout into 4 pieces and set aside
3) Take half of a red bell pepper and cut it into small pieces
4) On the stove top, take a medium pan and add 2 tsp of olive oil.  Heat to medium heat for 3o seconds
5) Add the Brussels sprouts and bell pepper to the oil
6) Add 1 tsp of salt and 1 tsp of freshly ground black pepper
7) Add 1/4 tsp of oregano.  This is optional
8) Roast the veggies for about 7 minutes or until the Brussels sprouts have softened.  They should be charred slightly and the bell pepper should be soft
9) Take 1 tsp of vegan butter and melt it in the microwave. Using a brush, baste the corn with the melted butter.  This is optional, but, totally worth it
10) Top with the Brussels sprouts and pepper salad.  If you want to make things easier, top only small sections of the grilled corn that you are going to bite into
Grilled Corn Loaded With Brussels Sprouts Salad
You have never had grilled corn recipe like this one. Summer grilling is fun with this corn and Brussels sprouts and red bell pepper salad Vegan, Vegetarian
Ingredients
4

Corn On The Cob

(Dehusked)

1

cup

of Brussels sprouts

1/2

of a red bell pepper

2

tsp

of olive oil

1

tsp

of salt

1

tsp

of freshly ground black pepper

1/4

tsp

of oregano

(optional)

1

tsp

of vegan butter

(optional)
Instructions
Grill corn on the grill. Bobby Flay has a perfect way to Grill Corn or Live Strong can show you how to grill corn without a grill.

Wash and dry 1 cup of Brussels sprouts. Cut each sprout into 4 pieces and set aside

Take half of a red bell pepper and cut it into small pieces

On the stove top, take a medium pan and add 2 tsp of olive oil. Heat to medium heat for 3o seconds

Add the Brussels sprouts and bell pepper to the oil

Add 1 tsp of salt and 1 tsp of freshly ground black pepper

Add 1/4 tsp of oregano. This is optional

Roast the veggies for about 7 minutes or until the Brussels sprouts have softened. They should be charred slightly and the bell pepper should be soft

Take 1 tsp of vegan butter and melt it in the microwave. Using a brush, baste the corn with the melted butter. This is optional, but, totally worth it

Top with the Brussels sprouts and pepper salad. If you want to make things easier, top only small sections of the grilled corn that you are going to bite into