Easy Vegan Grilled Portobello Mushrooms Skewers Made by Marinating in Balsamic and Soy Sauce. Grill Them and Serve with Rice or on Burgers. Made in 45 min
Skewers week continues and it is the turn of Mushrooms to face the grill!
I loved grilling these beauties to perfection and they were so easy to make. It only took me 15 minutes of work. The other 30 minutes were for marinating it.
While they were marinating, I put my feet up and read a bunch of magazines!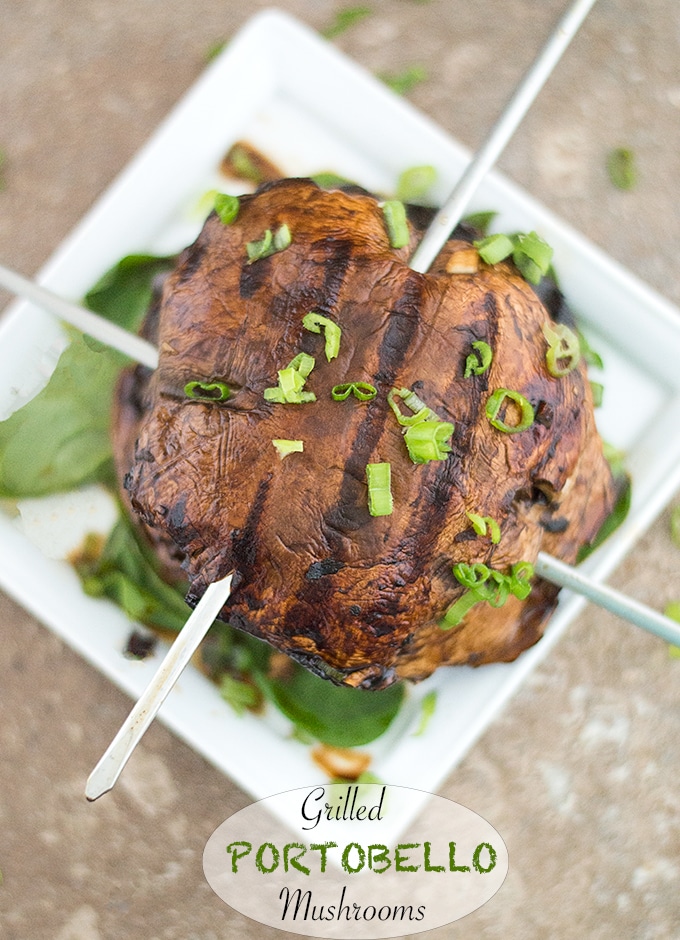 I cleaned the mushrooms and then marinated them in a sweet and sour sauce.
Not surprisingly, this recipe has tons of garlic! I just have to have extra garlic in all recipes and I know how much you all love seeing garlic in the recipes.
My homemade pizza sauce recipe and broccoli and potato recipes have a healthy dose of garlic. Garlic makes everything taste better!
This portobello mushroom tastes great by itself. Or, you want to make a meal out of it. Chop it up and mix it with rice. Or, chop it up and put it into a soft taco!
Maybe even as a topping on pizza?
Whatever you put it in, it is bound to make it delicious!
I grilled this on a stove top, but, it will grill just as well on an outdoor grill
What is your favorite food to grill?
Grilled Portobello Mushrooms
Easy Vegan Grilled Portobello Mushrooms skewers made by marinating in balsamic and soy sauce. Grill them and serve with rice or on burgers. Made in 45 min
Ingredients
4

Portobello Mushrooms

4

cloves

garlic

finely chopped

1/2

cup

Balsamic Vinegar

sweet

1/4

cup

Soy Sauce

Use low sodium

3

Tbsp

Agave

1/4

tsp

nutritional yeast

1/4

tsp

sea salt

optional

1/4

tsp

red pepper flakes

optional
Instructions
Remove the stem from the mushrooms and scoop out the gills with a spoon. Set aside


In a bowl, add the ingredients, except the mushrooms and mix well


In a large bowl, place the mushrooms face up


Drizzle the marinade over it and cover with plastic wrap


Let it marinate for 30 minutes


After 30 minutes, heat a grill until its hot


Skewer 2 mushrooms per skewer. I used 10″ stainless steel skewers


Place on hot grill, face down


Grill the mushrooms on each side for 2 minutes or until browned


Use up all the remaining marinade to baste and drizzle over the grilling mushrooms


Remove and serve

Notes
– Add 1 tsp of water to the agave before adding to the marinade