This homemade salsa verde recipe is very simple to make. Takes only a few ingredients and less than 30 minutes to make. Let's make salsa now
Tomatillos are rearing the sticky head again on this blog. This homemade salsa verde is just the latest in a long line of tomatillo recipes.
I have made fried green tomatillos, then came the bruschetta recipe.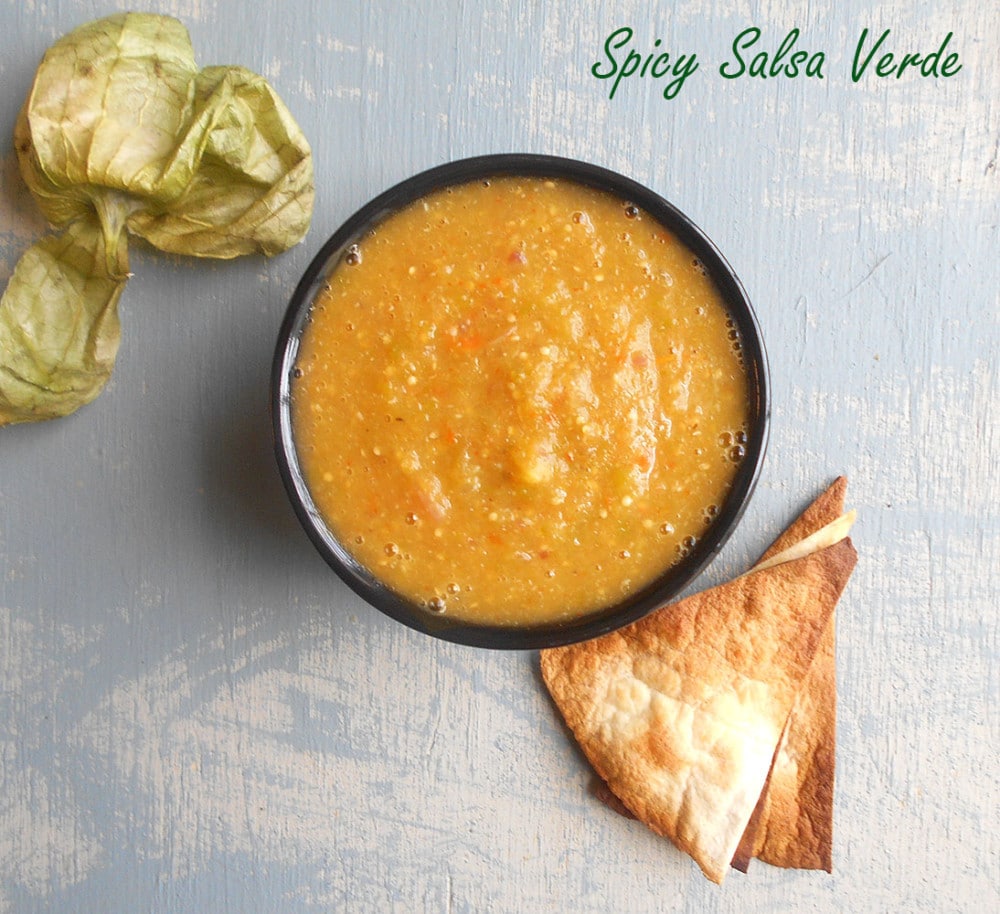 Today, they show up in this salsa verde recipe. It seems that I just can't get enough of their gluey skin. It has a dense texture, so, they are perfect for almost any recipe.
This is a salsa verde recipe that is on the spicier side. I went with 2 different types of hot peppers because I wanted it to have a kick.
I also have an apple salsa verde recipe that you might like. Check it and let me know what you think.
My philosophy has always been that salsa HAS to be spicy. A spicy salsa adds a layer of taste to any recipe. For example, my roasted corn salsa was so delicious because it had jalapeno's in it. When consumed with the cups, it was taste perfection in my mouth.
I always prefer homemade salsa over store bought because I can control the salt and the spice. Also, this is the perfect for canning salsa. They make for a great treat year round.
Do you know the health benefits of tomatillos?
How to make salsa verde?
1) Preheat oven to 450 degrees.
2) Remove the husks from the tomatillos and rinse thouroughly. Be sure to remove any of the stickness from the skin of the tomatillos

3) Wash+dry one jalapeno and one red chili pepper. Cut a small slit into each pepper. Oil the outside of both peppers and place them in a baking tray
4) Oil 3 cloves of garlic and place them in the tray.
5) Take 1/4 red onion and remove the skin. Roughly chop the onions and place them on the baking tray
6) Oil the outside of the tomatillos and place them in the tray. Do not chop them

7) Place the tray in the oven and roast for about 20 minutes or until the tomatillos have turned brown.
8) Remove the tray from the oven and let it cool for a few minutes

9) When it is cool to the touch, remove the skin from the peppers and the tomatillos
10) Cut the peppers into halves and remove all the seeds
11) Remove the skin from the tomatillos and roughly chop them
12) Place all the contents into a food processor

13) Add 1/4 tsp of salt and blend at low speed until it is of salsa consistency

14) Add 1/4 tsp of cumin powder (This is optional)

15) Add 1/4 tsp of sugar (This is optional)

16) Add 1 tsp of freshly squeezed lime juice and pulse 2 times.

Place the salsa verde in bowl, garnish with cilantro (optional) and serve. It can stay for about a month when canned

Salsa Verde Recipe (Spicy)
Salsa verde made with tomatillos

Ingredients
4

tomatillos

1

jalapeno

(whole)

1

red chili pepper

3

cloves

garlic

¼

red onion

roughly chopped

1

Tbsp

Extra Virgin Olive Oil

(for basting the ingredients)

¼

tsp

salt

¼

tsp

cumin powder

(This is optional)

¼

tsp

sugar

(This is optional)

1

tsp

lime juice

freshly squeezed

1

tsp

cilantro

finely chopped (optional)
Instructions
Preheat oven to 450 degrees.

Remove the husks from the tomatillos and rinse thoroughly to remove all the stickiness

Wash+dry one jalapeno and one red chili pepper


Cut a small slit into each pepper and lightly oil the peppers

Place them on baking tray and place try in the oven


Roast for about 20 minutes or until the tomatillos have browned

Oil 3 cloves of garlic and place them in the tray, along with the baking tray

Oil the outside of the tomatillos and place them in the tray. Do not chop them

Place all the contents into a food processor

Remove the tray from the oven and let it cool for a few minutes

When it is cool to the touch, remove the skin from the peppers and the tomatillos

Cut the peppers into halves and remove all the seeds

Remove the skin from the tomatillos and roughly chop them

Add salt, cumin powder, sugar and lime juice

Blend at low speed until it is of salsa consistency

Add 1/4 tsp of sugar (This is optional)

Add 1 tsp of freshly squeezed lime juice and blend one last time

Refrigerate for about 30 minutes before serving

Notes
Place the salsa verde in bowl, garnish with cilantro and serve
Transfer to a glass bottle and refrigerate. It can stay for about a month when canned or refrigerated
Nutrition
Calories:
110
kcal
Carbohydrates:
10
g
Protein:
1
g
Fat:
7
g
Saturated Fat:
1
g
Sodium:
295
mg
Potassium:
292
mg
Fiber:
2
g
Sugar:
5
g
Vitamin A:
365
IU
Vitamin C:
51.7
mg
Calcium:
8
mg
Iron:
0.8
mg