Crunchy croutons made with just 3 ingredients using day old bread is easy to make at home. You will never get store bought croutons again.
This time, I put my stale baguette to good use. Instead of crying over not using my bread on time and throwing it away, I turned it into croutons!
Just like all the other gals, I have a love of soups which I drink by bucketful during soup season. But, soup isn't soup unless it is topped with croutons, right?
Store bought has ingredients I can't pronounce, so, why not make my own?!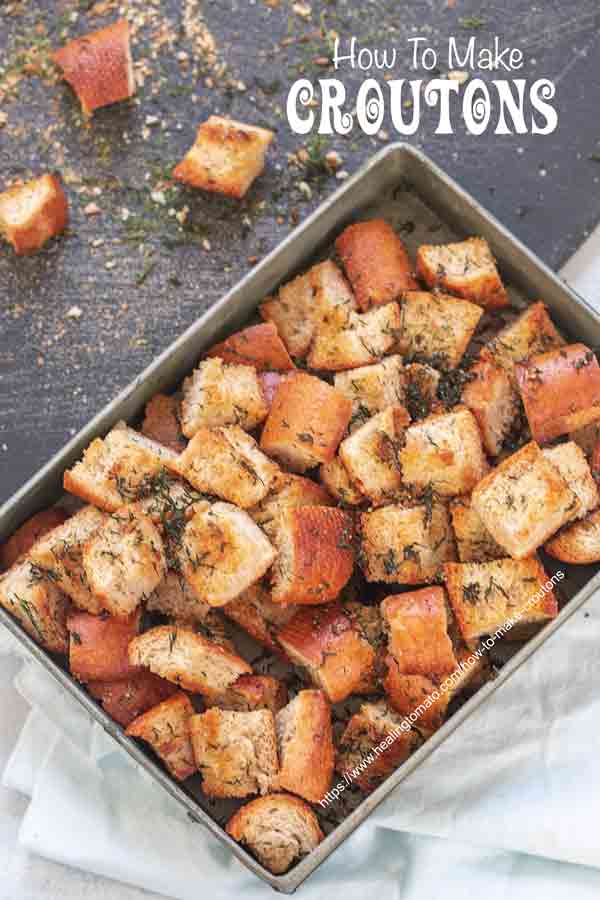 Tips for making them
Make sure that the bread is indeed stale. The croutons will turn out much crispier. Crispy croutons don't become soggy in soups or salads.
Use fresh herbs because they give croutons a wonderful aroma.
Use extra virgin olive oil or avocado oil only. They have the perfect smoke point for roasting bread.
I salted the bread before roasting it, but, it's not necessary. Most breads have enough sodium. I added extra salt because I put it into my vegan stuffing recipe. You don't need to add salt to it.
Evenly space them out on the baking tray. They will cook more evenly.
Personally, I don't like to flip the croutons half-way through the roasting process. If you want to get a more even roasting of the croutons, feel free to do so. I won't judge you. 🙂
Recipe Inspiration
For Thanksgiving, I am making a recipe that requires croutons. So, I decided to go to the store and get the boxed version. But, I was shocked to see some of the ingredients in the back of the box.
Here is what I saw listed in the ingredients:
Some of them has MSG in them.
Most of them contained ingredients I couldn't pronounce!
There were added sugars and extra preservatives.
Why do croutons need all those extra ingredients, I wondered!
So, why not make my own instead? How hard could it be, right?
Lucky for me, they were really easy to make. I just needed 3 ingredients to make and ended up with the best croutons ever! I am not buying store bought croutons ever again.
Ingredients needed for making croutons
Bread of choice
Fresh Dill
Extra Virgin Olive Oil (or Avocado oil)
Optional ingredients:
Salt
Garlic
Rosemary (or fresh herbs of your choice)
Black pepper
Melted vegan butter
Cinnamon and/or Nutmeg
Common questions for making croutons
Before you make your croutons at home, you may have a few questions for making it. Below, I hope to answer some of them. Feel free to comment below with more of your questions.
What kind of bread is best for making croutons?
Baguettes
Sourdough bread
Ciabatta
Whole Grain Bread
Potato bread
Rye bread
I am a huge fan of using baguettes. They are already crusty to begin with and can go stale rather quickly. This makes them perfect for making croutons.
Croutons are not vegan, are they?
Good question! Croutons veganism depends on the type of bread you use. If you bread contains ingredients that are not vegan friendly, like eggs or milk, then the croutons will not be vegan.
Most breads don't contain eggs or milk, so, you should be fine. Always check the ingredients. If you are confused about ingredients, consult my handy guide on what ingredients are vegan.
How do I store homemade croutons?
My personal favorite way to store croutons is to put them in a ziplock back and remove the air from it. After tightly sealing it, I place the ziplock bag in the refrigerator or freezer.
Also, I make sure I put the date on the bag and will make sure to use them up within 6 months.
How do I make my bread stale quickly?
Leave your bread outside on the kitchen counter. Remove any packaging it came with and let it be exposed to the air for a couple of hours.
This will make the bread stale quickly.
What else can I do with stale bread?
Make a delicious French toast pudding for your holiday table
Make a cheesy garlic bread with it
Put these croutons in:
Thank you for taking the time to read my post. I am thrilled that you came this far in the post. Feel free to share this on Pinterest, Facebook or Twitter.
How to make croutons
Crunchy croutons made with just 3 ingredients using day old bread is easy to make at home. You will never get store bought croutons again.
Equipment
13X9 Baking tray

Bread Knife
Instructions
Cut the baguette into big pieces (about 2inches)

Use cooking spray to oil the baking tray

Spread the bread pieces out on the oiled baking dish

Drizzle extra virgin olive oil over the bread pieces

Place the baking tray in the oven

Remove tray from oven and let it cool to touch
Use in recipes immediately or store for future use
Notes
** Nutrition value is approximate
Tips for making these croutons
Make sure that the bread is indeed stale. The croutons will turn out much crispier. Crispy croutons don't become soggy in soups or salads.
Use fresh herbs because they give croutons a wonderful aroma.
Use extra virgin olive oil or avocado oil only. They have the perfect smoke point for roasting bread.
I salted the bread before roasting it, but, it's not necessary. Most breads have enough sodium. I added extra salt because of the recipe they are going to be put into. Stay tuned for that recipe.
Evenly space them out on the baking tray. They will cook more evenly.
Personally, I don't like to flip the croutons half-way through the roasting process. If you want to get a more even roasting of the croutons, feel free to do so. I won't judge you. 🙂
Nutrition