How To Make Tahini? Traditionally, it is made with only 2 ingredients: sesame seeds and oil. This sesame paste is such a simple sauce, but packs and enormous nutrition punch
It's time this amazing nutrition packed sauce gets its due!
What makes falafal taste magnificent? What gives hummus it's signature taste?
Its this unassuming, fuss-free, 2-ingredient sauce ready in 5 minutes!
Let's give a nod to this the mighty tahini!
Jump to:
What is tahini?
Tahini is a paste made with hulled sesame and water. It's often referred to as sesame butter because sesame is blended to a buttery texture.
Making tahini is the least stressful recipe because you just dump 2 ingredients in a blender and let it do the work. Within minutes, you have the perfectly smooth tahini paste.
I like to flavor mine with things like garlic and cumin. Also, lemon adds a nice tang to it. For a little color, add turmeric or even beet juice.
Answering common questions
Is tahini hard to make
A good tahini sauce doesn't take hours to prepare! It comes together in 5 minutes or less. Traditionally, it is made with only 2 ingredients: sesame seeds and extra virgin olive oil.
Does it need to be refrigerated?
It should be kept at room temperature and away from direct sunlight. As long as the lid is closed tightly, it can last for months.
What is it's consistency?
Tahini can be a paste, sauce or liquid dressing. The more water you add, the more liquidy it turns out. If you are using it as a spread, add less water. To put it in something like a carrot cucumber salad, make it more creamier by adding more water.
Is it vegan?
Tahini is very much vegan. It is made with sesame seeds and oil, which are both vegan. So, feel free to eat as much as you want and you won't feel guilty.
Why hulled sesame should be used?
Hulled sesame have their rough outer shell removed. This makes it easier to blend and they are also easier to digest. Unhulled sesame seeds are harder to blend and consumer. However, unhulled sesame seeds are a calcium and iron powerhouse.
If you are confused about veganism, I have a handy guide which lists what items are vegan and vegetarian friendly.
How can tahini be thinned?
Add about a few teaspoons of water to the tahini.
The amount of water needed will depend on the thickness of tahini.
Whisk or blend it. You can also stir it vigorously with a silicone spatula.
After adding water, it should be have the thickness of ketchup.
Sometimes, tahini can be thick or gloopy. The good n
Make ahead and storage
The good news is that you can make this ahead and store it for months. I like to store it in small glass jars like this one from (Affiliate Link) Amazon.
Tahini has a long shelf life. Put it in a glass bottle and place it in a cool, dry place which is away from the sun. This way, it can last for 6 months or longer.
Further good news is that it doesn't need to be refrigerated. Actually, it's better to keep it at room temperature. If refrigerated, it gets clumpy.
The only bad news is that, no much how much you make, it will never be enough. This paste is so addictive that everyone devours it up quickly.
How to use tahini
Sharing is caring
Don't be shy, chime in below in the comments. Let me hear your opinion on this recipe. If you enjoyed this, please give it 5 stars and share it on Facebook, Pinterest, Twitter, Instagram and Youtube.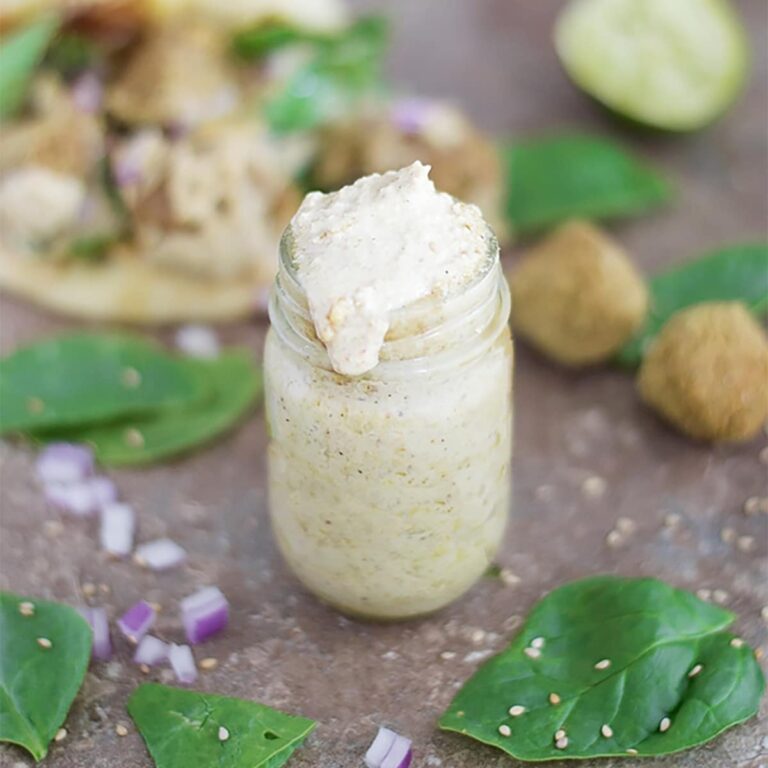 How To Make Tahini
How To Make Tahini? Traditionally, it is made with only 2 ingredients: sesame seeds and oil. This sesame paste is such a simple sauce, but packs and enormous nutrition punch
Ingredients
1

cup

Sesame Seeds

Hulled

¼

cup

olive oil

adjust for consistency

2

cloves

garlic

thinly sliced

2

tsp

cumin powder

Optional

½

tsp

salt

Optional

½

tsp

black pepper

Optional

1

tsp

lime juice

Optional

2

Tbsp

water

Optional
Instructions
Heat a heavy bottom pan on medium heat and add the garlic to it.


When the garlic starts to brown, add the hulled (*see notes) sesame seeds


Toast the seeds for about 3 minutes or until slightly browned. Stir constantly


Remove from the heat and let them cool for a few minutes


In a processor, add the garlic and sesame seeds


Grind them for about 1 minute


Add the oil in 2 batches. Grind after each batch


Add the cumin powder, salt and pepper (if using)


Grind again until well blended


Add lime juice and grind one last time


If using, add water now (** See note)


Refrigerate and store in an air tight container

Notes
NUTRITION INFO IS APPROXIMATE
* Use oil for the consistency. To keep the seeds coarse, add half of the oil.
** I added water just to make it more of a Sauce consistency.