This Vegan Meal Prep Japanese Stir Fry Udon Noodles is the Perfect Make Ahead Meal for a Busy Week. Add Mushrooms, Broccoli and Red Bell Pepper for a Hearty Meal.
I am falling for the meal-prep craze
…..and I am liking it!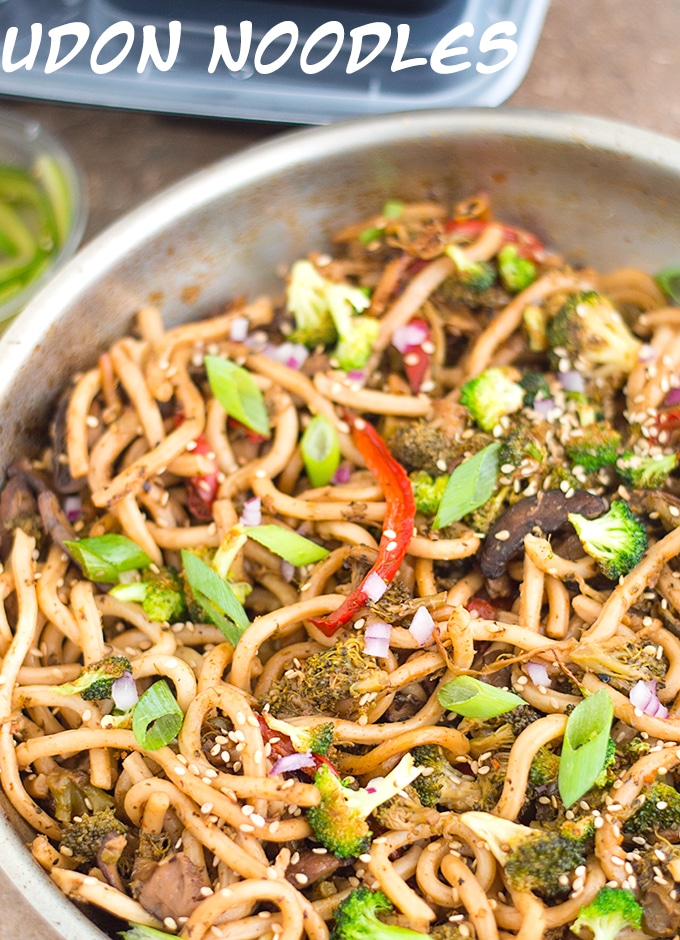 Scratch that!
I am LOVING it!
I am all about making fresh meals, so, I was slow to adopt to the meal prep concept. I didn't understand why I should make food on Sunday and eat it on Friday!!
Will it still be fresh?
Will it still contain its scrumptious flavors?
So, when I made my overnight oats because I was going to have a week filled with craaaaazy schedule, I thought I would try breakfast meal prep. What could it hurt, right? Its only breakfast!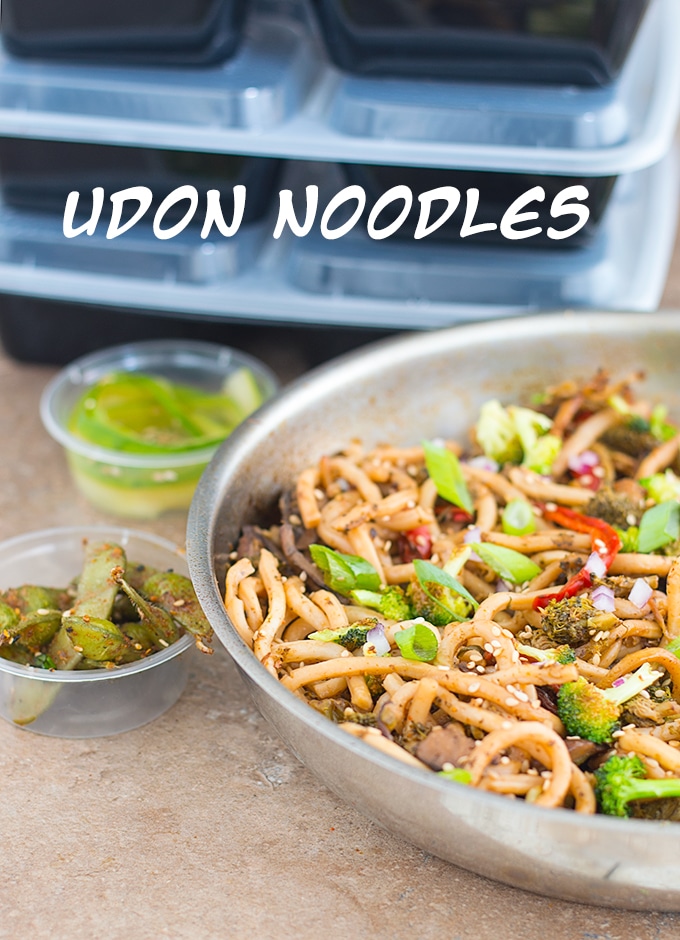 That week was so busy and having not to worry about one meal made a world of a difference!
It made a believer out of me and I am so glad that I tried it.
Now, I have graduated to lunch and dinner meal prep recipes! I am so addicted to the concept that I am working on making make ahead recipes from around the world.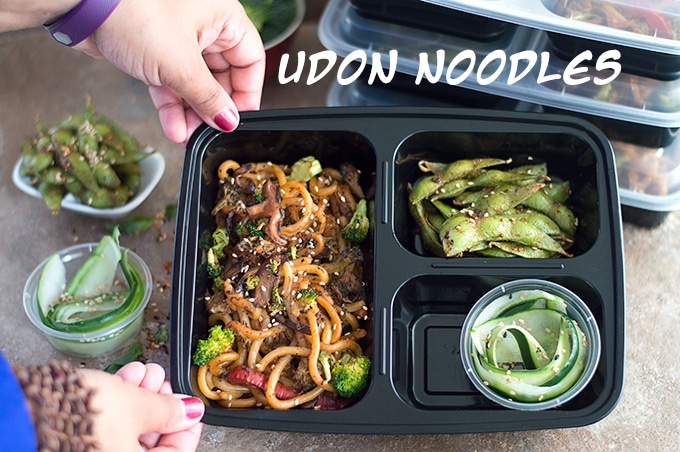 First, there was this Fajita Quinoa Bowls with Mexican influence. There was so delicious and I loved not having to worry about lunch for 5 whole days!
So, now, I tried Japanese Cuisine! I am a novice to this cuisine, but, I am so fascinated by it. There are so few vegetarian meals, so, I am working on creating more recipes. My last attempt was this spicy orange tofu with soba noodles.
I found these amazing (affiliate link) 3 compartment meal prep containers on amazon and I just couldn't resist getting them! Aren't they so cool? If you are an avid meal prepper, I have a very easy gift guide for you.
They also came with 5 sauce cups. I used the sauce cups for my Japanese Cucumber Salad.
This recipe will make enough for 5 containers, even though the picture shows 4 containers. The official reason is that my camera can't fit 5 containers.
The unofficial answer is that I couldn't wait and so, I ate some of the stir fry after I cooked them. Yes, I have the will power of an ant!
I like this recipe because I can add a little variety to my dinner. The spicy edamame pods are a nice palate cleanser and the cucumber salad is a good appetizer. Dinner is not going to be boring!
Udon noodles have been hard to find in my local grocery store and even in my local Asian grocery store. So, I ordered them from (affiliate link) Amazon. These are not just any udon noodles. I found the thick, white and fluffy udon noodles that are soooo easy to cook! They are vegan-friendly and ready in 2 minutes flat!
If you have extra miso left over, you can glaze japanese eggplants with it.
In this recipe, I also make use of the delicious Japanese Seven Spice Seasoning. I have to say that I am in LOVE with it! If you haven't tried it yet, you are missing out.
Serve with Japanese Edamame and Cucumber Salad. You can use a simpler stir fry sauce like my black bean sauce.
What is your favorite meal prep recipe?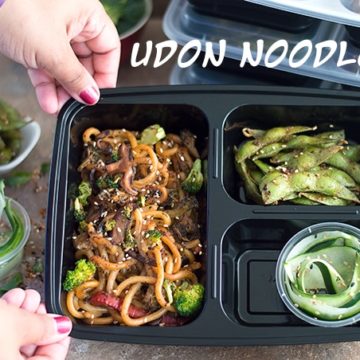 Meal Prep – Japanese Stir Fry
Quick and Easy Vegan Japanese Stir Fry Udon Noodles made with vegetables

Instructions
In a small bowl, add the dried shitake mushrooms and top with warm water. Set aside


In a stir fry pan, add the coconut oil and heat on medium for 30 seconds


Add the ginger, garlic and red bell peppers. Saute until soft (about 3 minutes)


Add the mushrooms and saute for 3 minutes


Add broccoli and saute until soft (about 5 minutes)


Drain and squeeze water out of the shitake mushrooms before adding to the pan


Add the Zoodles (See Notes)


Add the Udon Noodles (See Notes)


Add 1/4 cup water


Add the remaining ingredients, except the sesame seeds and green onions


Cook for another 5 minutes and then turn off the heat, leaving noodles in the apn


Add the sesame seeds and green onions


Transfer to meal prep containers and refrigerate (See Notes)

Notes
– So, I bought zoodles a while back (for my Souvlaki Recipe) and then froze what I didn't use. That's why they look frozen in the picture. You can add regular or frozen zoodles.
– The Packet I bought from Amazon had 2 Udon pouches in it. I used both. Once you add it to the pan and add the water, let it sit for about a minute before stirring it. This will prevent it from breaking up
– I used 3 compartment containers and added edamame pods to one and cucumber salad to the other. If you use the same setup, remove the cucumber before heating the container.
– I recommend you refrigerate, not freeze the containers once you have filled them up. Use it up in one week.
Nutrition
Calories:
344
kcal
Carbohydrates:
62
g
Protein:
16
g
Fat:
4
g
Saturated Fat:
1
g
Sodium:
1434
mg
Potassium:
467
mg
Fiber:
7
g
Sugar:
11
g
Vitamin A:
1270
IU
Vitamin C:
72.6
mg
Calcium:
38
mg
Iron:
1.2
mg