Easy Lentil Potato Medley made with a simple Dijon dressing is really easy to make because it takes only a few ingredients. It is a protein rich recipe that is perfect for vegans.
"NO EXOTIC SPICES REQUIRED!"
That is the phrase I am shouting from the cyber rooftops! This is the least complicated medley recipe you will ever make. Simple ingredients found in any kitchen is all that is required to make this delicious lunch recipe.
The sore throat from all this shouting is totally worth it, if you make this lentil potato recipe for lunch!
Lately, I feel like I have had too many salads on my blog. There was the sweet kale salad, then came the spinach salad on a bagel and finally, the delightful bread salad!
They are all delicious, but, it was time to make something a little more hearty.
Nothing says hearty quite like lentil potato together in a Dijon sauce. This recipe is so filling that you can eat it for lunch and not worry about feeling hungry until dinner time.
Lentils are always my go to recipe when I need something substantial. They are always a great source of vegan protein for both vegans and vegetarians, so, I can never go wrong with them.
This lentil potato recipe is my go-to recipe for when I need a protein meal.
It is true that I cannot resist potatoes and that is why I put some comfort food into this recipe. Originally, I had thought of using sweet potatoes but that didn't turn out so good. Red potatoes and lentils are best friends. I made that discovery when I made my lentil curry in a slow cooker.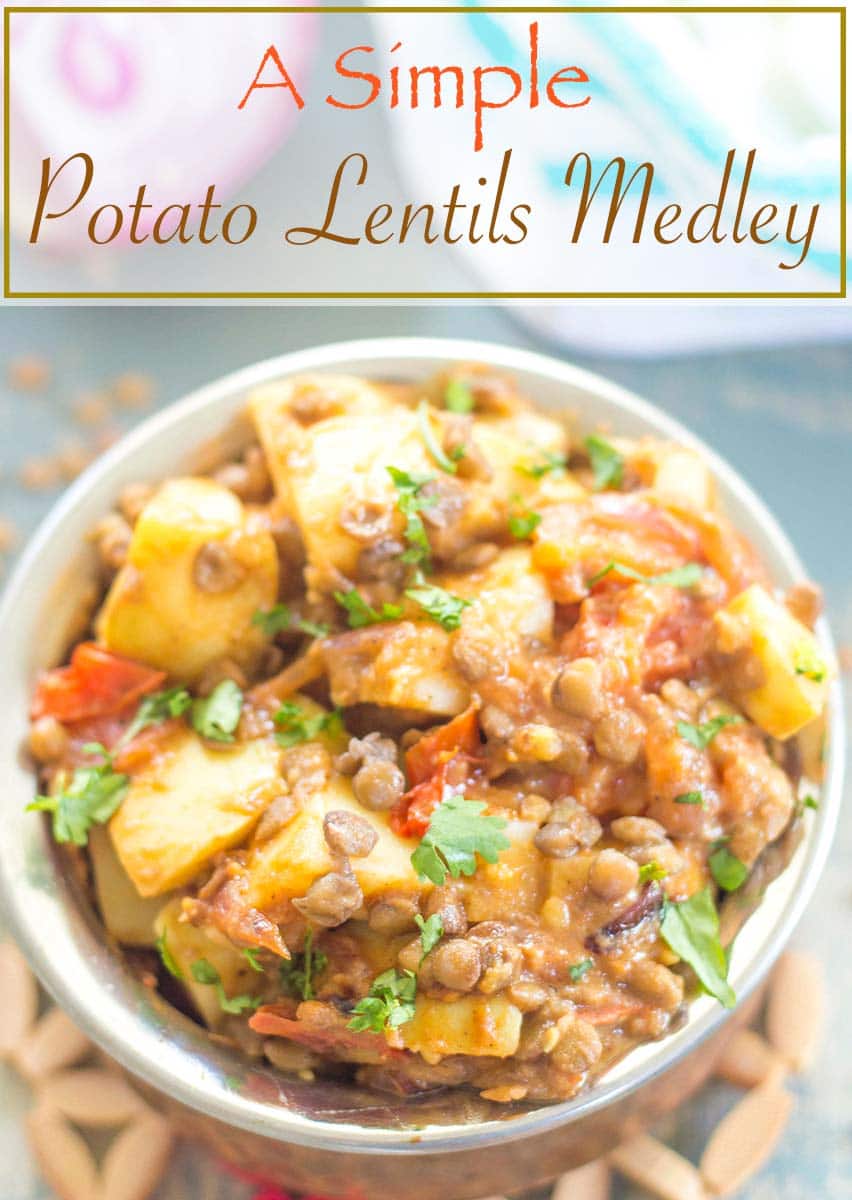 A simple dijon and agave dressing brings all the ingredients together. Its basically like a honey dijon mustard but I used agave instead of honey.
There are no exotic spices or complicated cooking methods required to make this lentil potato medley. Boiling the potatoes and lentils is the only time consuming task.
The best thing I found was to put the lentils into a slow cooker and let them cook overnight. Can you believe that there is a site called lentils.org? That site has tons of useful information about lentils, including different ways to cook lentils.
I recently discovered that the lentils are really easy to cook in the Instant Pot. They are ready in just 10 minutes and delicious when cooked with Mediterranean flavors
They do a great job of outlining the steps of making non-mushy lentils on the stove.
This Lentil Potato Medley is my favorite protein recipe. What's your favorite vegan protein recipe?
Potato Lentils Medley With Dijon Dressing
Lentil and potatoes in a sweet Dijon mustard sauce

Ingredients
For the Meal
1/2

cup

lentils

3

red potatoes

medium sized

1/4

red onion

Julienned

2

vine-ripened tomatoes

Firm, cut into cubes

2

Tbsp

extra virgin olive oil.

or coconut oil

1/2

tsp

salt

Optional

Cilantro for garnish

Optional

Water to boil the lentils and tomatoes
Instructions
Cook 1/2 cup of lentils. You can put it into a slow cooker or you can cook them on the stove

Take 3 medium sized red potatoes and wash them thoroughly. Boil the potatoes on the stove using Better Home and Garden's method.

While the potatoes are cooking, cut about a 1/4 of an red onion into julienne style pieces

Take 2 firm vine-ripened tomatoes and cut them into bite sized pieces. I get about 12 pieces from 1 tomato.

Set the tomatoes and onions aside. In a small bowl, add 1/4 cup of dijon mustard, 1 tsp of extra virgin olive oil and 2 Tbsp of agave. Mix it well using a whisk

Once the potatoes have been boiled and had a chance to cool down, remove the skin from them. Cut them into large pieces. I get about 8-10 pieces per potato

In a small pan, add 2 Tbsp of extra virgin olive oil. Warm the oil on low heat

After 30 seconds, add the onions and saute until they are brown.

Add the tomatoes and gently stir. Set the heat to medium and cook them for 5 minutes. The tomatoes' skin should start to wrinkle

Add the lentils and stir gently


Add the potatoes and 1/2 tsp of salt.

Add the dijon mustard dressing to the pan and mix well

Garnish with cilantro and serve immediately. This potato lentil medley is best when it is still hot
Nutrition
Calories:
650
kcal
Carbohydrates:
103
g
Protein:
21
g
Fat:
18
g
Saturated Fat:
2
g
Sodium:
1002
mg
Potassium:
2266
mg
Fiber:
22
g
Sugar:
23
g
Vitamin A:
1025
IU
Vitamin C:
47.9
mg
Calcium:
89
mg
Iron:
6.8
mg